Warmer weather has finally arrived! We can finally take off our winter beanies and let our hairs bask in the sunshine. But hold on, before you celebrate with some much-needed fun in the sun keep in mind how the heat and humidity can wreak havoc on your hair. Not to worry though, I have some things you can do right now that will protect your natural hair not just for today but all summer long.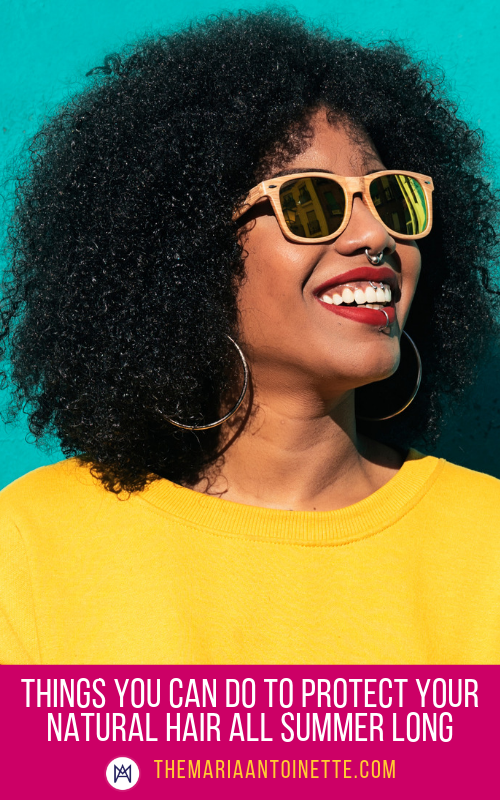 Moisture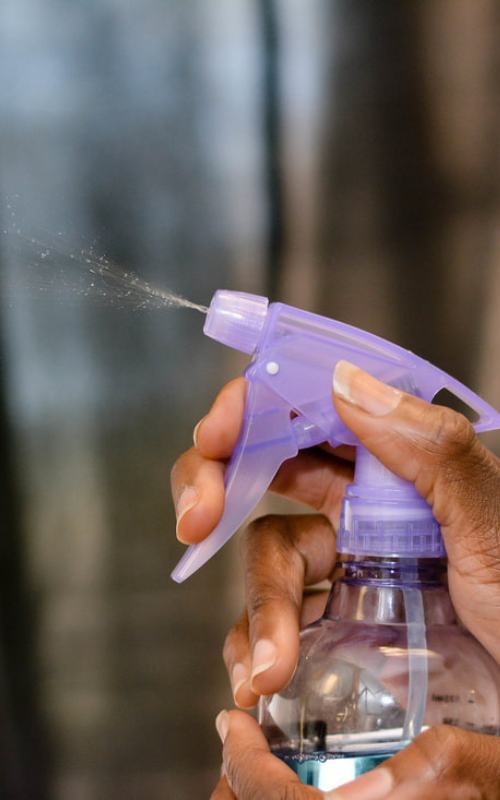 The most important thing you can do for your natural hair this summer is keeping it moisturized. If you don't the summer heat leave your hair feeling dry like tumbleweed. No one wants that. So I have a few ways that you can keep your hair hydrated. The first is, use moisturizing products that have water listed as its first ingredient. This is a surefire way to know that your hair is getting the moisture it needs to be hydrated and happy. The second way is, keeping a small spritz bottle of water and nourishing oils in your bag for misting hair throughout the day. Lastly, in the evening you can use the LOC (liquid, oil, and cream) or LCO (liquid, cream, and oil) method to seal in the moisture while you sleep.
So what's a good oil and cream to use for LOC/LCO method? For oils, I would recommend castor, avocado, jojoba or olive. But ultimately, you should use whatever oil works best for your hair. As for the creams, you can use the ones I've recommended or a product of your choice.
Moisturizing Products To Try:
Cantu Natural Hair Moisturizing Curl Activator Cream
Design Essentials Natural Daily Hair Moisturizing Lotion – Moisture Rich Botanicals
As I Am Double Butter Rich Daily Moisturizer
Cleanse Your Hair After Swimming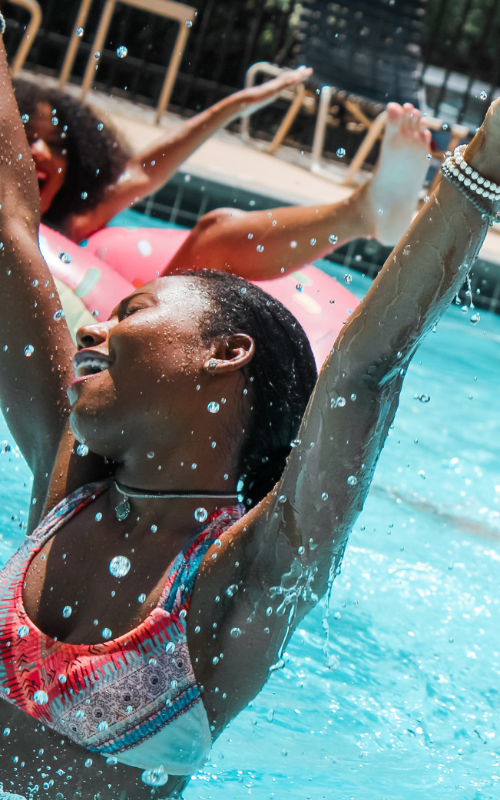 During the summer months, you're probably going to spend a lot of time at the beach or at the pool. Make sure to always cleanse your hair at the end of the day to rise out the salt water and chlorine from your hair. If you don't the salt and chemicals will dry out your hair, leave a residue, and can result in breakage. You can protect your hair while swimming by applying oil as a protectant before you get in the water. What this does is minimizes the water from penetrating your strands, while also keeping your hair moisturized.
But getting back to cleansing, you don't want to go shampoo crazy as excessive shampooing will strip your hair of its natural oils. The best recommendation is to use a cleansing shampoo or a co-wash which will remove the buildup from your hair while retaining your hairs natural oils. But if you're feeling kind of lazy (cause we've all been there a time or two) you can wear a swim cap to keep your hair dry. Caps are great for those who just got their hair done and you want to preserve. Just make sure the cap isn't too tight you don't want it squeezing your head nor do you want it yanking on your edges.
Cleansing Products To Try:
Cantu Sulfate-Free Cleansing Cream Shampoo
Miss Jessie's Co-Wash
Carol's Daughter Cleansing Conditioner
*Extra Tip: Don't forget your leave-in conditioner. It's a product that's going to help prevent dryness and keep your hair from breaking, and help you grow and retain healthy hair. And don't forget to deep condition at least once a week.
Protect Your Hair Color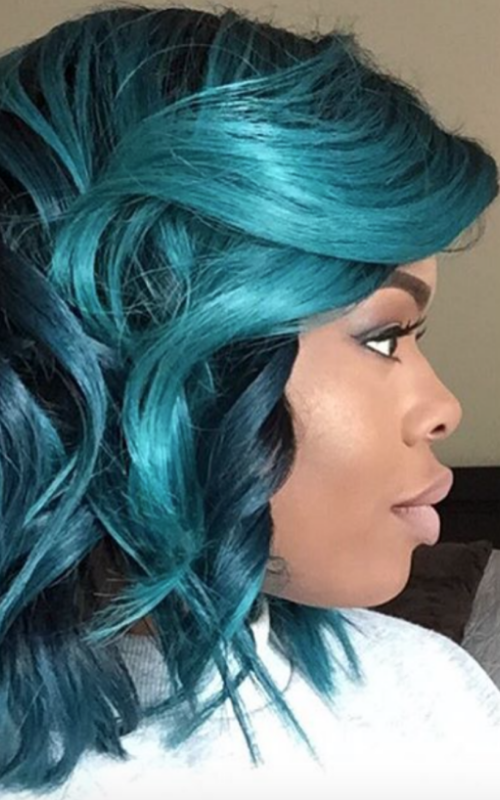 Not only will the sun dry your hair but it can also fade or even change your hair color. An easy way to prevent that from happening is you can wear headwraps or hats to keep the sun from shining directly on your head. But it's the summertime and you wanna show off your poppin' color so you should look towards using UV filtering products. These products will have properties that include Octyl or Ethylhexyl Methoxycinnamate, Benzophenones or Parsol SLX which are found in sunscreens. If you want to reduce how much product you're using, Curly Hair Lounge has a great post featuring oils that can also protect your hair from the sun.
UV Filtering Products To Try:
Cantu Anti Fade Color Protecting Oil
Sun Bum Revitalizing Coconut Argan Oil
Klorane Protective Oil with Ylang-Ylang Wax
Wear Protective Styles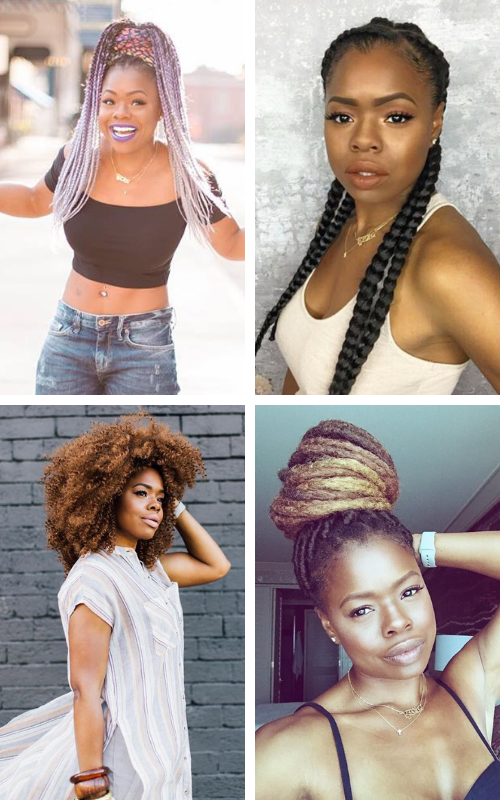 Protective styles are a great way to protect your hair during the summer months. The style options are endless and can last anywhere from two to eight weeks. This gives your scalp and hair a chance to rest from constant every day pulling and tugging. But just because you're wearing a protective style that doesn't mean you shouldn't be caring for your scalp. It will still have a build up of oils and sweat, and it needs to be cleaned to keep it from smelling. By keeping your scalp and braids, locs, twists, etc. clean, as well as touching up the roots you can keep your protective style looking and smelling good the entire time it's installed.
Protective Styles To Try:
Braids
Twists
Wigs
Cornrows
Goddess Locs
Protective Scalp Care Products To Try:
Cantu Refresh Root Relief with Apple Cider Vinegar and Peppermint Oil
Cantu Refresh Dry Co-wash with Apple Cider Vinegar and Tea Tree Oil
Cantu Refresh Root Rinse with Apple Cider Vinegar and Tea Tree Oil
What tips do you have to protect your natural hair all summer? Share with me in the comments below.
The following two tabs change content below.
Maria Antionette is a professional hairstylist, DIY creator and fashion lover with a belief that beauty can be fun, easy and simple.
Latest posts by Maria Antoinette (see all)