*This is not a sponsored post but it does contain post contains Amazon affiliate links. 
I love reading, although, sadly, my schedule and home life sometimes don't allow me time to read as much as I would like. I know many of you are familiar with that story. But when I have free time in my calendar and a little quiet time to myself I get cozy in my favorite chair and dive into new stories and adventures.
I'm always on the lookout for new books to read, especially ones that are written by black women. So I decided to make a short list of books written by black women for my next bookstore visit, but that list grew quicker than I had anticipated. Then I thought I would share my list with you and from there the list grew even longer. What would start as a list of five books would ultimately swell to feature 70 titles.
This list contains a mixture of iconic authors and titles, as well as new writers who are carving out a promising path for themselves in the literary world. I wanted to make sure the list was diverse, so you'll find fiction and nonfiction, poetry, love stories, stories about race and classism, self-care, motivation, and so much more. I wanted to make sure I had something for everyone to enjoy.
*This list is clickable making it easier for you to learn more about the title.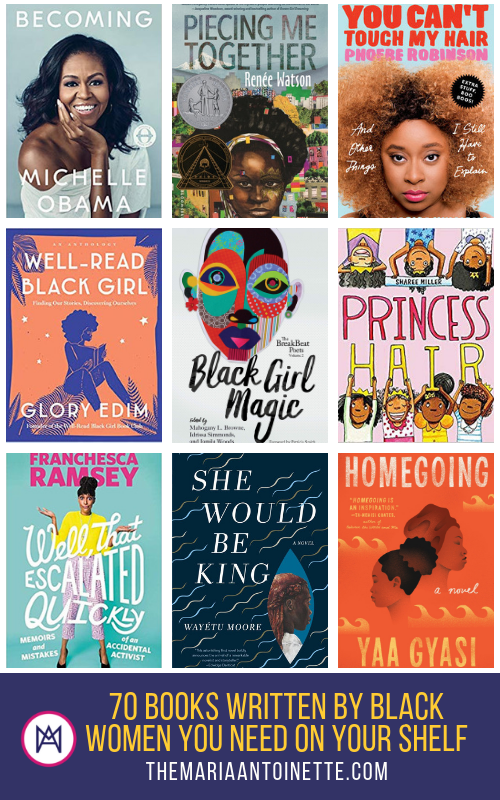 50 Adult Reads
2. Mecca Woods – Astrology For Happiness And Success
3. Phoebe Robinson – You Can't Touch My Hair: And Other Things I Still Have To Explain
5. Latham Thomas – Own Your Glow
6. Wayetu Moore – She Would Be King
7. Franchesca Ramsey – Well, That Escalated Quickly
8. Africa Miranda – Step Up. Step Out. And Shine
9. Glory Edim – Well Red Black Girl
10. Issa Rae – Misadventures Of Awkward Black Girl
12. Sister Souljah – Coldest Winter Ever
13. Nnedi Okorafor – Who Fears Death
14. Shonda Rhimes – The Year Of The Yes
15. Terry McMillan – Waiting To Exhale
16. Jesmyn Ward –  Salvage The Bones
17. Chimamanda Ngozi Adichie – Americanah
18. Akwaeke Emezi – Freshwater
19. Maya Angelou – I Know Why The Caged Bird Sings
20. Ijeoma Olou – So You Want To Talk About Race
21. Cora Harrington – In Intimate Detail (*Note: This book is appropriate for young adults.)
22. Lorraine Hansberry – A Raisin In The Sun
25. Bianca Williams – Sidelined The Penalty (*Note: This is part two. Part one is Sidelined The Draft.)

Photo Credit: Maria Antoinette
27. Zora Neale Hurston – Their Eyes Were Watching God
28. Alice Walker – The Color Purple
29. Delores Phillips – The Darkest Child
30. Cupcake Brown – A Piece Of Cake
31. Trisha R. Thomas – Nappily Ever After
32. Audre Lourde – Sister Outsider
33. Gabrielle Union – We're Going To Need More Wine
34. Angela Davis – Women Race And Class
35. Jennifer Lewis  – The Mother Of Black Hollywood
36. Kelly Rowland – Whoa Baby!
38. Janet Dewart Bell – Lighting The Fires Of Freedom
39. Keke Palmer – I Don't Belong To You: Quiet The Noise And Find Your Voice
40. Luvvie Ajayi – I'm Judging You
41. Natalie Baszile – Queen Sugar
42. Tayari Jones – Silver Sparrow
43. Tiffany Haddish – The Last Black Unicorn
44. Taraji P. Henson – Around The Way Girl
45. Gabourey Sidibe – This Is Just My Face: Try Not To Stare
46. Oprah Winfrey – What I Know For Sure
47. Tamara Winfrey Harris – The Sisters Are Alright: Changing The Broken Narrative Of Black Women In America
48. Jamila Woods, Mahogany L. Browne, and Idrissa Simmonds (Editors) – The BreakBeat Poets Vol. 2: Black Girl Magic
49. Ntozake Shange – For Colored Girls Who Have Considered Suicide When the Rainbow Is Enuf
50. Valorie Burton – Successful Women Think Differently: 9 Habits To Make You Happier, Healthier, And More Resilient
 
20 Children / Young Adult Reads
1. Vashti Harrison – Little Leaders: Bold Women In Black History
2. Sharee Miller – Princess Hair
3. Rhoda Ahmed – Mae Among The Stars
4. Laura Veirs – Libba: The Magnificent Musical Life Of Elizabeth Cotten
5. Margot Lee Shetterly – Hidden Figures
6. Jamia Wilson – Young Gifted And Black
7. Renee Watson – Piecing Me Together
8. Sherri Winston – President Of The Whole Fifth Grade (*Note: This is book one of a series.)
9. Angie Thomas – The Hate You Give
10. Nnedi Okorafor – Akata Witch: Akata Witch Series
11. Nicola Yoon – The Sun Is Also A Star
12. Tomi Adeyeni – Children Of Blood And Bone
13. Justina Ireland – Dread Nation
14. Dana L. Davis – Tiffany Sly Lives Here Now
15. Claire Kann – Let's Talk About Love
17. Elizabeth Acevedo – The Poet X
18. Tiffany D Jackson – Monday's Not Coming
19. L. L. Mckinney – A Black Spade So Black
20. Zinzi Clemmons – What We Lose
For even more books written by black women check out our list of inspiring books by black women and books that were on our list to read for 2018.
What are some of your favorite books that are written by black women? Keep the list going in the comments below. Share your favorite book(s) with me on social at #TMABlog.
The following two tabs change content below.
Maria Antionette is a professional hairstylist, DIY creator and fashion lover with a belief that beauty can be fun, easy and simple.
Latest posts by Maria Antoinette (see all)