One of the most requested tutorials I receive is teaching others how to cornrow hair. When you are starting out its important to just focus on the technique. Once you've mastered the technique then you'll be able to try out more intricate designs and styles. Two main things to remember when cornrowing your hair are: One: Keep your palms going in the direction that you will be braiding. Two: Remember hair is only getting picked up in the middle section. Keep that in mind and you'll be a pro in no time!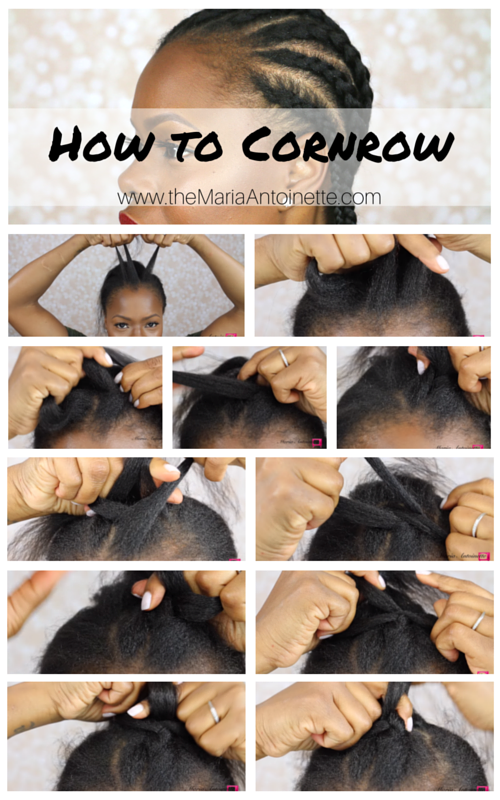 How To Cornrow:
Start by sectioning off the part of your hair that you'll be cornrowing.
Take 3 pieces of hair with an even density. With the right hand, 2 sections will be between the ring/middle/pointer fingers griped and locked off. The other piece of hair will be held loosely by the left hand between the middle/ring finger.
The right section will now be placed to the side. Take thumb/pointer finger and grip left piece. The middle piece is free and hanging and left piece is being held taut.
Take the middle piece over to the left and start picking up a little bit of hair with the pointer finger. Grab more free hair then with the pointer/thumb, grip left piece of hair and pull that to the middle.
Take your left hand and with your pointer finger pick up some free hair, part through and then pick up the right section pulling it over to the middle.
Repeat until you get to the end of your parted section of hair. Always add hair in the middle and find the rhythm it will get easier with time.
Would you like to see this tutorial live? Check the video below for each step and also how to cornrow from the front all the way to the back.
With both a written and visual tutorial you are now on your way to becoming the best cornrower in the world!!! Let me know down below if this helped you in any way. I would love to hear from you! I would like to invite you to sign up for my newsletter, this way you will always be in the know with all things MA.
The following two tabs change content below.
Maria Antionette is a professional hairstylist, DIY creator and fashion lover with a belief that beauty can be fun, easy and simple.
Latest posts by Maria Antoinette (see all)