Today I am sharing my families favorite DIY Hair and Body oil recipe.  This 7 ingredient oil mixture is mild but effective and safe for all ages. The coolest part of this DIY is that majority of the oils you have around your house already!
I hope you have enjoyed the DIY Bath & Body Series! Make sure to check out DIY Bath Bombs, DIY Whipped Body Butter, and DIY Salt Scrub.  This entire series will make great presents..hint, hint!!! Handmade gifts are always welcome…especially when they are bath and body products!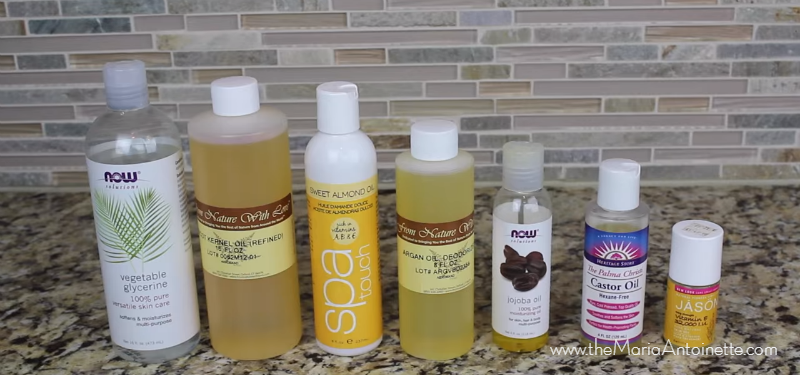 I get all of my natural ingredients here: From Nature with Love
What you will need and their benefits:
Apricot Kernel Oil – mild, non irritating oil that is high in vitamins A & C, safe for infants and children and cost effective.
Sweet Almond Oil – improves complexion, moisturizes better than most oils and rich in Vitamins A & C.
Argan Oil – rich in nutrients & fatty acids and helps to treat split ends.
Jojoba Oil – closest to the natural oils in our skin, absorbs quickly and also fills in the cracks on the surface of the hair cuticle.
Castor Oil – helps promote hair growth and high in Omega fatty acids 3 & 6
Vitamin E – helps even skin tone, minimize wrinkles and great for adding shine to hair.
Optional Fragrance: I used Coconut Fragrance
Directions:
Using a plastic or glass container and a funnel, combine the following ingredients:
1/3 c Apricot Kernel Oil
1/3 c Sweet Almond Oil
2 tbsp Argan Oil
2 tbsp Jojoba Oil
1 tbsp Castor Oil
1 tbsp Vitamin E
1 tbsp Fragrance (optional)
Once all done shake the mixture and apply as needed.  Since the oils may separate after sitting, just give them a good shake before each use.  This mixture will make 8oz and the shelf life is about 6 months.
I hope you enjoyed this tutorial!   To see how I put all of these oils together, check out the video below:
What are your favorite oils to use in your beauty routine? Chime in below I always love to hear what works for others! I would like to invite you to sign up for my newsletter, this way you will always be in the know with all things MA!
~MA
The following two tabs change content below.
Maria Antionette is a professional hairstylist, DIY creator and fashion lover with a belief that beauty can be fun, easy and simple.
Latest posts by Maria Antoinette (see all)