Y'all, I cannot tell you how much fun I had putting this playlist together. I spent days looking all over YouTube in search of songs by Black women that not only were meant to empower and inspire but also spoke to the everyday experiences of being a Black woman. This list is long and extensive as I wanted to include artists who you're already familiar with as well as those whom you may not. From hot girl summer anthems to gospel, there's a song for everyone to jam to.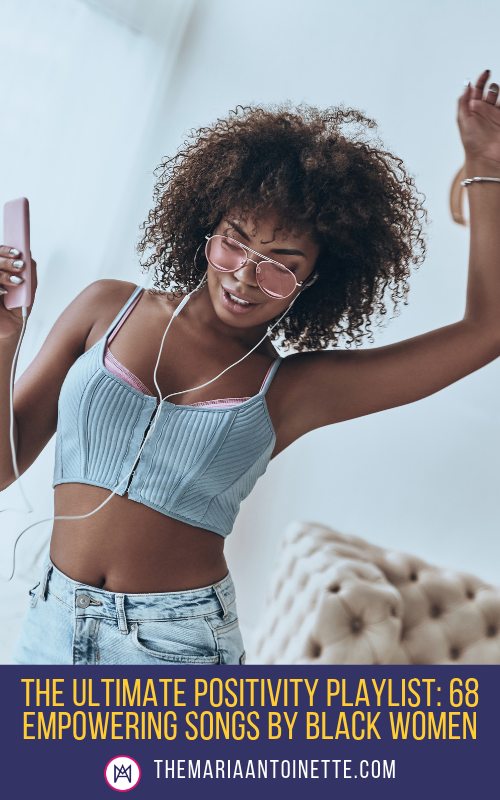 (Click the links to listen)
Jazmine Sullivan – Masterpiece (Mona Lisa)
Seinabo Sey – I Owe You Nothing
Georgia Anne Muldrow – Break You Down
Salt 'n Peppa – None of Your Business
Sudan Archives – Nont For Sale
Esperanza Spalding feat. Algebra Blessett – Black Gold
Andra Day – Stand For Something
Whitney Houston – I'm Every Woman
Sounds of Blackness – Optimistic
Angie Stone ft. Pauletta Washington – Happy Being Me
Sampa The Great feat. Nicole Gumbe – Black Girl Magik
Le'Andria Johnson – Better Days
Nicki Minaj feat. Beyonce – Feeling Myself
Chaka Khan ft. Slade – I Love Myself
Sherri Moffett-Jones – Encourage Yourself
Corinne Bailey Rae – Put Your Records On
Jamila Woods – Black Girl Soldier
Koryn Hawthorne – Won't He Do It
Michelle Williams ft. Beyonce, Kelly Rowland – Say Yes
Chrisette Michelle – Ten Foot Stilettos
Are you jammin' as much as I am? I hope so cause this list is fire! And I got a little more for you – 12 dope podcasts that are hosted by Black women. These podcasts range from mental health and wellness, pop-culture, business, and politics.
Do you have any empowering songs by Black women that you love? Share with me in the comments below to keep this playlist going.
The following two tabs change content below.
Maria Antionette is a professional hairstylist, DIY creator and fashion lover with a belief that beauty can be fun, easy and simple.
Latest posts by Maria Antoinette (see all)