Blowing out your natural hair can be very easy and painless. Below I have compiled a complete list from start to finish on the most effective way to blow out your natural hair. These steps will assure you have less breakage, more control, and smoother hair.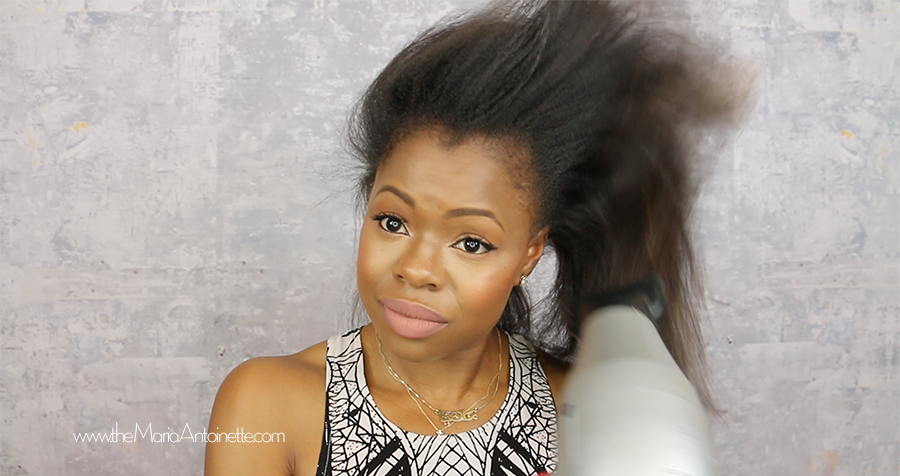 How to Blow-Out your Natural Hair
Shampoo your hair with a cleansing shampoo. I recommend doing this twice, rinse and remove as must water as possible
Apply conditioner and rinse. I recommend a normal conditioner, or a light protein conditioner if your hair is in need of the protein.
With a tee-shirt, remove all excess water
Add leave-in conditioner to damp hair not dripping wet hair
Let your hair air dry for a few minutes. Allowing your hair to dry a little prior to applying heat helps the cuticle to close, trapping more moisture inside of the hair's cortex

Hair types 1a-2c: let air dry hair to 60-70%
Hair types 3a-4c: braid and or two-strand twist your hair into 4 – 6 sections and let your hair air dry in those braids/twist until 50-60%. This will elongate your curls and help in the stretching process.

Starting with the first section, apply your heat protectant from roots to ends—this should be done for each section. If using a high-quality heat protectant, you will not have to use as much product. Apply a heat protectant to each section on 60-70% dry hair for 1a-2c hair types, and 50-60% for 3a-4c hair types.

My favorite heat protectants for blowing out my hair are:

Applying heat protectant to damp hair also acts as a filler and sealant to the hair's cuticle, resulting in more protection for the hair shaft
Blow-dry your hair with a nozzle in small, easy-to-work sections. This will control the hair and prevent damage from tangles and getting too rough. Repeat until you have dried all of your hair.
Conclude with a cool blast and style your hair as normal. Ending your blow-dry with a cool blast helps to keep the work you have done…done. Cool air on hot hair seals the bond that was created when blow-drying allowing the blow-dry to be more effective.
I can wear my blow out for two weeks before I have to cleanses my hair again. I find wearing high buns and cornrows during physical activities helps keep my hair straight longer. Tying my hair down with a silk scarf at night helps to keep my natural oils on my hair instead of on my pillowcase and keeps my edges straight.
See these steps in action…

I hope you found these steps to be helpful and can achieve a great blow-out. I would like to invite you to sign up for my newsletter, this way you will always be in the know with all things MA!
~MA
The following two tabs change content below.
Maria Antionette is a professional hairstylist, DIY creator and fashion lover with a belief that beauty can be fun, easy and simple.
Latest posts by Maria Antoinette (see all)