Cornrows are a staple protective style. It doesn't matter what age you are, you will most likely rock cornrows at some point in your life. Today I will walking through how to install invisible cornrows extensions with the undetectable feed-in technique. This technique is often referred to as Ghana braids, banana braids and or cherokee braids.  The feed-in braiding method, allows you to add extension into your braids without all the bulk. Invisible cornrows are definitely a go to style for beach trips, vacations, or everyday busy schedules. Whats not to love!? Besides making us all look like real goddesses, the low maintenance and the short amount of installation time can't be beat. So, are you ready to learn how to install invisible cornrows on your own head?
What I used: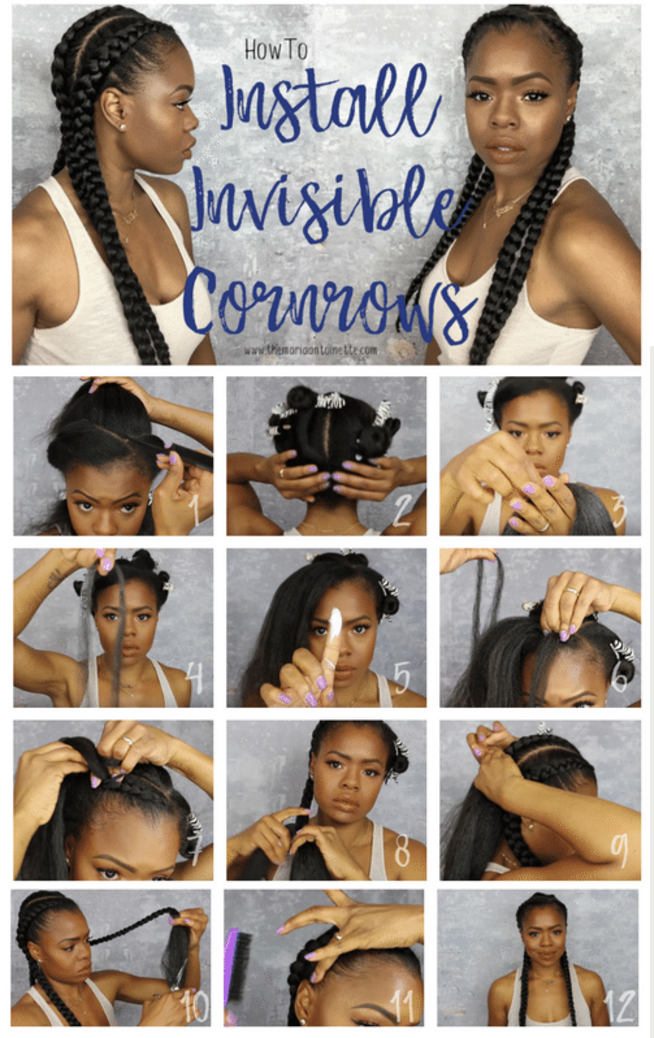 Directions: 
Prep Your Hair:
Part your hair (IMPORTANT)
Use rat tail comb for more defined parts
Section off each parted area of hair
Prep Your Braiding Hair:
Section out small pieces of the hair to be fed into your own hair
Start out with small pieces and gradually work up to larger pieces
Total pieces should be around 24 each for a thick cornrow, 12 pieces for a natural cornrow
Lay each bundled section off to the side for easy reach while braiding
Installation:
Apply cantu coconut curling cream to your own hair for hydration
Start braiding your own hair back about two sections
Add braiding hair as you go into the third section
TIP: Start each add in with the same hand each time (I used my left hand)
Bring hair around back of your head, position towards hair line holding the hair in a loop shape
Grip one side with pinky, place other side of hair under left pointer finger
Continue braiding, feeding in the braiding hair
Repeat. Feed in your previously sectioned out braiding hair, small to large, as you braid down
Be sure to position each add-in behind your head
TIP: If you want a thicker braid, add in braiding hair through the entire braid
Braid to the end. Secure the end of the braid using an elastic rubber band
Tuck the end of the braid into the elastic rubber band
Trim the excess hair and "fly aways" making sure not to cut your hair
Apply edge control using pointer finger
Still need a little extra guidance? I've got you covered. Feel free to reference the full video here:

With a little bit of patience and time you will have a go to protective style on deck! Remember, If you are new to braiding check out my How to Cornrow your Own Hair post, practice makes perfect and braiding hair is inexpensive so no fear in making a mistake! Are you excited about trying this look? Chime in below. I would love to hear from you. You are also invited to sign up for my newsletter so you will always be in the know with all things MA. If newsletters aren't your thing simply download my App!
~MA
The following two tabs change content below.
Maria Antionette is a professional hairstylist, DIY creator and fashion lover with a belief that beauty can be fun, easy and simple.
Latest posts by Maria Antoinette (see all)