We have all heard that deep conditioners are good for our hair. But do we really know how to apply them? It's important to know what they are, why we need them, and when exactly to use them. Likewise, you must also know that there's a difference between deep conditioning and a daily conditioner. A daily conditioner is something that coats your hair within five minutes of use. It can also be used after every shampoo and will keep your hair moisturized for a week or two. However, a deep conditioner is heavier, thicker, and will make your hair hydrated and moisturized from root to tip. Considering these results, if you aren't already deep conditioning your hair yet, you need to start doing so. If you're still unsure I have all the do's and don'ts of deep conditioning for you to know. So let's get right into it!
Here are the do's and don'ts of deep conditioning:
Do's:
Apply after shampoo
Use a deep conditioner as frequently as you need to
Don'ts:
Sleep in your deep conditioner
Skip deep conditioning
What I Used:
Cantu Coil Calm Detangle
Clips
Cantu Sulfate-Free Cleansing Cream Shampoo
Shower Cap
Cantu Deep Treatment Masque
Comb
Attachment Heat Bonnet – Gold n' Hot
Hair Dryer – FHI
Visual Guide: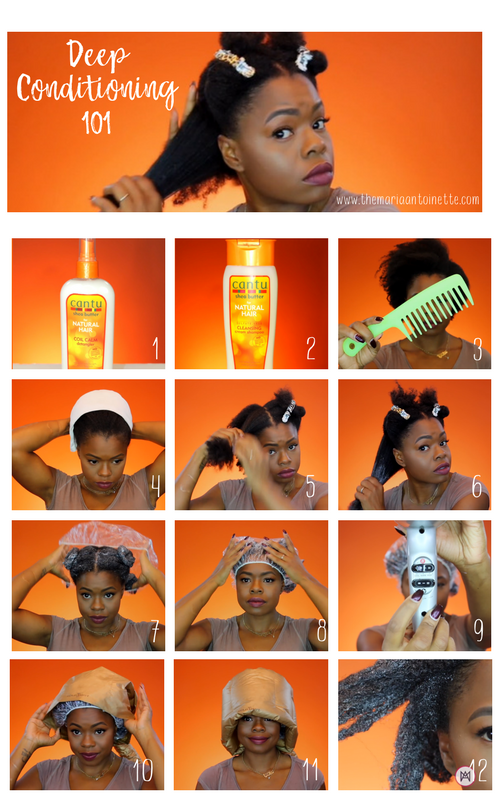 Here's How to Apply Deep Conditioner:
Begin with detangling hair with Coil Calm Detangler from Cantu. I apply it starting at the ends and I work in towards my roots.
Shampoo hair with Cantu Cleansing Cream Shampoo.
Remove all excess water with a t-shirt.
Section hair into four quadrants with a wide tooth comb.
Take a generous amount Cantu Deep Treatment Masque and place at the ends of your hair first. Make sure your hair is hydrated from tip to roots.
Place a shower cap on your head. Deep conditioning your hair this way traps natural heat.
Use a dryer for 10 minutes and set the temperature to medium heat.
After 10 minutes has elapsed, remove bonnet, shower cap, and ring the excess water out of my hair.
Style hair as you see fit using the LCO Method.
Looking for more visuals on deep conditioning? Check out the full video tutorial here:
The following two tabs change content below.
Maria Antionette is a professional hairstylist, DIY creator and fashion lover with a belief that beauty can be fun, easy and simple.
Latest posts by Maria Antoinette (see all)