Today, I'm going to show you how to install small goddess locs on your own head. If you don't think you can do them, trust me you can.
Now before you install the locs you need to start with a clean scalp and head of hair. I used Cantu Apple Cider Vinegar + Tea Tree Oil and Cantu Deep Treatment Masque. Both of these products will get my scalp clean and make sure my hair is hydrated. After that, I blew my hair out. If you need flowing out your natural hair I have a tutorial to help you.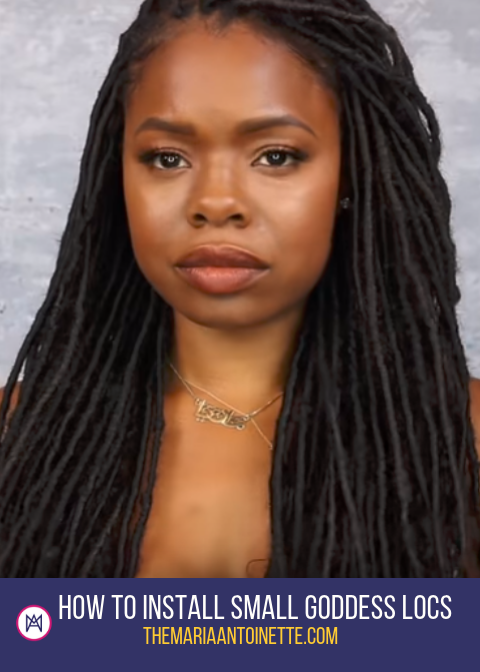 Let's get started
Tip: During this process, I didn't focus on how I parted my hair. It didn't matter if it was straight or not because I wanted the locs to look as authentic as possible.
Hair used: FreeTress Braid Deep Twist 22″, FreeTress Braid Water Wave 22″, and Zury Bohemian Braid 20″.
Step one: Part a small section of your hair for braiding. Taking a small section of hair and feathering it out so the ends aren't blunt and braid it into your hair.
Step two: Take hair and braid it into your hair, and remember to braid past your own hair. Don't worry if you can't braid or if the braid isn't perfect. it doesn't have to because you won't see it. Tip: Don't make the braid too tight on the root. You want to leave it a little loose for flexibility.
Now it's time create the locs
Hair used: Do Me Natural Kinky Braid in colors 2 and 4.
Step three: Insert latch and hook at the root. This is why I said don't make the root too tight. You don't wanna get hurt. I'm going to attach the braiding hair leaving one of the ends the length of the braid. It gives support and makes the loc thicker.
Step four: Wrap the longer end of the braiding hair about three times around the root. Then you slowly move down the shaft. To seal the wrapped hair I used nail glue on the locs where the braid went past my own hair and I hand rolled the locs where the braid was the same length as my own hair. The last thing you want to do is glue your hair.
Step five: Don't forget your edges. When you're done use a little edge control on your edges. I use Cantu Edge Stay Gel because it has castor oil in it which is great for protective styles which can put tension on your edges.
Watch Small Goddess Loc tutorial
Well, what do you think? Do you think you would try these at home? Let me know what you think in the comments. And don't forget to tag me in your gorgeous goddess locs on social using #TMABlog.
The following two tabs change content below.
Maria Antionette is a professional hairstylist, DIY creator and fashion lover with a belief that beauty can be fun, easy and simple.
Latest posts by Maria Antoinette (see all)