Mini twist, senegalese twist, and kinky twist are all the rave; especially for that effortless protective style. Today you will learn How to Mini Twist using a U-Part wig, yes a wig! We will learn how to cut down installation time, which saves our sanity. Since this is a wig you can always grab it and go, with a few simple steps. Lets get started!
What I used:
Big Chop Hair 22″ Corkscrew Curl U-part Wig (Visit Big Chop Hair & use checkout code MATV to save money!)
Wig Block
Stand for Wig Block
T Pins
Bobby Pins
Water Bottle
Comb / Brush
Creme of Nature Extra Hold Edge Control
Shea Moisture Curl Enhancing Smoothie Coconut & Hibiscus
Shea Moisture Frizz-Free Curl Mousse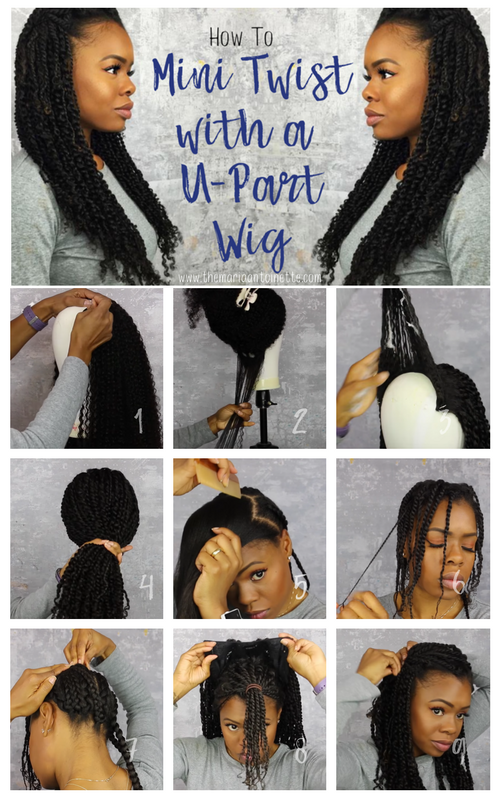 Directions:
Prepping the U-Part Wig:
Attach your U-Part to a wig block and separate off three wefts per section.
Hydrate the section with water, styling mouse ,and styling cream.
Brush through the hair to distribute the product evenly and remove tangles.
Twist the hair and finger coil at the end.
Continue this process throughout the entire wig.
Prepping your Real Hair:
Prepare your own hair by leaving out a section at top and in front.
Place cornrows in the back. Braid 5 rows or more in the back.
Apply styling cream to the leave out. Spray with water.
Be sure you don't over-saturate your hair with water.
Twist your hair using the same density and size as you did on the wig.
Be sure to finger coil at the ends.
Secure the ends of your cornrows up.
Gather your twisted hair in the front in a ponytail to keep it out of the way.
Snap the wig into place on one side. Pull down and snap all the way around.
Finish with your favorite edge control and style as you please
TIP: For night time care you can simply remove the wig (or sleep in it), pull your leave out twist back loosely and secure with a satin scarf.
Want to watch the process live in living color?  Check out the full length step-by-step video below!
How cute is this finished look? Is this something you can see yourself wearing?!?!  This took approximately 3 hours (with a few breaks here and  there) to complete.  Here is the kicker…its a wig so you now have this style on deck for the next time you want to wear mini twist!!! Head over to Big Chop Hair and use my code: MATV for a discount on your purchase. Chime in below I would love to hear from you!  Please sign up for my newsletter so you will always be in the know with all things MA. If newsletters aren't your thing simply download my App!
~MA
The following two tabs change content below.
Maria Antionette is a professional hairstylist, DIY creator and fashion lover with a belief that beauty can be fun, easy and simple.
Latest posts by Maria Antoinette (see all)