Getting trapped in a mental rut is something that happens to all of us at one time or another. It's these times that we need a little reminding that everything will be okay and that we have a reason to smile. The news often shows how bleak things have become but we shouldn't let that rob us of our joy as we have a number of reasons to be happy.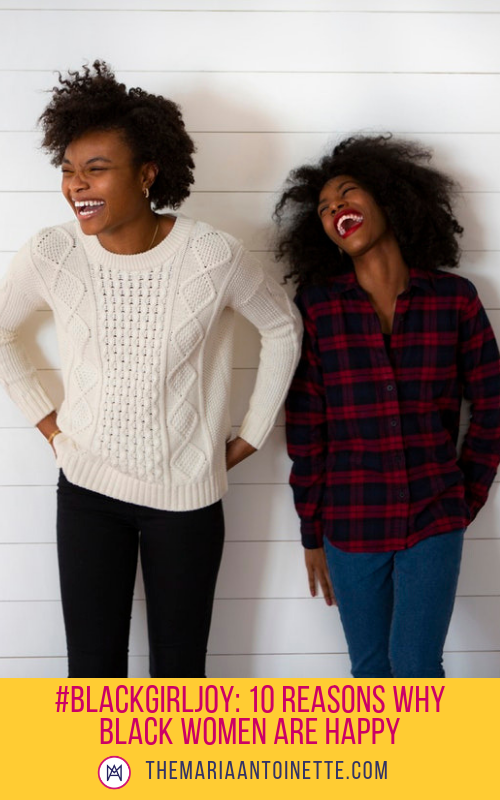 We love the skin we're in

Celebrating our tones and textures is not something that will be going away. No matter what the media or memes may try to sell us, Black women love the skin we're in. Using popular Instagram hashtags like #MelaninPoppin and #MelaninMagic, Black women (and men) are able to showcase and big up each other's flawless skin tones and features unapologetically.
Our natural hair is poppin'
Black women far and wide are embracing their natural hair. We are abandoning perms, which have been linked to fibroids for safer chemical-free techniques to straighten their hair. As a result, relaxer sales fell almost 37% between 2012-2017, and by 2020 it is predicted that relaxers will be the smallest part of the Black hair care industry. Meanwhile, natural hair product sales have skyrocketed and had an estimated value of $761 million at the end of 2017. In addition, with the creation of natural hair events like Curlfest Black women are stepping out in full force celebrating their natural crowns.
We have make-up that matches our skin tones
Up until recently, Black women had to look under a lot of rocks to find a perfect shade of make-up. While there have been a small number of brands with a range of shades for Black women, Fenty since its debut, has shown the beauty industry what inclusion really looks like. With an impressive 40 shade range with its multitude of gorgeous undertones is making it easier for Black women to find makeup that works for them. In addition, Fenty also caused a massive overdue shift in how beauty brands (new and old) create and market products aimed at Black women. We'll see how the other brands do in the future but for right now Fenty is bae.
We're celebrating sisterhood
Mainstream media will have you believe that Black women are combative and we throw drinks at each other but that couldn't be farther from the truth. In reality, Black women out here being supportive to not only their best friends but also women whom we've never met on the internet. Black women understand the importance of community which is why you'll find threads across social media showing sistas coming together to help, encourage, and uplift one another.
We're taking care of our mental, physical, and spiritual health
I don't know a single person who isn't working on their physical and mental health, myself included. Black women are breaking the long dark cycle of ignoring their mental health and are out here taking care of themselves. We understand the consequences of not taking care of oneself and we're doing everything necessary to ensure our mental, physical, and spiritual needs are met. After all, we can't handle our business if we're not mentally clear and centered.
We're leveling up
Black women know that knowledge is power. We are graduating with our degrees in higher education in order to secure the bag for our future professional career.
Securing the bag
Black women are hustling for that coin like never before. Not only are we climbing corporate ladders we're also taking our skills and passions and transforming them into coins by becoming entrepreneurs. According to the Census Bureau, Black women-owned businesses climbed to 66.9%, from 900,000 in 2007 to 1.5 million in 2012. We're also 58.9% of the nation's 2.6 million Black-owned businesses. We are truly carving out lanes for ourselves that will ultimately lead us to financial freedom.
We're alive
Having God allow us to wake up able to live another day is more than enough reason to be happy. We give thanks and live our day to the fullest as we don't know what the Lord has in store for us.
We rock
Period.
We're in love
And the cherry on top is finding that special someone who you can share your struggles and success with. Someone who will take your braids out and remind you to wash your makeup brushes. Someone who will treat you like the queen that you are because you deserve it.
What are some of your reasons why Black women are happy? Share with me in the comments below.
The following two tabs change content below.
Maria Antionette is a professional hairstylist, DIY creator and fashion lover with a belief that beauty can be fun, easy and simple.
Latest posts by Maria Antoinette (see all)