The makeup industry, just like that of fashion, music, sports, has been around for years. It started off as an idea, and evolved over time. The way we beat our faces changes daily as more consumers are created. And just like any other industry, there is always that one flaw that arises within it; color. People of color have to literally fight for their mark no matter which industry you refer to. People of color always have to beat the odds and accomplish something which is admirable, but no matter what, a fight or rebellion is needed.
In the beaut industry there are hundreds of thousands of makeup companies. We go crazy over the latest Urban Decay or Anastasia Beverly release, but you know who came out of a completely different industry, changed the game, and made a difference with one launch? Rihanna, my people. Robyn Rihanna Fenty shut the makeup industry down in just one day. How did she do it? Why was her makeup different from the rest? Because she brought color to a world that is strictly black and white. This ladies, is bigger than just makeup.
Fenty Beauty dropped on September 8, 2017 at 3 am EST and 12 pm PST. I set my alarm, and woke up at 2:45 am to solidify my spot on a virtual line for her website. I patiently waited for the countdown to end and at 3:10 am I entered and was in awe of what she had created. 40 SHADES OF FOUNDATION PEOPLE. There is a shade for everyone; from pale to dark skin tones, Rihanna literally has you covered.
Her foundations sold out in hours and they were, not surprising, all mainly the darker shades. Do you know how many companies she pissed off? Do you know how shallow these popular CEO's and Founders probably felt? You all had one job; to have makeup available for every consumer, no matter the skin tone and you couldn't deliver. Now who has your coins? Rihanna does and she's making bank daily from it!
Brands such as MakeUp Forever went as far as trying to shade Rihanna saying that they always had 40 shades of foundation, as if this wasn't new to their business. Rihanna fans clapped back and so did she, effortlessly. It's actually hilarious to watch these brands we adore try and up the ante to outshine Rihanna for doing something that the general public always needed.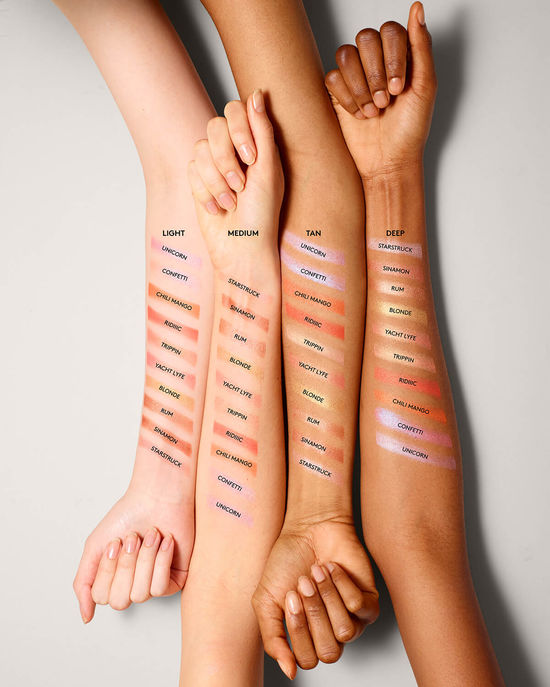 Photo Credit: Fenty Beauty
"In every product I was like: 'There needs to be something for a dark-skinned girl; there needs to be something for a really pale girl; there needs to be something in-between," – Rihanna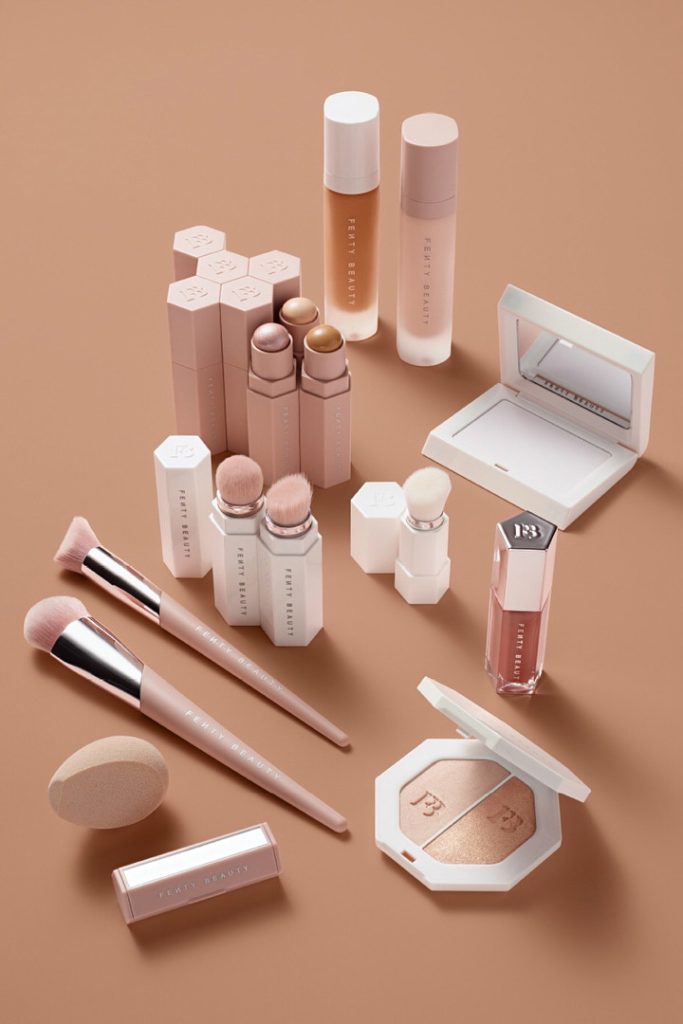 Photo Credit: Fenty Beauty
You cannot deny that Fenty Beauty products are perfect in every way. The products go on smooth, match your skin, and are the most versatile makeup up products I have ever come across. The "match sticks" can be used as highlighters, lip colors, and eye shadows. Who does that? You can imagine my surprise when I realized that I could use the products for different reasons.
In a world where color is a blind issue that people choose to ignore, I find it truly admirable for Rihanna to go above and beyond for her brand. Her makeup line is a breath of fresh air and there is so much more to come. Fenty Beauty is magical and to see so many makeup lovers come to almost tears over something that is made truly for them brings utmost joy to me; I can only imagine how Rihanna feels.
If you're a makeup lover, I encourage to try out at least one of her products! Her price points are reasonable, and again, the quality is impeccable. You will not be disappointed; you'll be sure to Shine Bright Like a Diamond.
The following two tabs change content below.
Rakiya George of Jersey City, NJ. College graduate who majored in Journalism and minored in Television & Radio: I've always had an immense love for journalism and college lead me into the direction of fashion journalism, which eventually made me realize that I just love being a creative and speaking on topics that everyone can relate to and have meaning. My purpose is solely to create and spread positivity throughout any platform I become a part of. I hope you enjoy!
Latest posts by Rakiya George (see all)