You're Cordially Invited To Create and Chat with Maria Antoinette
Join HGTV Lifestyle Expert Maria Antoinette for a chic and creative night out at The Hive on Monday, April 9, 2018, from 6-8pm!
During Create and Chat, each participant will complete a handmade piece of jewelry that will have all of your friends asking where did you get that!?!? They might think Babble Bar but with gleam, you'll be able to say I made it!!!
And that's not all – I'll also share DIY tips and tricks that will help you become a master DIY'er. It doesn't matter if you're a novice or pro, everyone will walk away with a new trick that will help make your everyday life easier.
Don't worry about materials they will be provided! All you have to do is show up ready to create, chat and eat!!!
Speaking of eating, we will have light dinner from everyone's favorite farm to table restaurant Knoxville Farmacy, and wine is also included!
Each participant will leave with their completed project, and an amazing gift bag filled with goodies!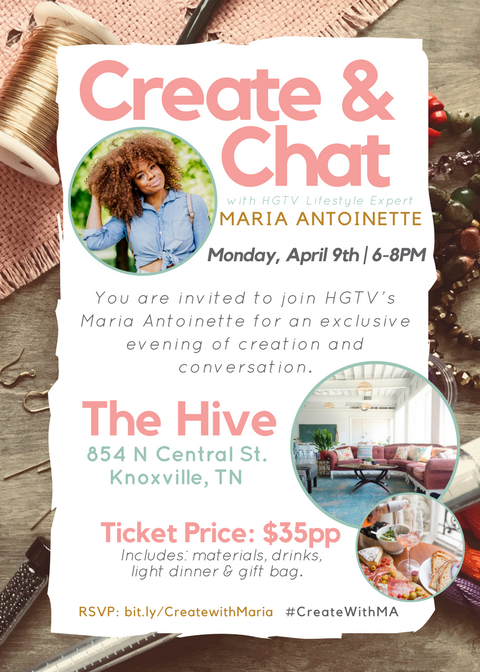 Can't wait to see you all while we chat and create the night away!
In the meantime here are three of our favorite DIY projects for you to try at home:
Hair & Body Oil, Wooden Picture Frame, and Fitness Shirts.
Be sure to catch me on my new HGTV show Burning Daylight for even more fun DIY ideas!
The following two tabs change content below.
Maria Antionette is a professional hairstylist, DIY creator and fashion lover with a belief that beauty can be fun, easy and simple.
Latest posts by Maria Antoinette (see all)