Most of us admire the bold and risky women who rock short hairstyles. More recently, with the #teamnatural takeover, we LOVE styles that incorporate a woman's natural curl pattern. This is where the tapered cut comes into play. Not only is it stylish, but it's a great transition style for some women who want to get back to their roots (pun intended). A tapered cut certainly has its benefits and after getting my own, I am here to provide you with all the pros! Are there cons? Of course, but we'll save that for a different post. Right now we are celebrating the tapered cut in all it's glory! Here are five reasons YOU should get a tapered cut:
Ultimate Convenience
This is the number one reason for a reason. It's quite obvious that less hair means less work. Less hair also means less product. This is my second time sporting a tapered cut and I was instantly reminded of how much more convenient it is. When I get up in the morning, all I do is throw some product on my hands (curl creme, mousse, etc.) and run my fingers through my sides and back. I spray the top with my product of choice (curl refresher) and fluff it. Good to go!
Promotes Healthy Hair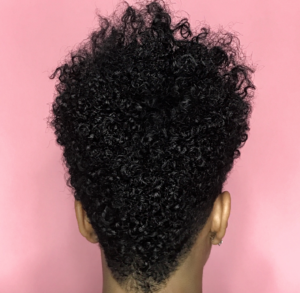 I have been natural for over 6 years. However, I have epically failed at keeping heat off of it. What's the result of consistent curling and pressing? Heat damage. For me, this played a big part in my decision to cut my hair. It's no fun having beautiful curls at the root and wimpy straight strands at the end. My decision to go with a tapered cut vs. a big chop is my initial step in the process of growing out healthy hair.
Reading "Should You Big Chop or Transition to Natural?" on the blog by April Christina empowered me to decide for myself what was best for me. It was at that point, I decided to get comfortable with a tapered cut and then maybe feel more comfortable doing a "big chop" or pixie cut. We shall see!
Growth in Confidence
In my opinion, it takes confidence to rock any short hairstyle. If you don't have the confidence to begin with, you will definitely find it after a cut. You'll find the voice to defend your decision to cut it and you'll embrace who you are as a person without a head full of hair. As the great India Arie once said "I am not my hair" and that is exactly the attitude I took when deciding on my cut.
Gives Instant Edge
I always dare to be different. Whether it be a subtle or bold, I like to break away from the crowd, especially when it comes to my hair styles. A tapered cut does just that. It is unique. No two are exactly the same. And no matter what style you go with each day (boho chic, urban, professional, etc.) you never lose your edge with such a unique hairstyle. I love it!
Accentuates the Face
Taking the hair away from your face draws more attention to your features. In my opinion, it accentuates your best facial features and brings forth your beauty. The great thing about a tapered cut is it can be shaped to fit you individually. The same way long hair can be framed to your face, is the same way a tapered cut can be customized to the shape or size of your head, your hairline, your nape line, etc. If you're unsure of how this style might look on you, there's always the option of trying a wig first. Maria has an amazing tapered cut wig tutorial that I think is a great starting point if you are on the hesitant side. You can try it out without committing.
Safe to say, most women LOVE a nice looking cut. On the other hand, most men….well we don't really care what most men like, do we? I have to say I love going against the notion of what is considered beautiful. I am being my own kind of beautiful and I encourage you to view beauty the same. As your own. So when you sit in that chair and say your final goodbye to those locs you've held onto, remember….you are not your hair.
Will you be getting your tapered cut soon? Comment below so I can share in the excitement!
Major thank you to the talented @theMariaAntoinette for slaying my tapered cut! Be sure to check back here for more posts from me @iam.tiffany.renee and share this one for your friends and family!
The following two tabs change content below.
Tiffany is a full time mother and creative. She is almost always thinking of a master plan and is currently pouring all her creative juice into her recent launch of Official Curl Gang, a community focused on the empowerment of women of color and promoting love of natural hair. When Tiffany steps away from her startup business, she enjoys spending time with family, writing, and indulging in unusual amounts of sea salt caramel gelato. You can catch up with Tiffany via IG: @iam.tiffany.renee where she loves to meet new #curlfriends and be sure to check out her line of statement tees and blog at www.officialcurlgang.com.
Latest posts by Tiffany Renee (see all)