Going natural has become such a big trend as of late that it has become a movement of its own. The natural hair movement has inspired women of color to embrace their natural beauty and relinquish the hold of chemically processed hair. This movement has not only encouraged self-love, but also promotes a healthier hair lifestyle.
Though women still process their hair, many of us have made the transition to natural hair or have become interested in the natural hair process. Typically, we as women have a tough time deciding which route should we take to embark on road to embracing our natural beauty. We often have so many questions before starting our natural hair journey. Once we have decided to go natural, the next thought is: should I big chop or transition?
Both decisions have their pros and cons but first I'd like to share part of my natural hair journey with you.
I used to love my processed hair!!!! It was long, healthy, and I did not find anything wrong with my perm until I got tired of going to the beauty salon and wanted to do my own hair. When I realized this, I started researching and looking for various inspiration for the best way how to remove the chemicals from my hair.
At the time, I was so afraid of doing a big chop. I thought my head would look funny and I would not be able to maintain the confidence my long straight hair gave me. So I began the transition process to let my perm grow out. This process took about 2 years. In the meantime, I kept my hair in protective styles and trimmed the ends off until I felt comfortable with a length I could showcase.
Shortly after my hair got to the length I wanted it, I got bored with it. My hair didn't seem unique enough for me so I did my version of the big chop! Though scary and unknown, this decision was an amazing one for my new lifestyle.
When I first saw it I wanted to get my hair back. I was half bald (I thought to myself) and instantly regretted it. But moments later walking out the salon I felt liberated and wondered why I did not do this big chop earlier in my natural hair journey.
The sides of my hair were chopped and I thought it was edgy yet chic. My hair did not look like anyone else at the time and I was excited. I kept this style for about two years before recently deciding to grow my hair out.
Would I chop my hair off again? ABSOLUTELY! It was so much fun and a reflection of my personality. Here's a look at my natural hair journey: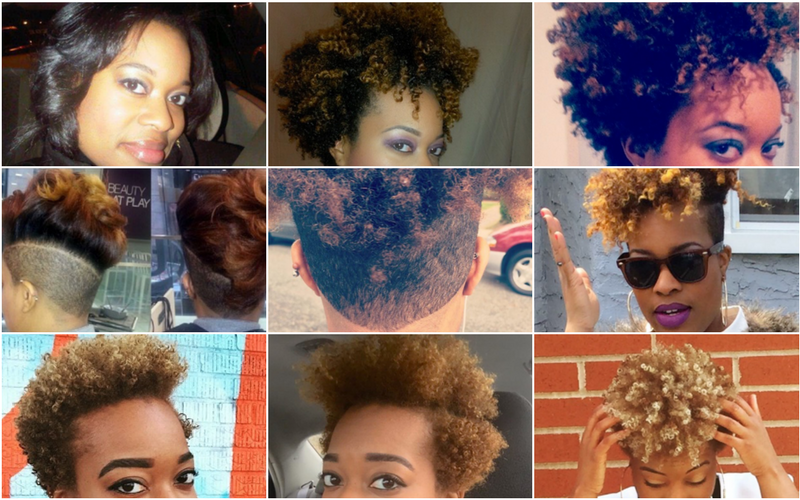 Here are some things to consider if you are thinking about transitioning or deciding on the big chop:
Be you! There is nothing wrong if you decide to transition or big chop. It is a preference. Whichever one you conclude will be your journey, love and embrace it.
Be creative! Transitioning yields a host of various protective styles and curl options that will make the process easier for you. Big chopping does not have to be boring. Pick a style that you know you will enjoy seeing your mane in and show the world your new look.
Be a part of a great community! Just like any other lifestyle, being natural has hosts of outlets whether it's YouTube or physically attending natural hair meetups, there is something that can meet your need. I have built amazing friendships with great women that are still my friends today from these various avenues.
Remember, whether you decide to transition or big chop, there are many different ways to go about it. It is a journey, a process, and for me personally a lifestyle that I've thoroughly enjoyed and have come to understand that it brought out an inner beauty in me that I had never seen before – but I am glad I recognize it now!
The following two tabs change content below.
April Christina is a health and wellness blogger that resides in New York City. After being diagnosed with endometriosis back in 2010, she decided to turn her passion into purpose by educating people that adopting a healthier lifestyle can be fun and invigorating. April is a firm believer that loving yourself and your body comes from within first before it can be shown outwardly. She continues to inspire people on her website endoNme.com and Instagram platform @endoNme.
Latest posts by April Christina (see all)