The holidays are quickly approaching and if you are like me, you are probably starting to think about what gifts to get your loved ones. If you have children or teens on your list, here are 20 ideas that will be sure to please them. From fun gift ideas that kids will love, to cool gadgets and electronics that teens will appreciate, I've got something for everyone. So take a look and start shopping!
Young Children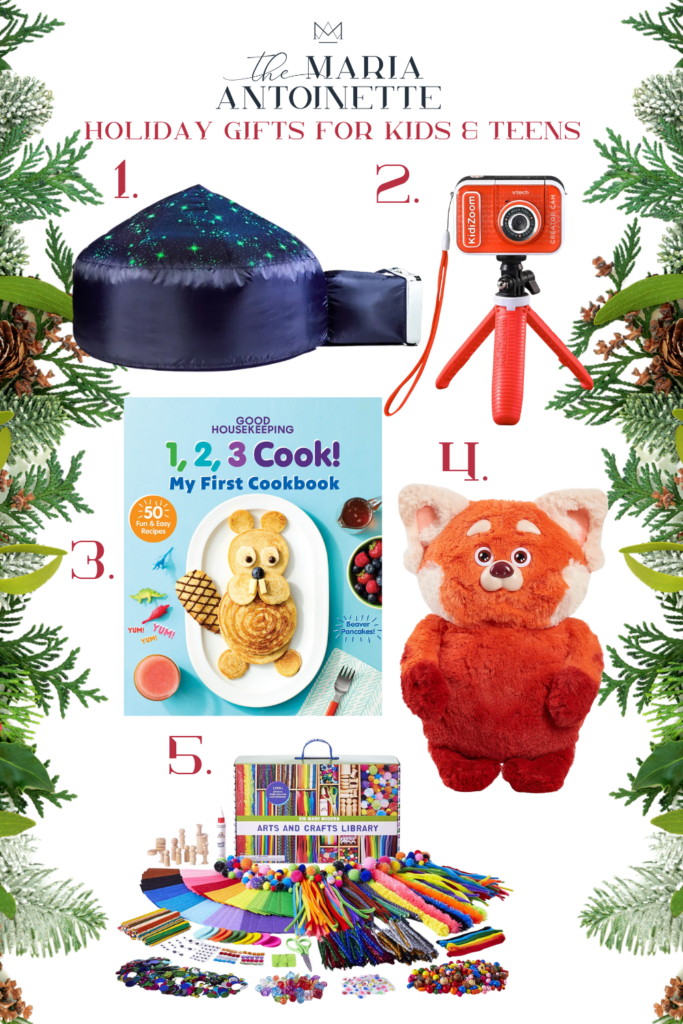 Starry Night Air Fort ($60.00) – A transportable, inflatable retreat that shares the wonder of the universe with your little stargazers.
VTech KidiZoom Creator Cam ($33.74) – This HD video camera for kids lets you make great videos; it has a built-in microphone and cool features like time-lapse video. With the green screen material that is included, you can become invisible or be pursued by a T-Rex while using this action camera.
Good Housekeeping 123 Cook!: My First Cookbook ($19.89) – As kids learn to prepare delicious food for themselves and their families, these no-fail recipes from the Good Housekeeping Test Kitchen are sure to boost their confidence. This cookbook will help kids navigate their first culinary explorations with the help of vibrant photos, simple-to-read recipes, and useful tips on every page. Happy travels and happy eating!
Turning Red Many Moods of Mei Plush ($26.99) – The Disney and Pixar Turning Red Many Moods of Red Panda Mei Feature Plush will get you enthusiastic. From calm to thrilled, Red Panda Mei goes through a spectrum of emotions. Squeeze Red Panda Mei's tummy to hear ecstatic growls; press her paw to hear movie music and adorable remarks like "I'm calm!" This plush encourages imaginative role-playing and provides a secure forum for talking about the difficult emotional ups and downs of growing up.
Arts and Crafts Supply Library ($39.99) – With the Kid Made Modern Arts and Crafts Library set, let children's creativity flourish! It's the ideal cornerstone for any kid's creative collection, with more than 1,000 components to build your own craft journey.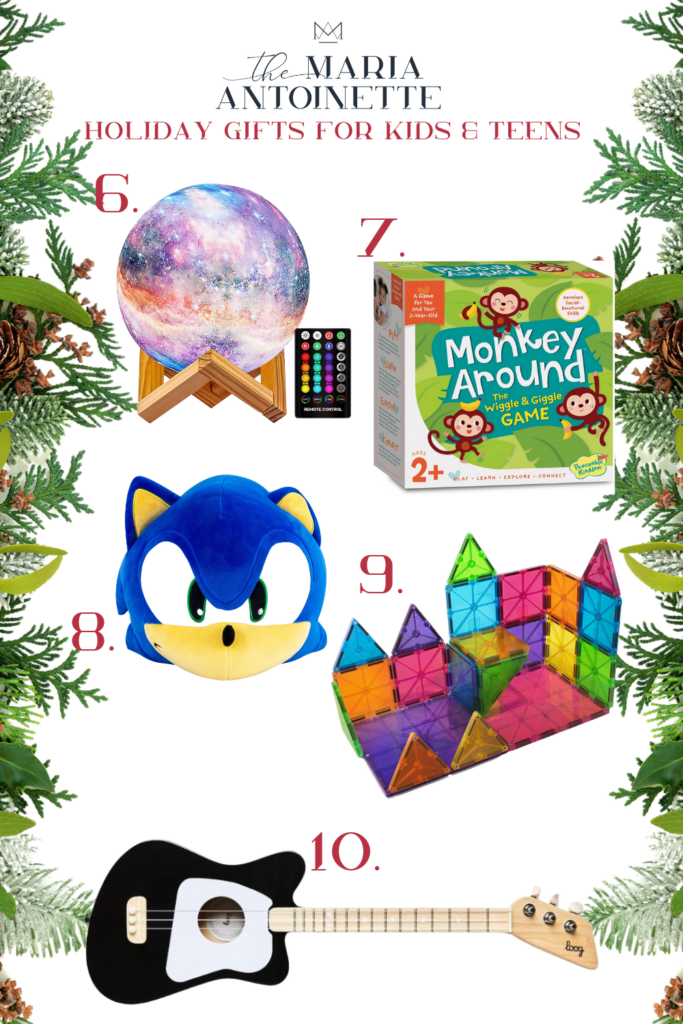 Moon Lamp ($17.99) – The moonlight is a set of 16 decorative lights that may flash, fade, strobe, or smooth 16 distinct hues. It is the ideal set of lights for a child's room since it is imaginative and dreamlike. The nightlight has 16 colors with 4 modes and comes in 4 different sizes.
Monkey Around The Wiggle Giggle Game ($16.76) – With the use of 40 cards called Monkey Around, players are asked to perform actions such as high fives, embraces, and basic gross motor abilities including hopping, marching, and balancing. Parents now have a fresh and pleasant method to interact with their child through simple and engaging fun thanks to this game designed exclusively for 2-year-olds.
Sonic Mega Plush ($34.99) – This enormous Sonic plush toy is sure to delight your favorite gamer.
Magna-Tiles ($49.99) – The first 3D magnetic building kits that stimulate young minds by combining creativity, arithmetic, and science. Use this collection to produce flat or three-dimensional shapes. includes 32 transparent in vibrant shapes.
Loog Mini Acoustic kids Guitar for Beginners ($89.00) – An acclaimed 3-string configuration makes learning more convenient and quick. Kids feel pleased and inspired to keep playing and learning with the Loog Mini. Made from real wood, this guitar is made specifically for small hands and features nylon strings with a lovely classical guitar sound, low-string action, and perfect intonation. They can study independently and at their own pace with the help of chord flashcards, no-cost video lessons, and full access to the Loog Guitar app (available for iOS and Android). Available in five different colors.
Tweens & Teens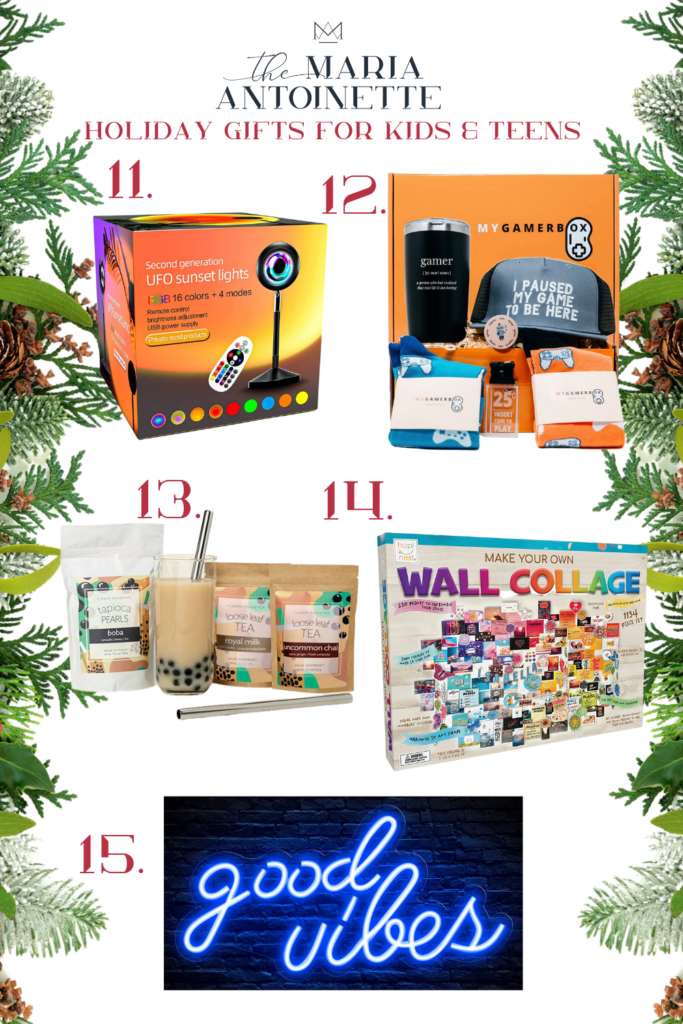 Sunset Projection Lamp ($17.79) – Create a calming relaxing environment with the colors of the sunset. The lamp comes in 16 color-changing options and fade mode.
My Gamer Gifts Box ($44.97) – Everyone will love receiving My Gamer Box, especially those who are about that gaming life.
Bubble Tea Kit ($40.00) – With this kit, you can quickly prepare black and rooibos chai bubble tea at home.
DIY Wall Collage Picture Arts and Crafts Kit ($24.99) – A terrific DIY project to liven up a plain wall is this Wall Collage! It can be used to adorn a door, dorm space, or bedroom! includes 154 cutouts, 66 letter cutouts, 769 stickers, 41 quotation stickers, 10 markers, 6 yards of string, 90 foam squares, and instructions. It also includes double-sided adhesive tape that is safe to use with paint. This collage is approximately 5.5 feet by 3.5 feet. The shape is ultimately up to the designer.
Olekki Good Vibes Neon Sign ($25.59) – With this blue neon sign, make a statement and spread good vibes to create the ambiance you've always wanted!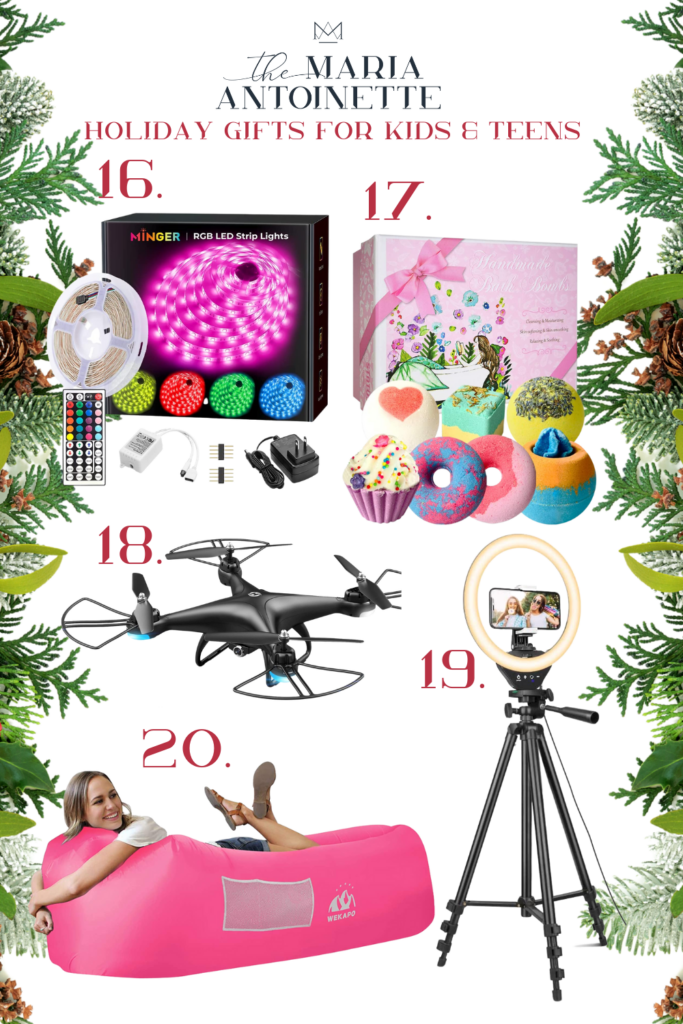 LED Strip Light ($13.99) – Light up any room with this LED strip. Provide more vibrancy to any environment with 16 different rainbow selections.
Bath Bomb Gift Set ($14.99) – Give yourself a completely unique bathing experience by creating vibrant colors and rich bubbles with bath bombs. They start to fizz when you throw them into the water, generating vibrant bubbles and skin-beneficial chemicals. Enjoy the delightful bath bomb bathing experience while taking a bath in a tub decorated with colorful colors. Bathing in a tub filled with aromatic and colored water is extremely relaxing.
Holy Stone HS110D FPV RC Drone with 1080P HD Camera ($89.99) – View photographs from the wide-angle lens on your phone to capture and preserve special moments. You may easily express your creativity on social media with the help of the app.
Ring Light with 50" Extendable Tripod Stand ($29.99) – Take your videos to the next level with this ring light. It gives you complete control to quickly modify the 10 brightness settings and 3 color options (cool white, warm yellow, and daylight) to suit your various needs.
Inflatable Lounger ($39.98) – The innovative pillow-shaped headrest of the air lounger provides your upper back and neck with comforting support when you need to unwind. No pump is necessary. To inflate, simply whirl it through the air. After each whirl close the sleeve to trap the captured air then open it again for another whirl. When full to desired capacity close and seal the sleeve. Available in a variety of colors.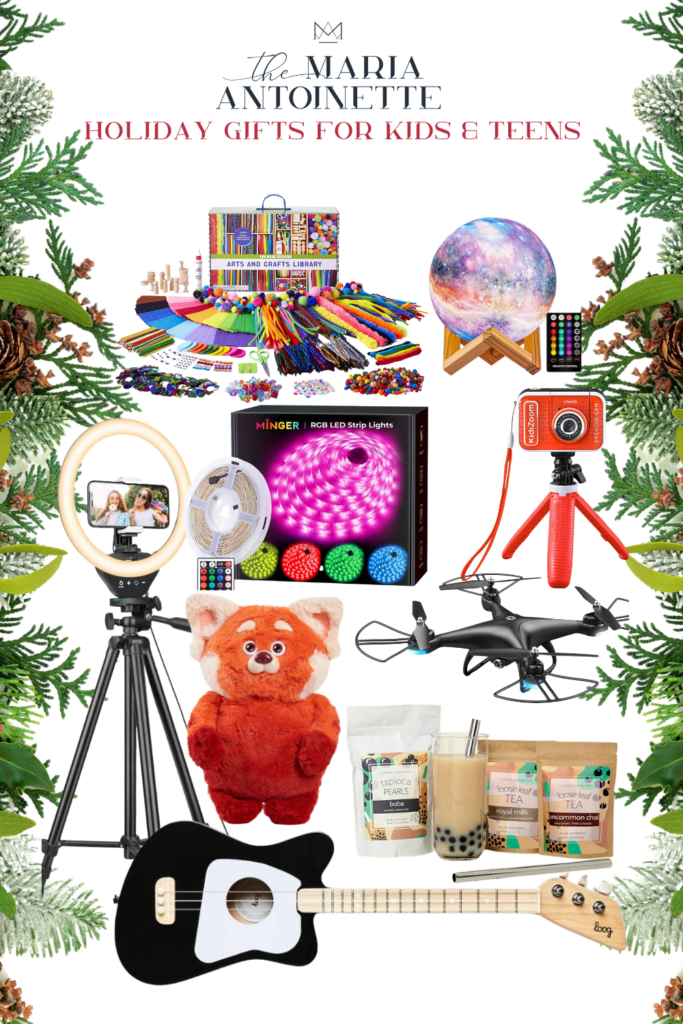 Looking for even more holiday gift guide inspiration? Check out my gift guides from the previous holiday seasons:
50 Lifestyle Gifts For The Whole Family
Gifts For Him
Gifts For Children of All Ages
Gifts For Her
Affordable Gift Ideas For The Whole Family
Black-Owned Shops To Support
The following two tabs change content below.
Maria Antionette is a professional hairstylist, DIY creator and fashion lover with a belief that beauty can be fun, easy and simple.
Latest posts by Maria Antoinette (see all)