*This is not a sponsored post but it does contain post contains affiliate links.
Alright, y'all I finished Andy Frisella's #75Hard challenge. I've actually been done with the challenge for over 3 weeks. I am going to share everything I've experienced while doing the challenge as well as how it's been my first few weeks after.
Let's start with what is the #75Hard challenge?
It is a mental challenge. You have to mentally challenge yourself daily to get through this, 75 days is a long time to change your routine into something so strenuous. You have to complete 6 rules every day for 75 days. These are the rules:
Follow a diet
(2) 45-minute workouts, one has to be outside and they can not be consecutive.
No alcohol or cheat meals
Take progress pictures
Drink one gallon of water a day
Read 10 pages from a nonfictional book, no ebooks or audiobooks.
When I first read these to-do's I was like mind blown. To be honest I was lucky if I worked out 2 a week let alone twice a day. Let's not get into the GALLON of water and no days off! But I was in it to win it! I wanted to change that was 100% about how I looked. Oh, boy was I in for a major surprise. It's so important to say it is not a mere fitness challenge. Yes, I wrote about this in my midway check-in post but I have to reiterate it here. This challenge was designed to be a mental Ironman… and it was just that.
So why did I choose to do this challenge of all the challenges in the world?
Bottom line I needed strict guidelines and I wanted real results. I mentioned up above it was all about how I physically looked, I was fluffy. Biggest I had ever been and I wasn't sure where to start to get the fluff off. One day I was scrolling through Youtube and saw a title that said something like this "How I lose 15lbs of fat in less than 3 months". I watched a little of that video that day but went on with my life. Fast forward to several months in to stay at home orders and I need change and I need it ASAP! I found that video and I dove headfirst into everything I could find talking about 75 Hard. After listening to Andy's podcast on the challenge I knew this was what I needed. So what started out as a dire need to lose weight turned into a rewarding mind reprogramming! My tip to you is to listen to Andy's podcast.
Let's go through my stats. I'm a numbers girl and the proof is in my numbers for real! All of my stats came from getting weekly inbody scans. Which was free from my local nutrishop. I will go into tips, cost, workouts, and diet soon.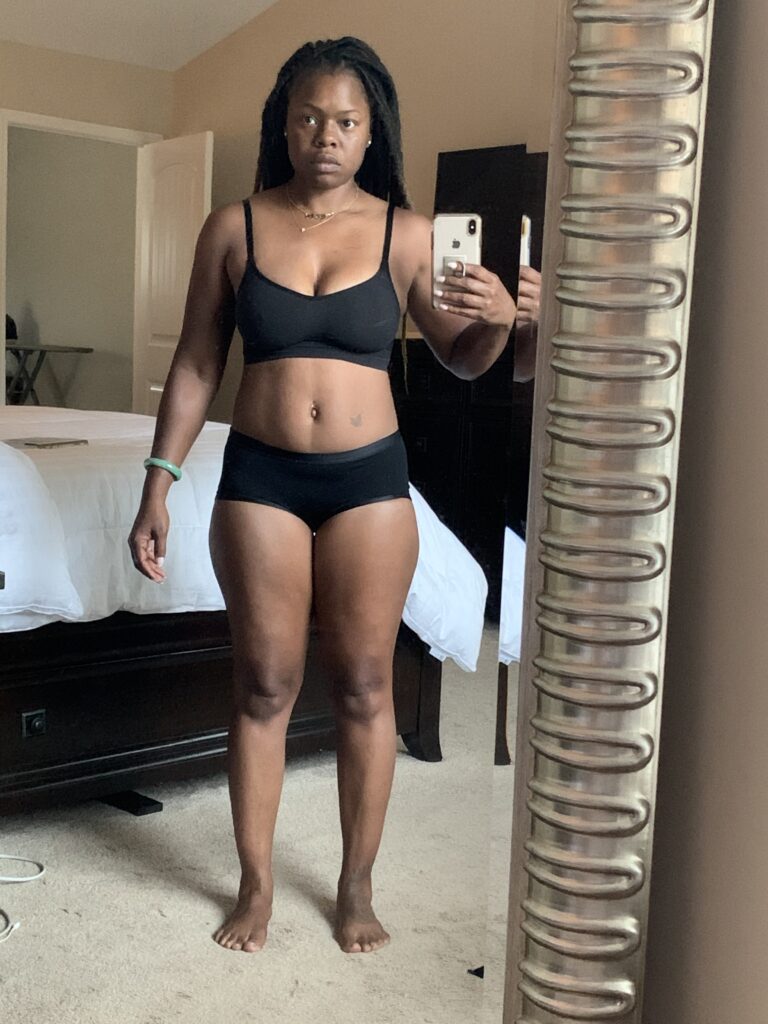 My before picture July 1st 2020 I weighed 145.7 with my body fat at a whopping 41.7lbs which is 28.9%. My visceral fat (fat around your organs) was at 7. My skeletal muscle mass was 57.76.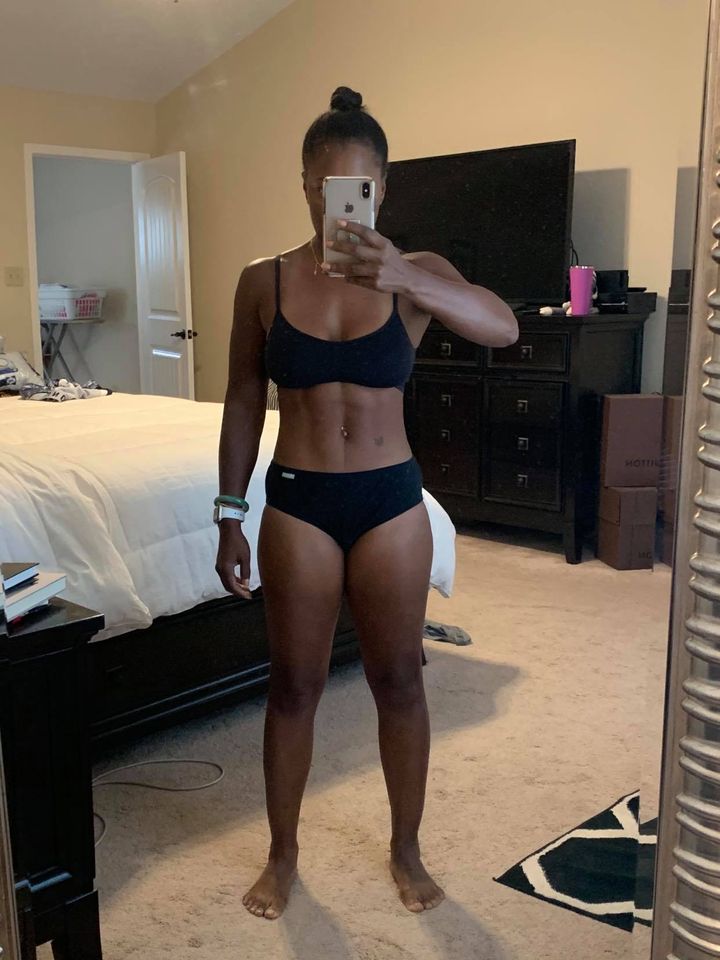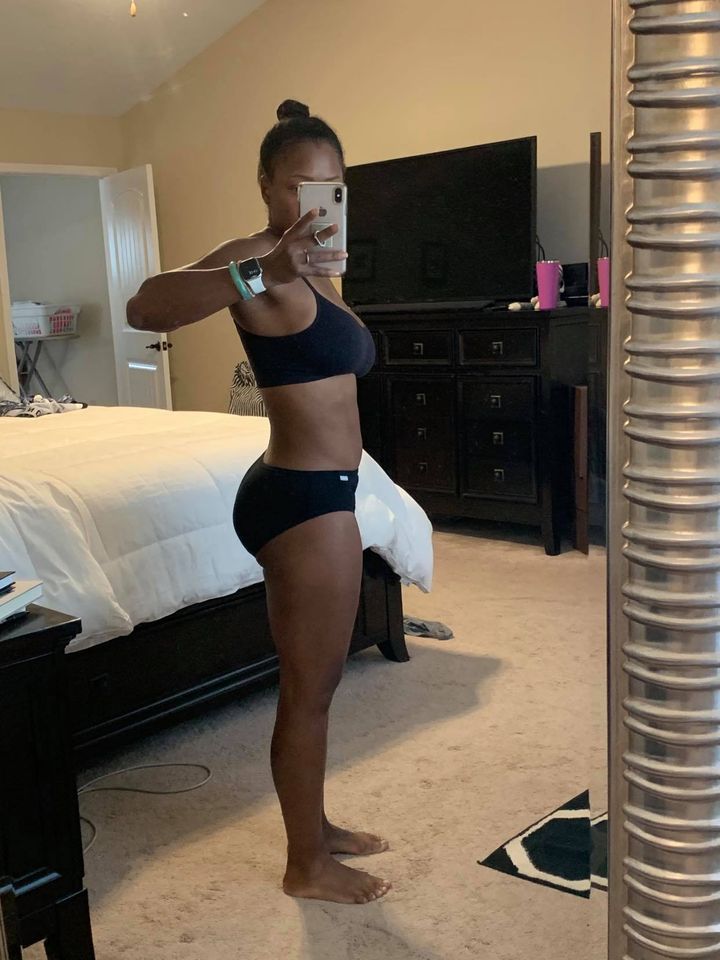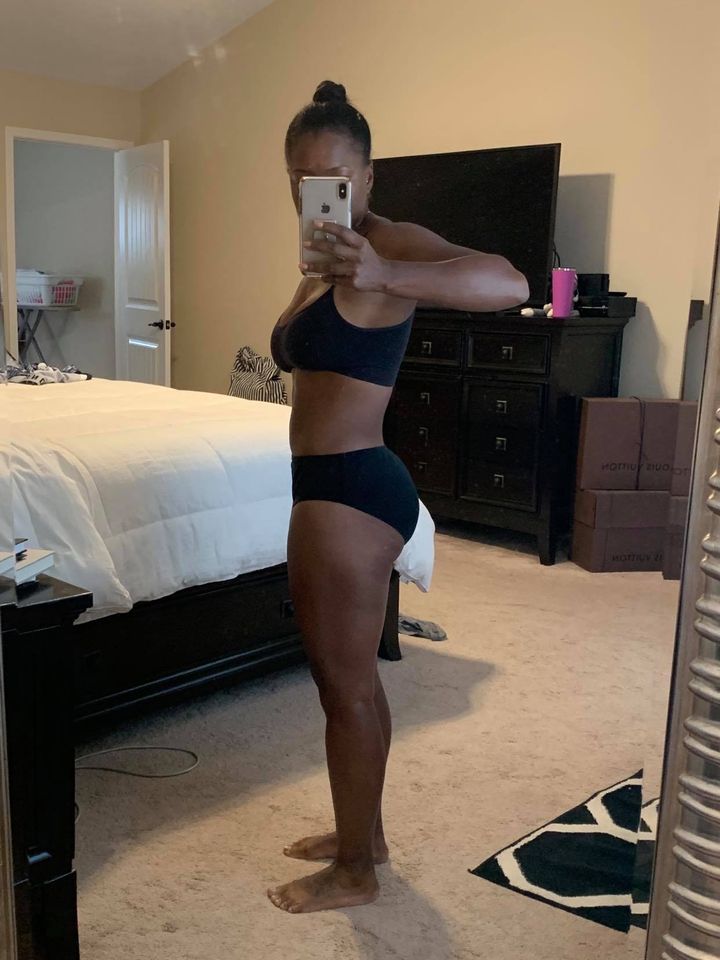 September 13, 2020, I weigh 130.2 lbs with my body fat at 27.1lbs which is 20.8%. My visceral fat is 4. My skeletal muscle mass is 57.76.
After 75 Hard my trainer increased my carbs which increased my caloric intake. This is when it starts getting good and you learn so much about how your body works. Did y'all see this?!?!? As of September 29, 2020, 3 weeks after I completed the challenge I weigh 131.4 with my body fat at 26 lbs. which is 19.8%. My visceral fat is 4. My skeletal muscle mass is 59.3. 3 weeks later with plenty of cheat meals, I am still losing fat!!! Whomp whomp!
Now that I have your total attention let's talk about the mental changes I have developed because of 75 Hard. I was and have always been driven but I was in a rut. Mind rarely clear, and I couldn't focus for long. Wasted a lot of time and complained about all the things I wrote above but made no stride to change it. My days just blurred together in a nonproductive way. I was lost in the sauce just pedaling through life. With the structure 75 Hard forced, let's be real. I had no choice but to get my task done, which made me realize I could accomplish so much more in a day then I thought. I learned better time management, got confident in doing what I said I was going to do. Being present but still seeing the future. I really need this one as I never thought about tomorrow. Now enters in the nonfiction reading. Y'all I haven't read this many physical books in I don't know how long?!?! My first read was all about the mind, then I shifted into building financial wealth, then deeper into financial freedom. Ended the challenge cosigning how much of a badass I am at making money. So this challenge doesn't just get you snatches physically.. it does! But it also gets you snatched mentally!
My nonfiction book list
Building Wealth: Achieving Personal and Financial Success in Real Estate and Business Without Money, Credit, or Luck by Russ Whitney (currently reading)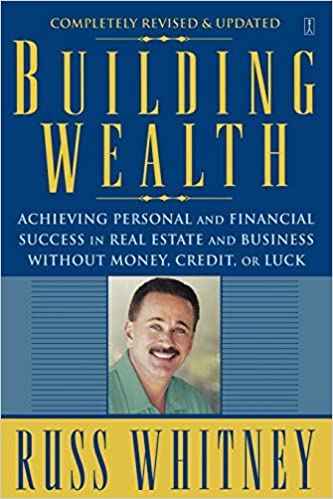 The Code of the Extraordinary Mind: 10 Unconventional Laws to Redefine Your Life and Succeed on Your Own Terms by Vishen Lakhiani (finished)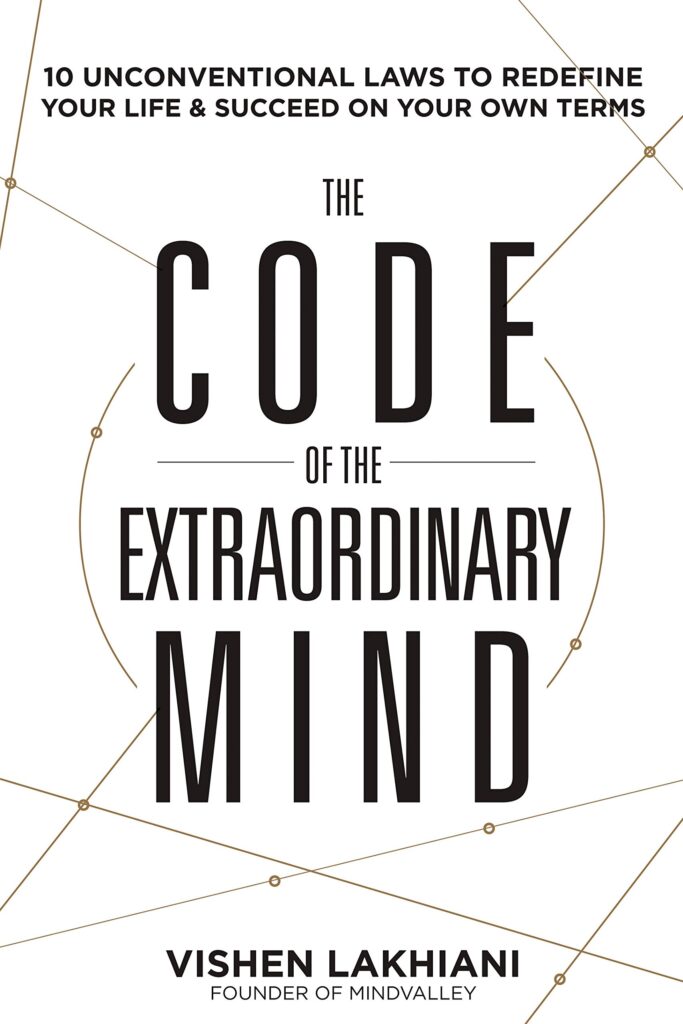 The Total Money Makeover: Classic Edition: A Proven Plan for Financial Fitness by Dave Ramsey
You are a Badass at Making Money by Jen Sincero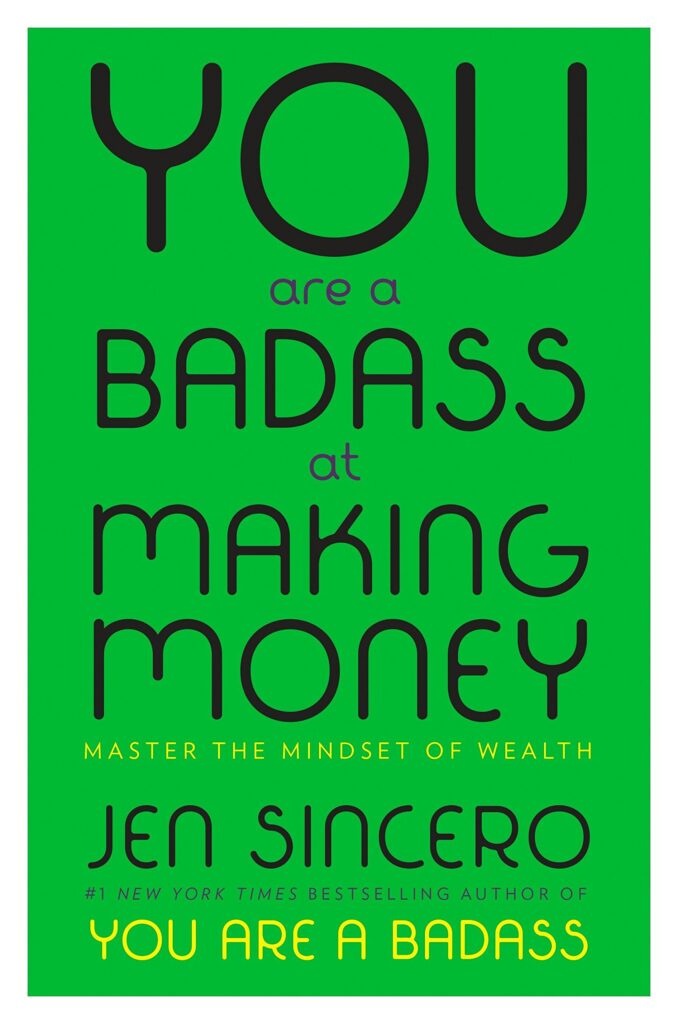 I spoke about my diet and workout in my midway check-in post. But I got some questions so I will go deeper.
Diet
For me I had my trainer Matt York write me a macro-based diet from day one. I made my mind up that I wanted to eat clean, no processed foods, no sweets, no dairy, and little to no fruit. This was my diet. You DO NOT have to go this hard. Your diet can be: don't eat ice cream. It's totally up to you.
I measured all servings and documented everything I eat and drank through My Fitness Pal. I used the free option and have for years. This works for me. My diet was around 1,200 – 1,300 calories. Sounds shocking but it's a lot of food when you eat clean. Here is an example of what a day looked like for me in meals: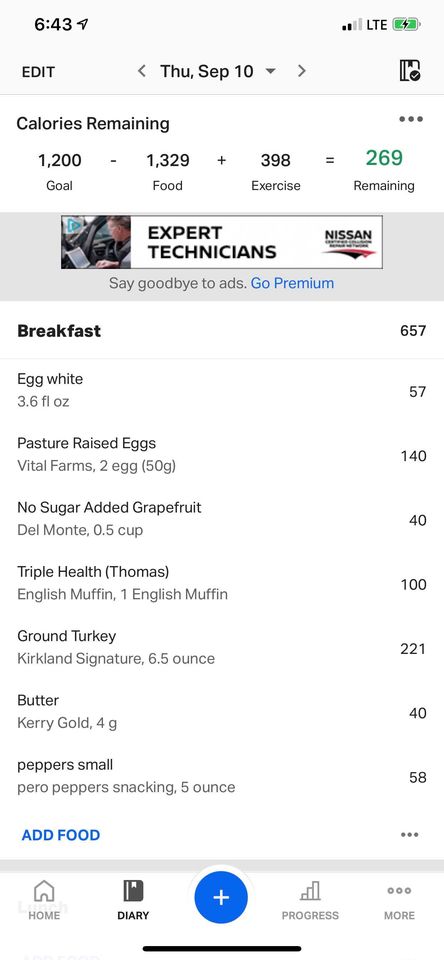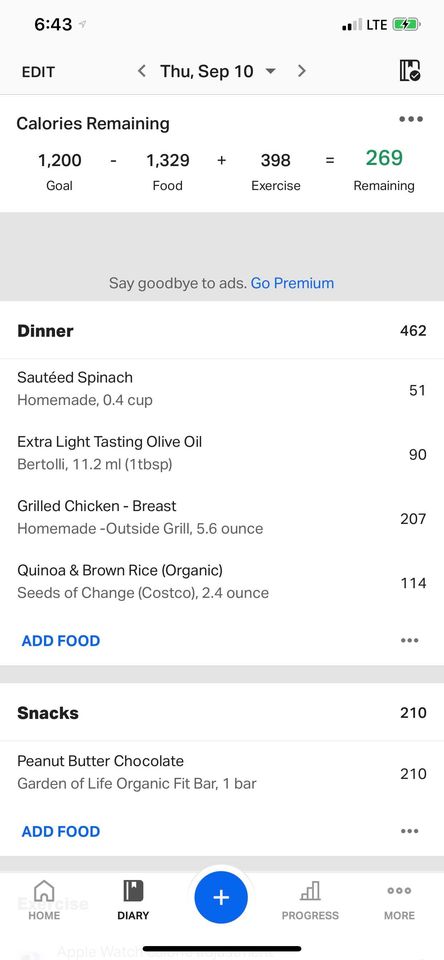 You'll notice I only eat two meals and one snack. That's because I utilized intermittent fasting after about a month and a half into the challenge. This was a game-changer for me. My I.F. plan I used was 18/6, fast for 18 hours, and eating in a window of 6 hours. The thing about the eating window is that you don't just eat all Willynilly. Stick to your plan. So for me to make it work because I was full after my first meal. I gave my body more time to digest before eating the second meal. This isn't part of 75 Hard, just something I implemented. But you can see I was eating a lot, way more real food then I ate before 75 Hard.
So where is my diet today? I eat pretty much the same just more. I incorporated homemade protein smoothies and I added Daily Harvest. This has been another game-changer because it gives my body a vast variety of veggies! I eat one item from Daily Harvest every other day. Keeping the cost down. This isn't sponsored by them. I actually pay for this service but I didn't start eating and using their service until after the challenge. Here is a $25 gift card if you want to try it. They taste good, healthy, and portioned just right for a meal!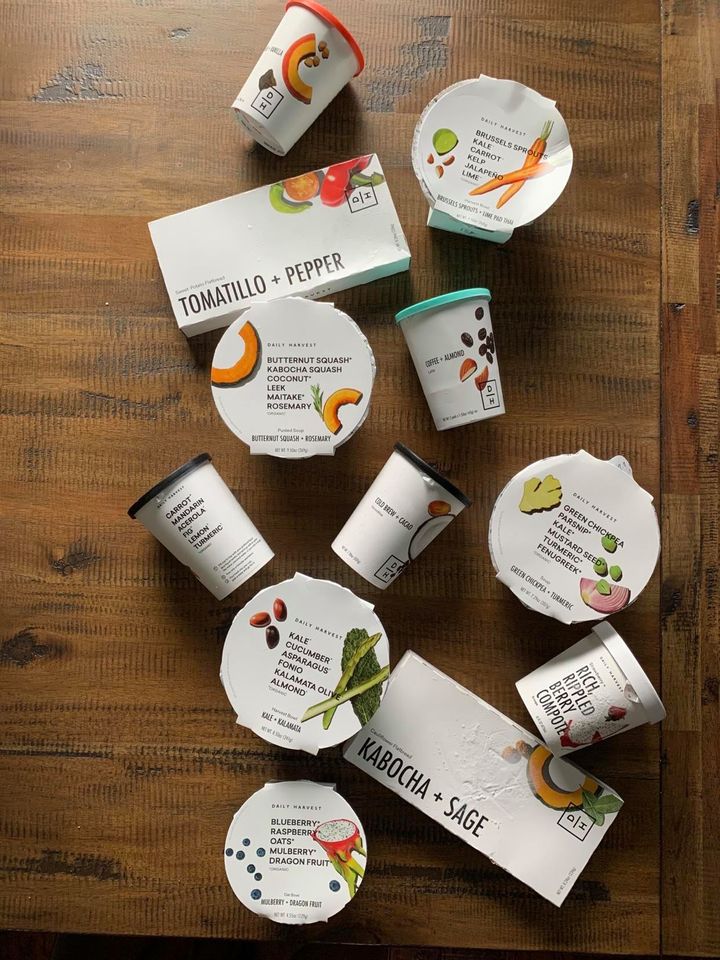 Workouts
What type of workouts do you do on #75Hard? Do you have to do set workouts? I can not stress this enough, do what workout works for you!!! 75 days is a long time! You can walk the entire challenge as long as you follow the rules. When I started out my first half of the challenge I walked a lot, I was out of shape and I knew if I went too hard I would be too sore and I also knew I didn't have days to recover. I focused on conditioning and getting used to working out twice a day. I walked, cycled, rollerbladed, roller skated, did yoga, and maybe a handful of H.I.I.T. Workouts. I didn't touch a weight until I was halfway through this challenge. Every workout I did above was free. I utilized free yoga classes off of Youtube, and because it was summer I did both workouts outside often. It was great, tan was popping and my vitamin D intake was on point.
Halfway through the challenge I went into the gym and started training with my trainer Matt. We gradually acclimated my body to the weights. Incorporated stretching and movement. I haven't stopped, I am still seeing him twice a week. I have new body goals I will talk more about in a future post. Just know we are building and sculpting my body at this point.
Cost
To do the 75 Hard challenge is free, what you chose to put into it is totally up to you. I invested in a meal plan from a professional. I also added training towards the end. You do not have to do any of this. Make the rules work for you. Now you will spend money on books, workout clothes (because you work out better when you feel cute, it's a fact don't argue), and of course higher quality food.
I know reading this you are probably saying she is a beast and this seems like it was easy for her, it wasn't! It was a challenge do you hear me! A few days I was so exhausted, unmotivated, and just ready to quit. This is when I would talk to my friends who were doing the challenge with me! I would pull on the strength of my ancestors, literally whatever it took. I wasn't quitting and I sure wasn't going to start over!!! So get your tribe, make a plan, and stick to it for yourself and no one else. All in all, I am grateful for this challenge and would recommend it to anyone!
The following two tabs change content below.
Maria Antionette is a professional hairstylist, DIY creator and fashion lover with a belief that beauty can be fun, easy and simple.
Latest posts by Maria Antoinette (see all)