Many people are starting to grow their own fruits and vegetables because they want to know what's in their food. Being able to provide your family with healthy food options that come directly from your backyard is a wonderful feeling. There are many benefits to growing your own fruits and vegetables, and today I'm going to talk about those benefits as a way to inspire you to start your own garden.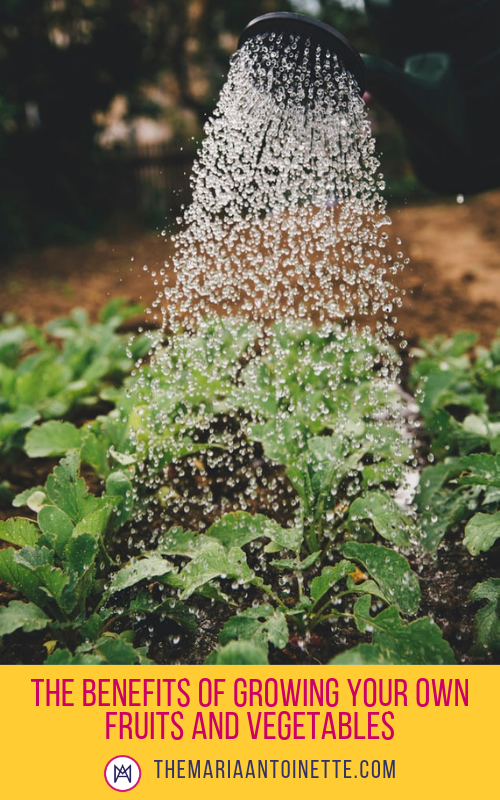 Higher in Nutrients
Growing your own fruits and vegetables provides you with a higher level of nutrients. Higher than the same product that's traveled from state to state or even country to country to be placed in the produce section of your local grocery store.
Boost Confidence
Your confidence will go through the roof knowing you're providing your family with healthy produce you grew on your own. This will create a sense of accomplishment and pride that you've contributed to feeding your family using your own hands.
Fewer Pesticides
When you opt to grow your own fruits and vegetables you can reduce the number of chemical pesticides that are normally found on grocery store produce. You can use safer homemade pesticides that will help keep the critters away and also be safe for your family.
Physical Activity
Being outdoors weeding the garden not only provides fresh air for better mental health it also provides you with some physical activity. Tending to a garden requires a lot of body movement. You'll be up and down and stretching your arms will surely feel the burn, but hey your garden will look great.
Learn New Skills
There's more to gardening that just putting seeding the dirt and watching them sprout. A lot more. You'll be knowledgeable at knowing what natural options to use to make sure your harvest is healthy and how to care for your garden with ease every year you opt to grow your own fruit and vegetables.
Saving Money
By growing your own fruits and vegetables you'll be saving a lot of money on your grocery bill. Depending on where you live produce can be very expensive and can take up a large portion of your bill. So depending on the size of your garden, you'll be able to skip certain produce items or the whole section altogether because you grow everything you need at home.
Want to start your own small herb garden?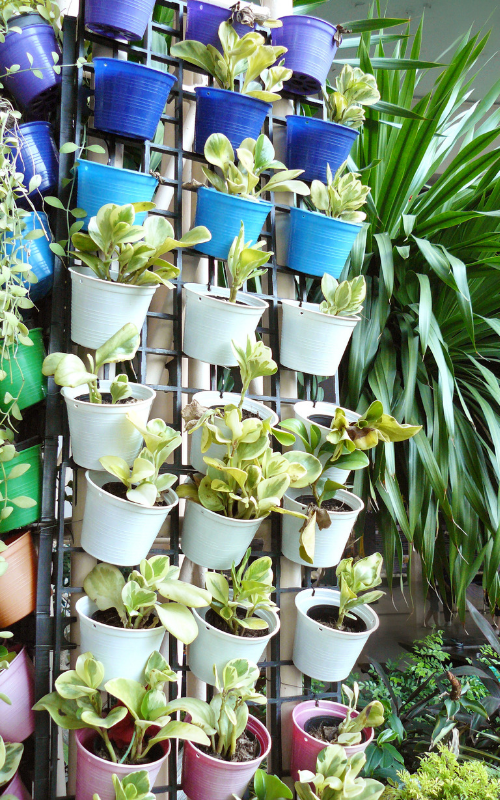 I have a super easy and fun DIY that puts a spin on a hanging garden using a shoe organizer. Here's what you 'll need:
Utility knife
Small gravel stones
Dirt and a soil scoop
Herbs of your choice
Shoe organizer of your choice
Labels, small sticks, and tape
Let's get started!
First things first, make sure your show organizer is hung securely to the wall. Then using your utility knife you're going to make small holes in the bottom of each pocket. Be sure to use a brick laying pattern to keeps the strength inside of the holder. You also don't want to cut into the back of the pocket. It's just the bottom front.
After you have all your holes punched it's time to line all the pockets with the small gravel. When that's done add a layer of dirt. Be sure to leave about three inches from the top. You want to give yourself room to add the dirt that comes with the herb. It's okay to get a little dirty. Use your hand to push the dirt down into the pocket.
Now it's time to add your herbs. Carefully remove them from their pots and place them inside each pocket. Don't rush this process. You want the herb to come out whole and not fall apart because you were too rough while removing it from the pot. I also recommend adding a bit more soil after adding your herbs to give a little stability. Use your hands to get in there and mix it up. When you're all done add the labels so you can tell one herd from the other.
For my hanging herb garden, I chose a clear plastic organizer. This will give my son the opportunity to see how the garden is growing. This project becomes a learning experiment as he can see it from growth to his plate.
Extra Tip:
Before you choose any herb to add to your garden think about how it's going to grow. For the top choose something that's going to grow towards the sky like rosemary, for the middle choose something that will grow full and maybe downward like parsley or cilantro, and for the bottom something that will grow full but remain small like oregano or mint.
Check out my video on HGTV Handmade breaking down all these steps and to see this DIY in action.
As you can see there really isn't a downside to growing your own fruit and vegetables. You'll be more physically active, learn new skills, and even feel more confident serving your family delicious meals made from own garden. Oh, and for those of you who use aloe on your hair try your hand at growing your own aloe plant.
What benefits have you found when growing your own fruits and vegetables? Share with me in the comments below. Don't forget to tag me in your lush garden pics on social at #TMABlog.
The following two tabs change content below.
Maria Antionette is a professional hairstylist, DIY creator and fashion lover with a belief that beauty can be fun, easy and simple.
Latest posts by Maria Antoinette (see all)