Pumpkin, spice, and everything nice! Autumn is here and we are here for it! Of course, we would all love to sweep through Target and pick up everything our little hearts desire. However, that may turn out to be an expensive store run. So, how can you achieve your own beautiful table centerpiece for the perfect tablescape this autumn? A little mod podge and a hot glue gun should do the trick. What's even better? Sweeping through Dollar Tree for the remaining items you will need for this DIY Autumn Decor post. I'm giving you a two for one deal here. First up, a beautiful and unique balloon bowl made of leaves. Next up, an aromatic cinnamon stick candle. Exciting right!? Let's get started!
What I used: 
Project One Leaf Bowl:
Large Balloon
Paper Plate
Fabric Leaves
Scissors
Directions:

Blow up jumbo balloon
Pour mod podge on a paper plate
Use sponge brush to paint thin layer of glue over bottom half of balloon
Place leaves on the balloon, one by one
Repeat leaf placement for a full first layer
Let first layer dry overnight
Start second layer
Use sponge brush to paint thin layer over the first layer
Repeat leaf placement
Let both layers dry for 48 hours
Use scissors to clip the balloon tie
Allow balloon to deflate and separate on its own
Remove balloon
Trim away excess glue using scissors
Advertisement
Project Two Cinnamon Candle:
2 Vanilla Candles
Cinnamon Sticks
Twine
Scissors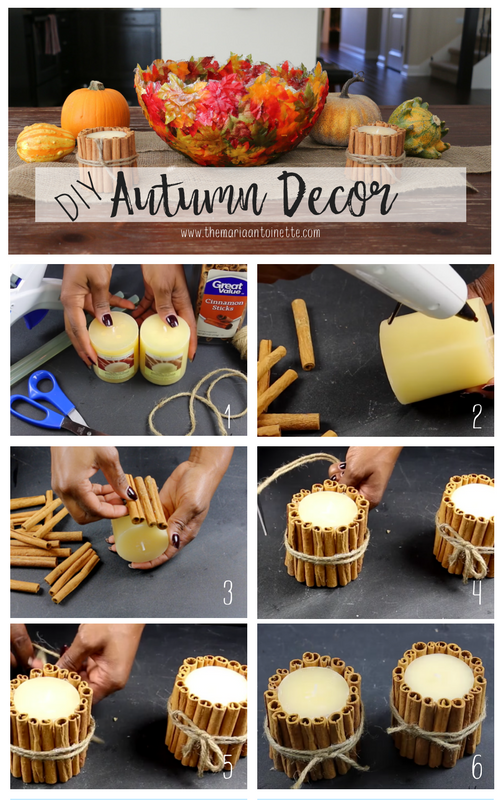 Directions:
Unwrap candles and warm up glue gun
Apply glue to candle in strips
Add cinnamon stick after each glue line
Repeat glue and stick process around the candle
Wrap twine around cinnamon sticks twice
Tie twine and clip excess using scissors
Looking for more of a visual guide? You can follow the steps using the full video: 

Total cost for this DIY Autumn Decor was under $20. For you, it could be less if you already own some of the items. I hope I have simplified your autumn decor process and inspired you to get a little creative this season. Any suggestions for other DIY projects you would be interested in seeing? Chime in below. I would love to hear from you. You are also invited to sign up for my newsletter so you will always be in the know with all things MA. If newsletters aren't your thing simply download my App!
~MA
The following two tabs change content below.
Maria Antionette is a professional hairstylist, DIY creator and fashion lover with a belief that beauty can be fun, easy and simple.
Latest posts by Maria Antoinette (see all)