Hey guys! I couldn't wait to share this post with you. Recently the family and I took a little getaway to Chattanooga, Tennessee. We had the best time, as you saw from my Instastories. I couldn't wait to share with you all of my favorites things that we saw and did. If you're looking for a family escape this summer I highly recommend Chattanooga as your next destination.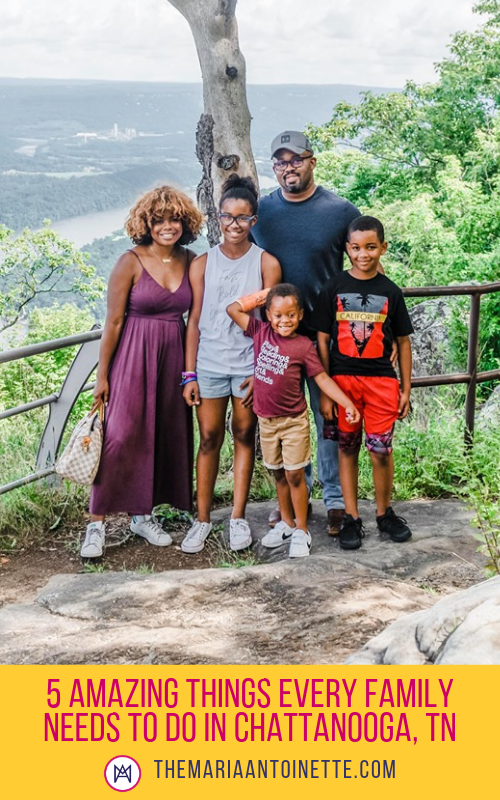 Visit the Tennessee Aquarium
Located in downtown Chattanooga on the Tennessee River, the Tennessee Aquarium is home to more than 10,000 animals across more than a dozen main exhibits. It's also home to a six-story IMAX theater that transports viewers to various exotic locations around the world.
Ok, so that's the headline but let me tell you this…in plane words through the eyes of me and my family. First, while I did my research before the trip I was still blown away by the expansive options that the Aquarium provided. This sounds simple but literally, my kids (if I let them) would have been content playing in the small water/splash area for at least an hour. There's something about kids and water–they are just drawn to it! Again, something small special…and that was before we picked our first location.
And for our first location, we chose the Rivers Journey and were really blown away by how the TN Aquarium gave us a full show of our state's great river system, while also showing aquatic life from a variety of other river systems. The scenery was thematic and well conceived and it just made a really fun and adventurous experience for everyone. After that, we headed to the Oceans Journey and we got a real treat. Not only were we blown away by the surreal experience of seeing sharks, fish and sea turtles swimming together, but also we got to have a backstage experience to learn more AND feed them! The staff and volunteers were all so knowledgeable and friendly. It made an already educational experience just that much more memorable. As parents, seeing your children beam with pleasure like this is just such a joy to watch!
So guys, when you go down make sure to check out their newest exhibit, Island Life in addition to the Rivers and Oceans Journeys. Learn about what islands are and the animals from all over the world that inhabit them. For even more up to date information and special events check out the Tennessee Aquarium event calendar or download the app.
Eat your way through Downtown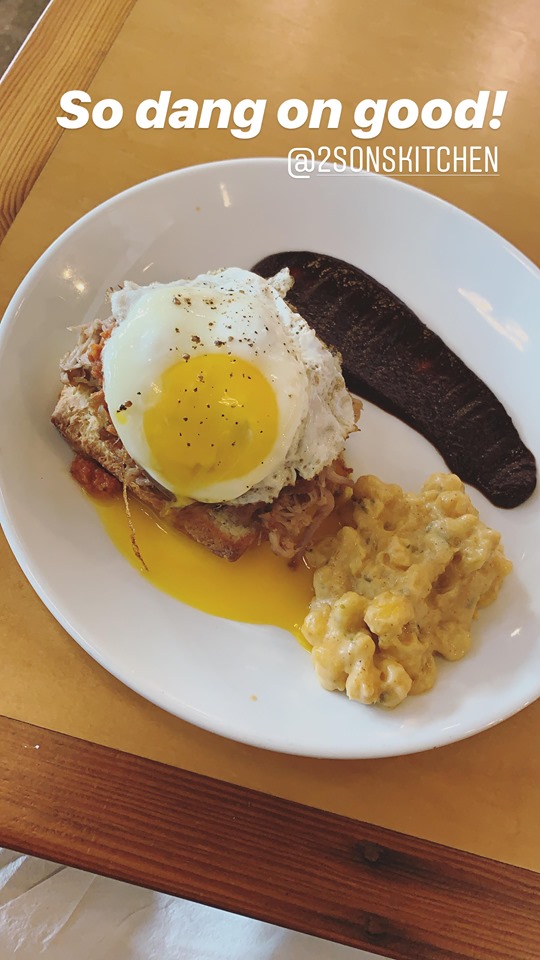 The foodie scene in Chattanooga is totally legit. Of course, you can find your standard chain restaurants—which I'm not knocking, but who doesn't love to explore and find that special eat that you can't find anywhere else? Well, you guessed it…that's exactly what me and my family did. We used Yelp, talked to a few people and got out and walked around. So don't take these recommendations as the end all be all spots, but rather a taste of what Chattanooga has to offer…a few suggestions to wet your appetite. Here you go:
Urban Stack: This was our first dinner. We walked from the hotel after Yelping this spot and it did not disappoint. The menu offered some great apps, which we tried, and an expansive array of burger options that all turned out amazing. The sides were original spins on traditional burger sides and they were great as well. There were six of us and no one was disappointed by the portions or the food…except for my son Garrison, but he literally can't be pleased.
Milk and Honey: Breakfast the next day and coincidentally this is owned by the same group that runs Urban Stack. So all good was farm fresh and as local as possible. The location was in a revitalized area that was super cute with high, friendly energy. The biscuits are HUGE here…they are known for this. They totally deliver. We all left full, even picky Mr. Garrison got enough. And what's cool was we weren't all bloated and lethargic, which was good before a full day.
Moe's Original BBQ: After walking the Aquariums and having a wonderful experience, we were ready to sit as a family and relax over some BBQ. After looking at a few reviews, my husband remembered Moe's from his time in Birmingham, AL. He had eaten there a few times and was pretty confident that this would be a good spot for us. And it sure was!!! The meats were seasoned AND cooked well and the sides were bold but just enough for the gang to fill up before we retired for the night.
2 Sons Kitchen and Market: We wanted one more foodie experience before we left Chattanooga. Breakfast is such a fun meal now with so many amazing chefs giving us more than what some of the bigger chains do (not that ole Waffle House or IHOP is bad). Just let me tell you…we are some breakfast lovers and no one, NO ONE!!! Not a mouth was disappointed. The pancakes, biscuits, bacon, gravy, etc. etc. It was all amazing and the location was another super cute airy spot too!
The Incline Lookout Mountain Railway

Known as "America's Amazing Mile" The Incline Railway, located on Lookout Mountain, has delighted guests for more than a century. As both a National Historic Site and National Historic Mechanical Engineering Landmark, The Incline Railway has been one of Chattanooga's most unique attractions since 1895.
At Top Station on Lookout Mountain, you'll be in for a real treat as you'll have sweeping views of Chattanooga Valley. After you've taken pictures and purchased souvenirs head on over to see other attractions on Lookout Mountain. There's much to see and do as you learn all about the area's Civil War history at Battles for Chattanooga Electric Map & Museum, Chickamauga and Chattanooga National Military Park, or you can see ancient rock formations and panoramic views of seven states at Rock City.
If heights aren't your thing you can keep your feet on the group and tour historic St. Elmo. There are several downtown Chattanooga attractions for you to experience. Visit the Creative Discovery Museum which is fun for children of all ages or the Hunter Museum of American Art. There's no shortage of activities for the entire family.
Ruby Falls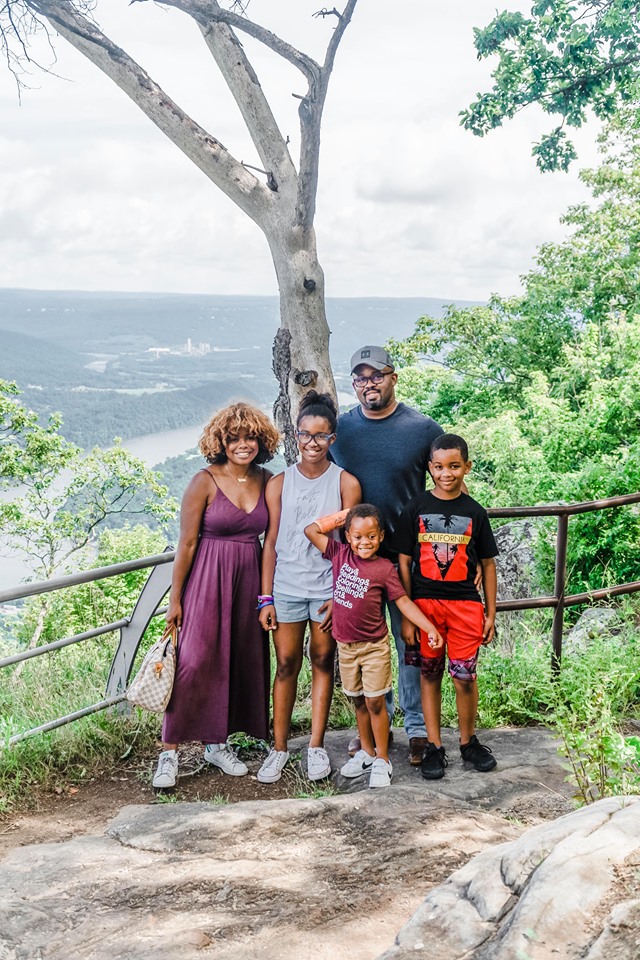 Speaking of, Lookout Mountain, you have to visit Ruby Falls. It's the nations tallest and deepest underground waterfall. It's located 1,120ft below Lookout Mountain and has been a popular attraction since 1930. The waterfall was discovered by Leo Lambert, who named the fall after his wife Ruby. Then in 1929 together they opened Ruby Falls which now brings more than a half a million visitors a year. If going deep underground isn't your thing but flying above the trees is, then you'll want to check out High Point Zip Adventure. There are over 700ft of ziplines that offer some of the most amazing views of the Tennessee Valley.
Tennessee Riverwalk
View this post on Instagram
If you're looking for a relaxing family fun day of adventure then look no further than Tennessee Riverwalk. Stretching about 13 miles along the southern banks of the Tennessee River this paved pathway shops, restaurants, and activities. Rent a bike for a casual ride alongside the river bank, rent a boat and go sailing or hang at one of the many fishing piers. Take a stroll across the Walnut Street Bridge which spans the Tennessee River, venture into the art district to The Hunter Museum of American Art or tour the historic district with its old trees and waterfront homes. Because the Riverwalk has a number of entrances it allows you to make your family's adventure as long or as short as you want.
We had such a great time and I know you will too. So stop on by for a visit. For even more places to visit with your family check out my 50 family-friendly destinations across the country.
Have you visited Chattanooga? Share with me in the comments below your thoughts about it. If you're planning a visit you can always tag me in your pics using #TMABlog.
The following two tabs change content below.
Maria Antionette is a professional hairstylist, DIY creator and fashion lover with a belief that beauty can be fun, easy and simple.
Latest posts by Maria Antoinette (see all)