Natural hair in the workplace has always been a taboo subject to discuss for as long as I've known. Whether it's wearing protective styles or stylishly tapered haircuts, it's key to wear these natural hairstyles with confidence. After all – our natural hair is a part of who we are. Though our hair doesn't define us, it is an extension of our culture and our uniquely created self. So why not show it off in the workplace? As a health care professional, I know firsthand how tricky it can become thinking of the right styles to wear. Especially for the next corporate meeting or even an interview you are prepping for. No worries; I have compiled a few styles I'd love to share with you!

Wash & Go
Who doesn't love a wash and go? I love this style because you can have various lengths of hair and show the fullness and beauty in having it in its natural form. The great thing about this style is that there are no perfections to it. Whether you have great definition or an afro, it is still acceptable. This simple, yet beautiful wash and go can definitely be worn in a professional setting.
Photo: @imaprilchristina

Roll & Tuck
The roll and tuck is so sophisticated and chic. The style is for women that have mid to long length of hair. But if you have shorter hair, you can do your own version of this too! This is the perfect alternative for days when you don't want to wear your hair out. Or this would be of great if you have a presentation or board meeting.
Photo: @themariaantoinette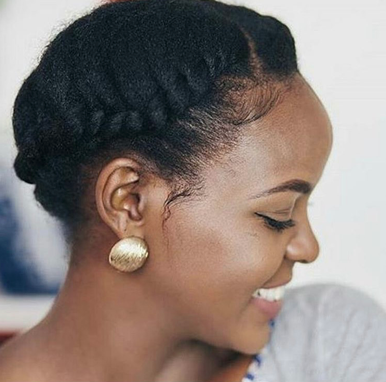 Crown Braid
Who doesn't love wearing protective styles? I'm all for it – especially a crown braid. This style can also be achieved with box braids, or your natural hair. I am seeing this trend more often and I love it. The versatility of this style is endless. Mainly because it's two styles in one. Once you take the braids out, you have an amazing braid out. You can then wear the braid out the following week to work.
Photo: @corporatekinks

TWA/Tapered Cut
There is nothing wrong with having short natural hair. Having a TWA (teenie weenie afro) or tapered cut in the workplace is totally doable. Most of us start out our natural hair journey or big chop at some point. I love the simplicity in this style. It shows that having shorter hair is a bold statement on its own.
Photo: @daynabolden
Confidence is key to showcasing our natural hair in the workplace.
The more comfortable you are the more confidence you'll be able to exude. Boldly wear your tresses in whatever style you see fit. From twists, mohawks, to box braids, or my afro; I wear my hair proud and confidently. Sometimes finding the right hairstyle to wear at work can be a task. These styles above and others show the diversity that natural hair can have at the workplace. I hope that some of these styles inspire you to be more creative the next time you walk into work.
What are some of the styles you have worn at work?
I'd love for you to share below. If you're in need of some hair inspirations feel free to find me on IG @imaprilchristina, and stay tuned for the launch of my health and beauty blog www.imaprilchristina.com
The following two tabs change content below.
April Christina is a health and wellness blogger that resides in New York City. After being diagnosed with endometriosis back in 2010, she decided to turn her passion into purpose by educating people that adopting a healthier lifestyle can be fun and invigorating. April is a firm believer that loving yourself and your body comes from within first before it can be shown outwardly. She continues to inspire people on her website endoNme.com and Instagram platform @endoNme.
Latest posts by April Christina (see all)