We all have our standard look we have mastered. Whether we are getting ready in a rush or want to avoid over thinking how to start our day. It could be a bun and slayed edges or a "wash and go" pineapple! Well, this is my current "go to" look! I wanted to share how I achieve my favorite goddess braid and everyday makeup look! It never hurts to have another "go to" in pocket for days you want to switch it up. Don't be intimidated by the products and tools I used. It's a lot easier than you think. And of course, you can alter this to fit your preferences. Let's get to it!
Tools I Used:
Beauty Blender
MAC – 168 (contouring)
MAC – 129SH (blush)
it Cosmetics Heavenly Luxe Dual EyeShadow No 5
it Cosmetics Heavenly Luxe No 8 (Face powder)
Morphe – M439 (foundation)
Sephora – PRO Small Brush 74 (conturing)
bH Fluffy Brush (nose conturing)
Large Fan Brush
Products I used:
Brows (Done off camera) – MAC FluidBrow – Deep Dark Brunette
MAC Cosmetics Prep + Prime Peach Luster
MAC Pro Longwear Foundation -NW47
Estee Lauder Double Wear – Rich Chestnut
Bobbi Brown Foundation Stick – Espresso 10 (Contouring)
tarte Maracuja Creaseless Concealer – Deep (Under Eye)
NARS Radiant Creamy Concealer – Biscuit (Highlighter)
Ben Nye Bananna and Topaz Powder (Mixed)
Kat Von D Lock – It – Tattoo – Deep 71
NARS Blush – Taj Mahal
Magnetic Appeal (High Point on Cheeks) MAC Extra Dimension
Brown Script – (Transition) MAC Eyeshadow
Rice Paper – ( Tear Duct)MAC Eyeshadow
Urban Decay Eyeliner – Zero
Kat Von D Tattoo Liner – Trooper
Colorpoup – Creme Gel Liner Stomper
It Cosmetics Hello Lashes
Lashes: House of lashes – Noir Fairy BLK
Lippie: Colourpop – Stingraye
Skindinavia No More Shine Makeup Finishing Spray
Directions:
Goddess Braid:
Start with blown out hair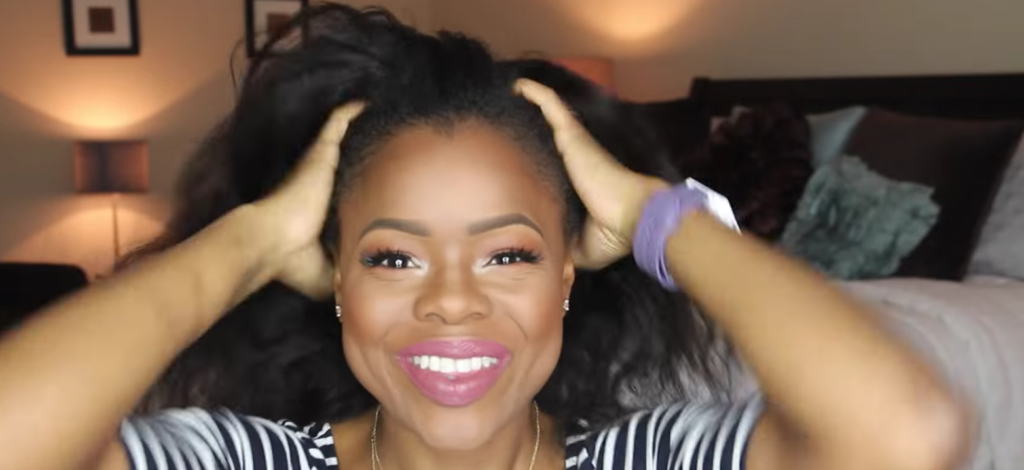 Part down the middle with a side, front part.
Apply Entwine Indulgently Luxe Creme Hydrator or styling product of your choice
Smooth into edges and work excess product into hair
Braid two cornrows straight back
Tip: Frame face as you braid going back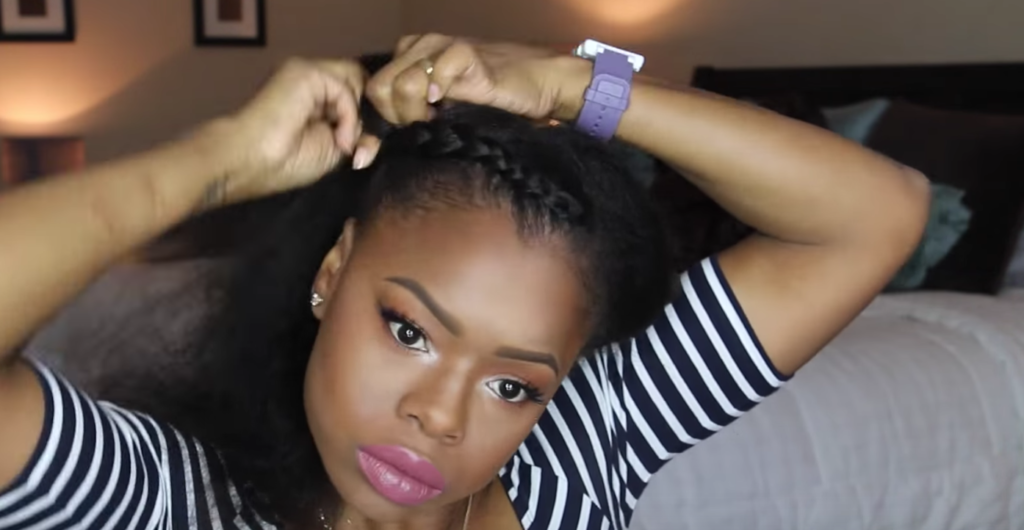 Tuck one braid into the other and secure with bobby pin
Use a second bobby pin to tuck the opposite braid into the first braid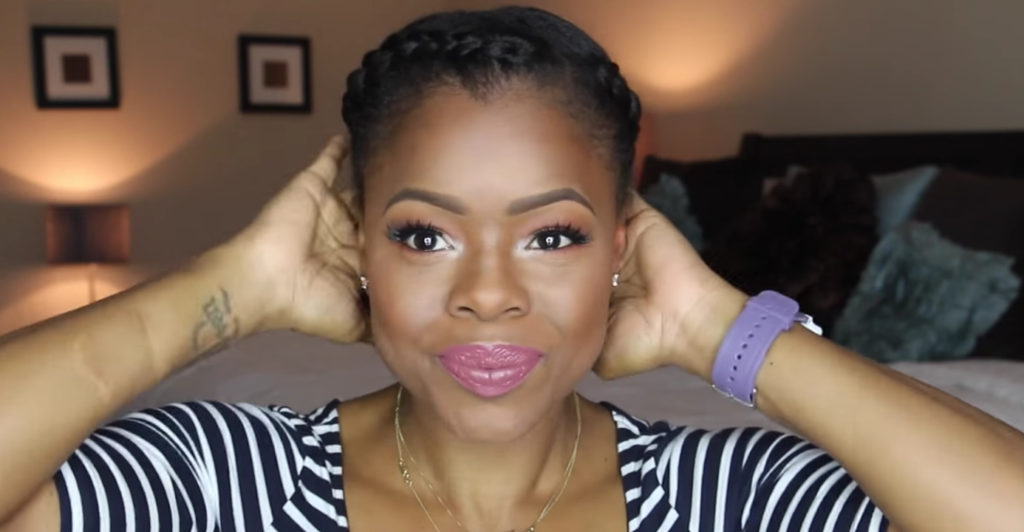 Advertisement
Makeup Look:
Start with MAC prep + prime (peach luster) to cover blemishes and dark spots
Spread using dotted application and blend with beauty sponge
Follow with MAC /Estee Lauder foundations all over
Blend with foundation brush and beauty sponge
Contour cheeks and forehead with Bobbi Brown Skin Stick Foundation (10)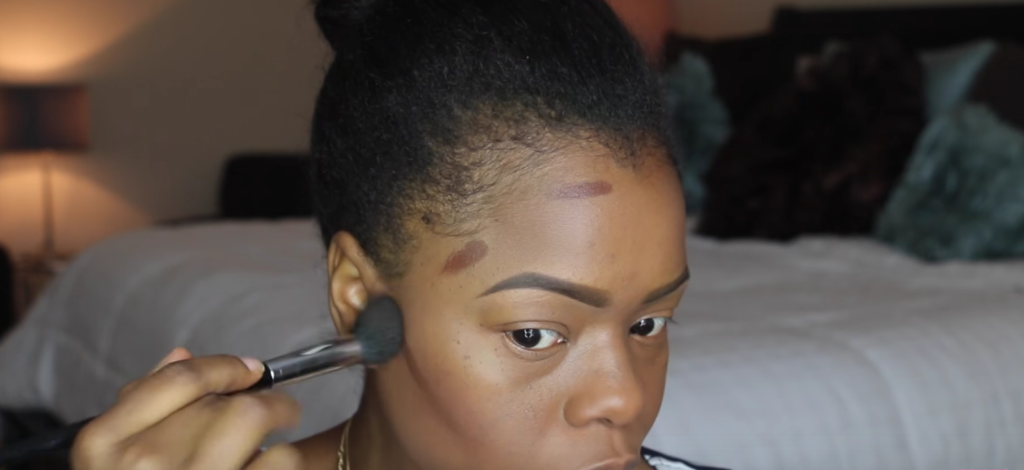 Apply Tarte Maracuja Concealer (Deep) under eyes and use beauty blender to blend
Add NARS Radiant Creamy Concealer (biscuit) under eyes, along the bridge of nose, below cheekbone, center of forehead just above brows for highlighting and then blend
Mix Ben Nye Banana & Topez Powder and apply in the same areas as the NARS concealer with beauty blender
Use brush to blend in the powder
Almost there!….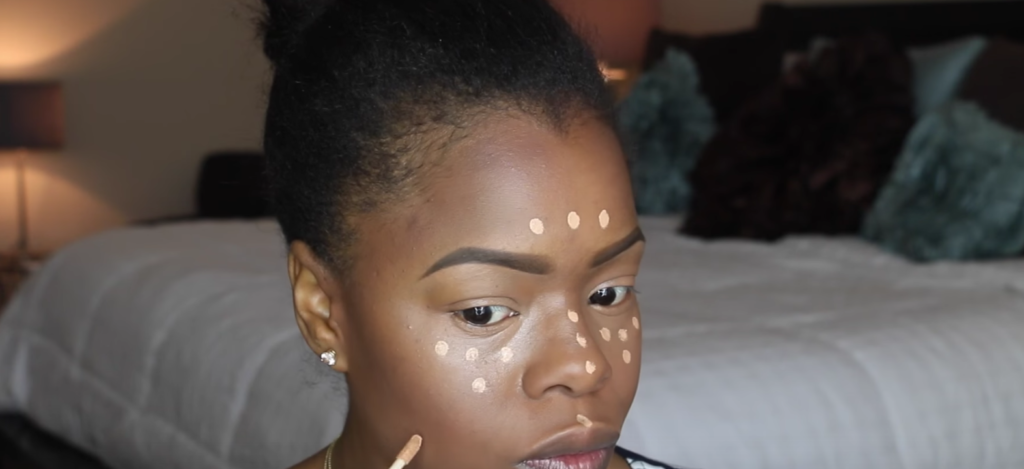 Next, apply black|Up Pondre Libre (PL12) using it Cosmetics Heavenly Luxe Brush No. 8 all over face and neck
Brush on Kat Von D Lock-it Tattoo Powder Foundation (Deep71) with MAC 168 Brush along cheekbones, perimeter of my face and along the sides of the bridge of my nose
Apply NARS Taj Mahal Blush along the tip of nose and cheeks using the MAC 129SH Brush
To highlight cheeks, use a fan brush and apply MAC Extra Dimension Skinfinish (Magnetic Appeal)
To give lips a nice pop of color, use Colourpop Ulta Matte Lip (StingRaye)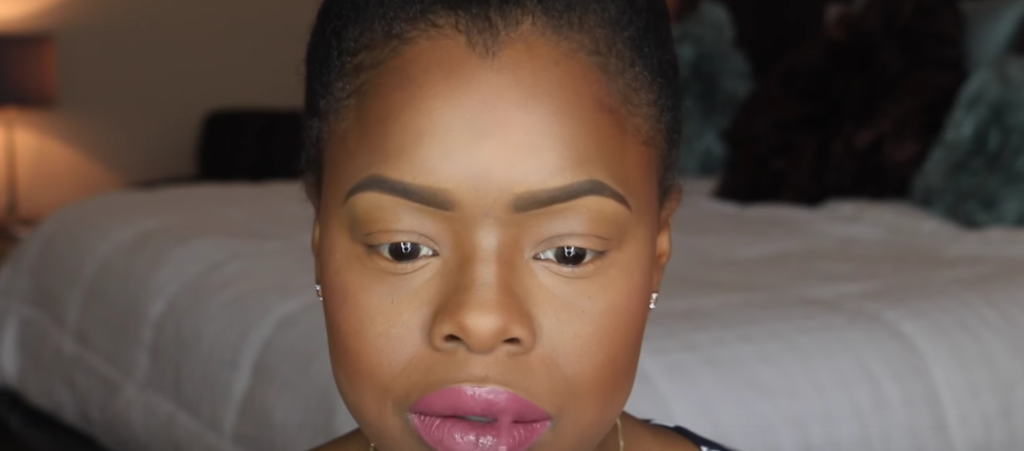 For the eyes, use 2 colors – MAC Brown Script Eyeshadow all over lid and lower lid with it Cosmetics Heavenly Luxe No. 5 Brush
Apply MAC Rice Paper in the tear ducts with Bdellium Tools 780 Brush
To line upper lids, use Urban Decay Eye Pencil (Zero) and Colourpop Crème Gel Liner (Stomer) for lower lid
Tip: For winged effect use Kat Von D Tattoo Liner (Trooper)
For the final makeup step, apply House of Lashes (Noir Fairy BLK) with DUO brush-on adhesive
Looking for more of a visual guide? Check out the full video in addition to steps above:
So what do you guys think!? Could you see yourself with this style and makeup as a new "go to"? Chime in below I would love to hear from you!  Also, I would also like to invite you to sign up for my newsletter, this way you will always be in the know with all things MA. If newsletters aren't your thing simply download my App!
~MA
The following two tabs change content below.
Maria Antionette is a professional hairstylist, DIY creator and fashion lover with a belief that beauty can be fun, easy and simple.
Latest posts by Maria Antoinette (see all)