Hey Dolls! I've teamed up with Cantu Beauty to bring you the best and ultimate moisturizing natural hair routine EVER! I am sharing all of my go to tips and tricks to get you started and on your way to healthy natural hair! Trust me, I know the natural hair struggle is real and requires some real dedication. That's exactly why we have each other!! So we can all learn to grow healthy hair and get those "out of this world" curls! Dry hair is never good so let's get to moisturizing…
What I Used:
Hair Products:
*all products are from Cantu Beauty and can be found at Target, Walmart, Sally's and your local beauty supple stores.
Coil Calm Detangler
Complete Conditioning Co-wash
Sulfate – Free Cleansing Cream Shampoo
Sulfate – Free Hydrating Conditioner
Argan Oil Leave-in Conditioner Repair Cream
Anti-Frizz Argan Oil Smoothing Cream
Moisturizing Curl Activator Cream
Moisturizing Twist & Lock Gel
Grow Strong Strengthening Treatment
Extra Hold Edge Stay Gel
Tools: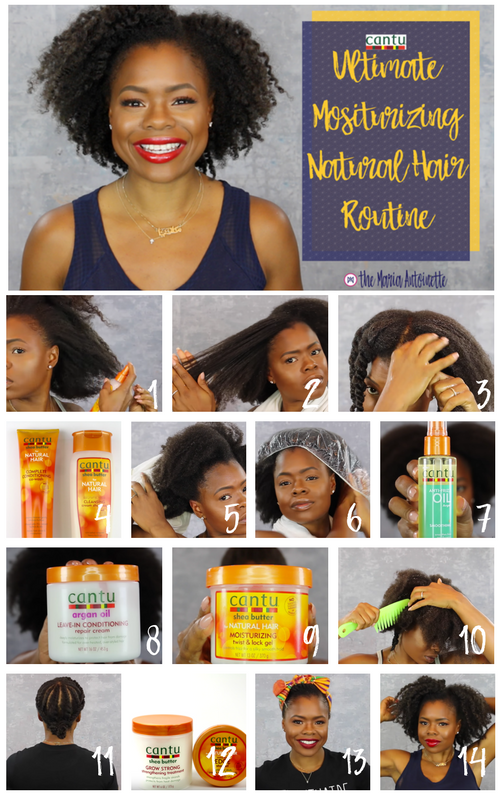 Directions:
Detangle hair using the Coil Calm Detangler
Spray at the ends and work towards the roots
TIP: Use praying hands method for even distribution
Once hair is detangled, section into working sections
Use Sulfate Free Cleansing Shampoo
Rinse shampoo out & dry hair with an old tshirt
Use Sulfate Free Hydrating Cream Conditioner
TIP: If you cowashed you do not need to use conditioner
Apply at ends and work towards roots.
Place shower cap over hair. (Leave on for 5-10 mins)
Start LCO method. (liquid, cream, oil)
Apply Argan Oil Leave In Conditioner from ends to roots
Apply Anti Frizz Argan Oil using praying hands method
Part and section each area of hair to prep for twists
TIP: Part enough to do three twists at a time
Set your style using the Moisturizing Curl Activator Crème
Finish setting your style using the Moisturizing Twist & Loc Gel
Using deman brush, distribute product through hair and remove tangles
Twist hair and finger coil at ends
Repeat sectioning and twisting process, flat twist at the front
TIP: As you twist each section, cover remaining hair with shower cap to retain moisture.
Apply Grow Strong Strengthening Treatment to scalp between twists and edges
Twists each twist into each other to the back and put in a bun
Apply Extra Hold Edge Stay Gel to edges
Make sure to check out the video to see the changes to my hair in living color!
Advertisement
Notes:
If you are in between shampoos, use the Complete Conditioning Co-Wash
Using a t-shirt for drying is beneficial for texture and curls
Be sure to use a holding agent (Twist & Loc Gel) to get more defined curls
Use as much product as you'd like, excess product will purge as you twist
Add an accessory (headband, head jewelry, etc.) to your twists and bun for an added touch of style
There you have it guys! The ins and outs, tips and tricks on moisturizing. You can even learn how to flat twist here! I hope you feel as great about taking care of your hair as I do! Did you find some helpful information here? Chime in below. I would love to hear from you!  You are also invited to sign up for my newsletter so you will always be in the know with all things MA. If newsletters aren't your thing simply download my App!
~MA
The following two tabs change content below.
Maria Antionette is a professional hairstylist, DIY creator and fashion lover with a belief that beauty can be fun, easy and simple.
Latest posts by Maria Antoinette (see all)