Snapchat was the first thing that popped into my mind when thinking of a simple, affordable and creative halloween costume. I'm willing to bet if you asked any of your friends what they like most about Snapchat, they would say the filters! Some of them are fun, some of them are scary, and some even take our beauty to the next level. In this post, I will show you how to bring three of most popular filters to life, as well as a life size iPhone. So. Are you ready to steal the show at this years' Halloween functions? Let's get started.
What I used:
White iPhone: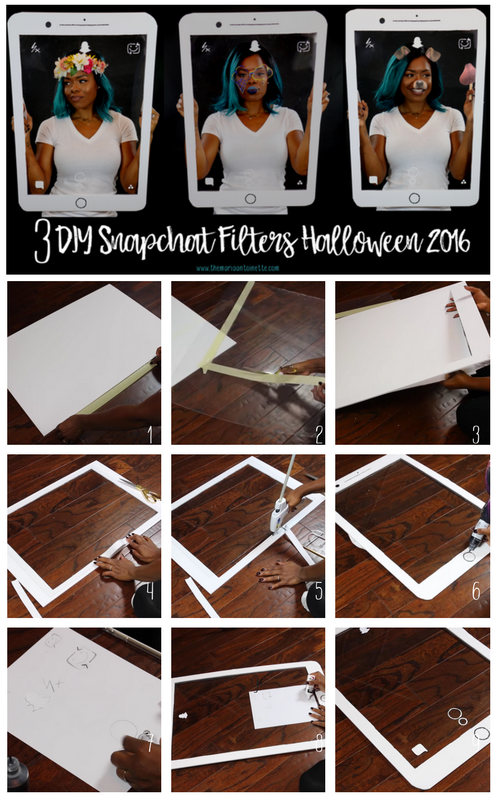 Directions:
Use tape to measure cutting area for plexiglass
Use plexiglass to measure the inside cutting area for styrofoam board
Cut styrofoam board using exacto knife
Remove plastic from plexiglass and place over styrofoam cut out
Prep for adding on handles
Measure rope material to make sure it fits on each side as handles
Hot glue the each tip of the material down to create a handle
Hot glue down the edges of the plexiglass to the styrofoam cut out
Cut edges of styrofoam board in a rounded shape
TIP: use one side of the board to cut, use same side to glue
Using a small bottle (puff paint bottle) trace out a circle
Freehand draw the smaller circles at the top of the phone using puff paint/marker
Print out the snapchat icon for use as a stencil (enlarge to fit life size phone)
Freehand draw the other snapchat images that show on your real screen
Place sheet of paper under plexiglass
Trace each icon/image onto plexiglass using white puff paint
Allow puff paint to dry

Flower Crown:
What I used:
Hot Glue Gun
Flower head band – Forever 21
Flowers – Hobby Lobby
Scissors
Directions:
Use an old headband, flower or workout band
Group and trim flowers from bouquet
Reference printed picture for building out the flower crown
Cut out and trim leaves
Hot glue flowers onto headband
Hot glue leaves to headband
Repeat until headband looks full

Dog Filter:
What I Used:
Printed out dog filter
Pipe cleaners
Wooden stick
Tape
Scissors
Directions:
Print out Snapchat dog filter in color
Cut out ears nose and tongue
Cut pipe cleaners and attach to the back of each dog ear using tape
Tape a stick (popsicle stick, paint brush, etc.) to the back of the dog tongue
Place double sided tape on the back of the dog nose
Stick double sided tape to your nose and attach dog nose
Lift hair and place each ear (pipecleaner) on each side of your head
TIP: When doing makeup for this look it helps to really contour your nose

Ice Cream/Cloud Filter:
What I Used:
Plastic pie topper
Cheap glasses – Dollar Store
Puff Paint (for rainbow and pink color)
Scissors
Hot glue gun/glue
Blue lipstick & White lipstick
Thin paint brush
Advertisement
Directions:
Trace your eye glasses onto a sheet of paper
Freehand draw the ice cream and cloud shapes over the glasses
Cut out the shape and place onto hard plastic
Using the cut out as a stencil, trace the shape onto the hard plastic
Cut out the traced shape
Trace/draw details on the plastic using puff paint (Be sure to reference picture of filter)
Deconstruct the eye glasses
Remove the lenses and cut the middle bridge and ends of the frame
Hot glue the arms and nose bridge to the back of the hard plastic
Makeup: Blue lipstick on bottom, mix the blue with a white lipstick for the top
Use blue lipstick to draw two tear drops on cheek
Interested in seeing the full video? Check it out:

Attention to detail can go a long way with DIY projects. This one is no different. While it is very inexpensive to complete, it definitely pays to take your time. Building the iPhone was my favorite part of this DIY Halloween costume. Which part is your favorite? Chime in below. I would love to hear from you. You are also invited to sign up for my newsletter so you will always be in the know with all things MA. If newsletters aren't your thing simply download my App!
~MA
The following two tabs change content below.
Maria Antionette is a professional hairstylist, DIY creator and fashion lover with a belief that beauty can be fun, easy and simple.
Latest posts by Maria Antoinette (see all)