Shopping in your own closet is an easy and cost-effective way to update your wardrobe without breaking the bank. It's also a great way to get creative with what you already have while reducing waste and clutter. By taking the time to go through all of your clothing pieces, you can find new ways to mix and match items that you may have forgotten about or never thought of pairing together before.
Plus, shopping in your own closet allows you to be mindful of sustainability practices by reusing clothes instead of buying them new each season. So if you're looking for some fresh fashion ideas from your closet here are some tips to get you started.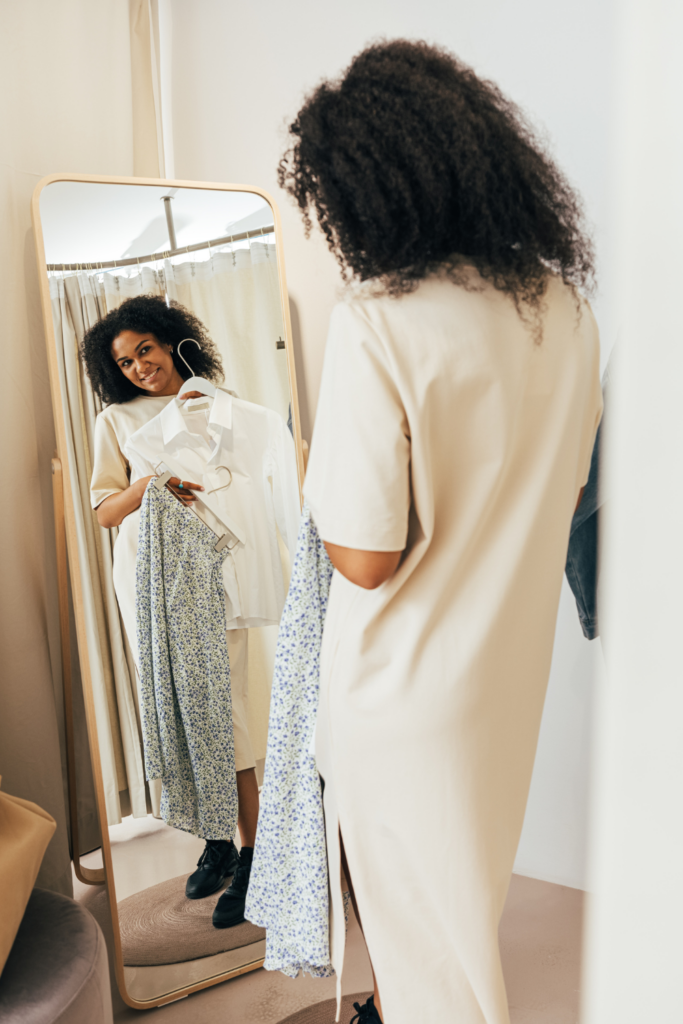 Tip 1: Purge
Purge your closet of anything you haven't worn in the past year. This will help you get rid of any items that are out of style or no longer fit your lifestyle. I know it can be hard to part with clothes that have sentimental value or we simply haven't worn in a while but it will allow you to focus on the pieces that truly make up your personal style. Additionally, it creates more closet space for new possibilities.
Lastly, purging will not only get your closet organized but it'll also encourage creativity by allowing you to mix and match different pieces together without feeling overwhelmed by too many choices. Plus, if you decide to donate any unwanted items, it will give someone else the opportunity to create pieces that fit their style.
Tip 2: Organize
This will help make it easier to find pieces that go together and create new combinations as you shop your closet. Now, organizing your closet can be a daunting task, but it is an important one as it'll save time and energy on finding clothes in the morning or when getting ready for a special event. It also helps create more space so that you can easily find what you need without having to rummage through piles of clothing. Additionally, organizing your closet allows for better air circulation which prevents mildew and mold from gathering inside the wardrobe.
Organizing your closet not only makes it easier to find things quickly but as previously mentioned, it will help free up some much-needed space in your home as well as reduce closet clutter. Having an organized wardrobe also helps with decision-making regarding what garments should stay or go since everything is visible at once and all options become clear quickly. Finally, by organizing your clothes into categories such as tops, bottoms, shoes, etc., you will be able to see how many pieces of each item type you own which can help prevent unnecessary purchases in the future!
Tip 3: Make Your Closet Neat
Keeping your closet neat is an essential part of staying closet organized. When everything has its own place, it makes getting dressed in the morning much faster and more efficient since all of your clothing options are easily accessible. Additionally, having an orderly space will help keep track of what clothes need to be mended or replaced so that nothing gets lost or forgotten about over time.
Keeping up with regular maintenance such as laundering, ironing, and replacing missing buttons can help extend the life of clothing pieces while avoiding last-minute scrambling when putting together outfits for special occasions like job interviews or family gatherings. Ultimately, keeping a clean closet can have numerous benefits both practically and psychologically by creating a sense of orderliness which leads to less stress overall.
Extra tip: Invest In Quality Hangers
Investing in good hangers will help keep your clothes wrinkle-free and keep them looking their best. Quality hangers can also make it easier to see all of your items at a glance, making wardrobe shopping even simpler.
Tip 4: Get Creative
Fashion is an expression of who you are and what you stand for. It's not just about being trendy, it's also about being creative with your look to make a statement that is unique to you. With fashion trends constantly changing, having the ability to be creative with your style can help keep up with the latest looks while still staying true to yourself. Being creative with your fashion choices has many benefits that go beyond expressing yourself through clothing.
When done correctly, creating unique looks using pieces you already own can give off the illusion that you you're constantly updating your wardrobe with new looks when in actuality, you're updating what you already own.
Tip 5: Seek Inspiration
View this post on Instagram
Once you've gone through your closet, take some time to look at what's currently trending that fits your personal style. Doing so will help give you ideas for how to style the items already in your closet and will also help complete your wardrobe with any essentials you may need. Where will you find inspiration? Everywhere!
1. Online: The internet is a vast source of fashion inspiration, with the largest pool of images and ideas to pull from. Through fashion blogs and websites, users can easily find inspiring looks, get tips on how to wear certain items, and follow current trends. Additionally, platforms like Pinterest are great for finding visual inspiration from other users' style choices.
2. Social Media: Since 2010, social media has become a powerful tool for fashion inspiration. Platforms like Instagram, Facebook, and most importantly, Pinterest became great sources of information on the latest trends, as well as giving fashion lovers the chance to connect with one another and share style ideas. From looks shared by influencers and celebrities to street-style snaps of everyday fashionistas, social media is a great way to stay on top of what's in.
3. Magazines: Although digital sources are more popular today, magazines continue to be a great source of fashion inspiration. From glossy publications like Essence and Vogue to local publications that feature emerging trends and up-and-coming designers, magazines are a great way to get inspired.
4. Runway Shows: Watching runway shows is a great way to get an idea of what will be popular in upcoming seasons. Designers use their shows to showcase what's going to be hot in the coming months, and by studying the looks they send down the runway, you can get a sense of what will be popular before it hits stores.
5. Local Streets: When it comes to fashion inspiration, sometimes looking right outside your front door is all you need. Street style has become more popular in recent years, with fashion bloggers and photographers capturing the looks of everyday people. Paying attention to the fashion choices of your friends and family can be just as inspiring as looking at what's trending on Instagram.
Tip 6: Create Outfit Combinations
Creating fashionable outfit combinations from your closet can be a fun and creative way to express yourself. It's also an easy and cost-effective way to get new looks that you love, without having to buy anything new. With the right approach, you can easily create stylish outfits with items already in your wardrobe.
The first step is to determine what kind of look you want. Do you want something casual or more formal? Are there any trends that appeal to you? Once you have a general idea of what type of style appeals most, it's time to start looking through your closet for pieces that fit this look. Pull out all the items that could work together – tops, bottoms, shoes, accessories – and lay them out on a table or bed so they are all visible at once. This will give you a better sense of the available options than if they were tucked away inside drawers and closets.
Next comes the fun part – creating different combinations using these pieces. Start by mixing and matching tops with bottoms until something catches your eye, maybe try combining different colors or textures together for unexpected results. Make sure to try on different combinations of items, take photos so you can remember and easily access them, and group them together as best you can so you'll never have to waste time trying to figure out what goes with what.
Tip 7: Accessorize
Accessories are a great way to show off your individual style and really make any look come together. Whether you're looking for the perfect statement piece or just want to add some subtle flair, accessories can help you express yourself in unique ways. From necklaces and earrings to hats and scarves, there is an accessory out there for every occasion. And the best part is that with so many choices available, it's easy to build up a collection of pieces that reflect your personal style.
By shopping in your own closet, you'll be able to save money while giving new life to pieces that you already have. Plus, it's a great way to get creative by experimenting with different styles and combinations. So don't hesitate – start shopping in your own closet today! Happy Closet Shopping!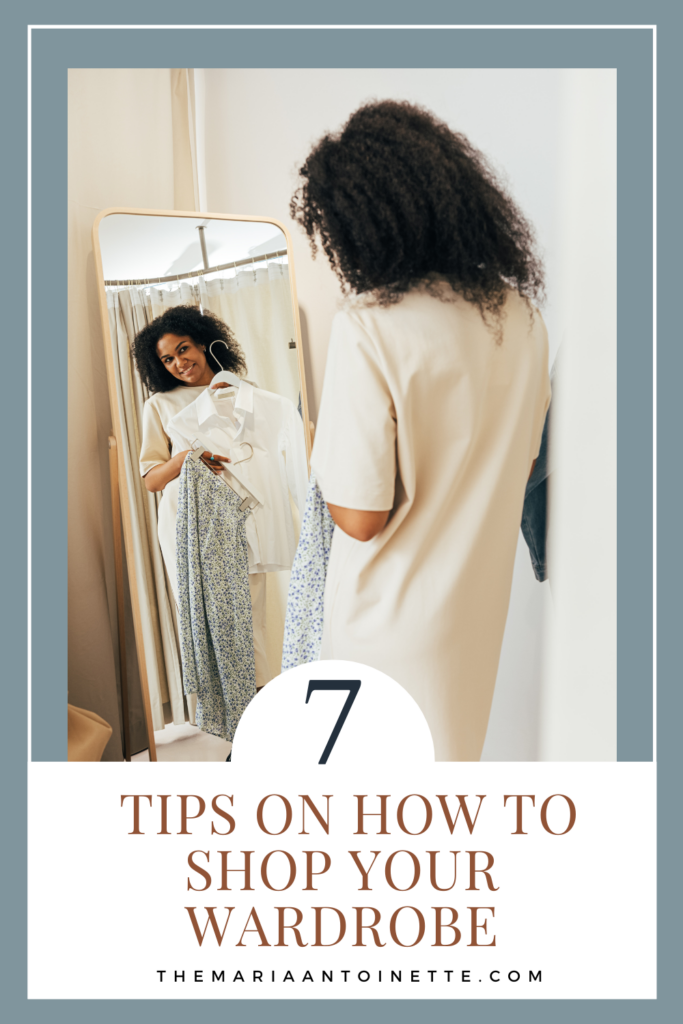 Do you have any tips on how to shop your closet? Share with me on Insta @themariaantoinette.
The following two tabs change content below.
Maria Antionette is a professional hairstylist, DIY creator and fashion lover with a belief that beauty can be fun, easy and simple.
Latest posts by Maria Antoinette (see all)