It's that time of year again when I compile my annual holiday guide and select gifts that will be a hit this holiday season. Five sections make up the guide: natural hair, DIY/crafting, wellness, gardening, and kitchen. There will be something for everyone as I have listed gifts covering all budgets. Happy shopping!
**The following 2020 Holiday Gift Guide contains affiliate links that earn this website a small commission that goes towards creating content for TMA Blog. The prices and availability are subject to change. The prices quoted in this post were listed as such at the time of publishing.
NATURAL HAIR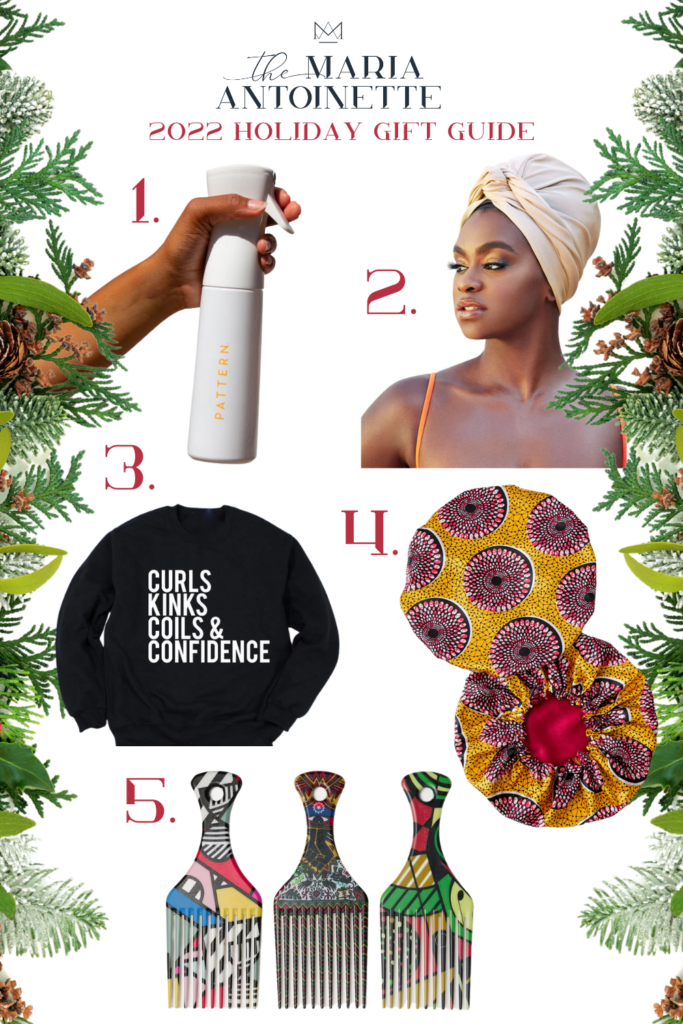 Pattern by Tracee Ellis Ross Mist Spray Bottle ($13.00) – A spray bottle without an aerosol can that uses the superior Flairosol® airless technology to provide a constant, protracted fine mist that hydrates hair.
YGN Sand V2 Swim Turban ($48.00) – That lavish lifestyle you've been cultivating? It requires romantic vacation spots for couples and simple, elegant hair protection at a beach resort. Finally, the time has come for our updated YGN Swim Turban, version 2.0! Our patent-pending double-lip lined turban, which shields your hair from damaging salt and chlorine water, is another example of how fashion and function can coexist. With five brand-new, brilliant hues, two old faves, and two returning favorites, you can go from breakfast to the beach with ease this summer.
FabFlyFancy Curls, Kinks, Coils, and Confidence Sweatshirt ($47.00) – This unisex sweater is the ideal way to support natural hair.
Nessa Hill Zuri Satin Bonnet ($16.00) – satin hair hat with two layers and a low weight. Perfect for protecting long hairstyles, braided styles, dreadlocks, or hair that is kinky or wavy.
AfroPick ($49.00) – The designs created by AfroPick serve as more than simply tools; they represent the strength and solidarity of Black culture. Each pick in this vibrant "Starter" set of three is crafted from salon-grade, anti-static plastic and has rounded tips for comfort, paying homage to the Civil Rights era and the contribution the community has made to America. Use yours while traveling for touch-ups, detangling, and volume boosting.
DIY / CRAFTING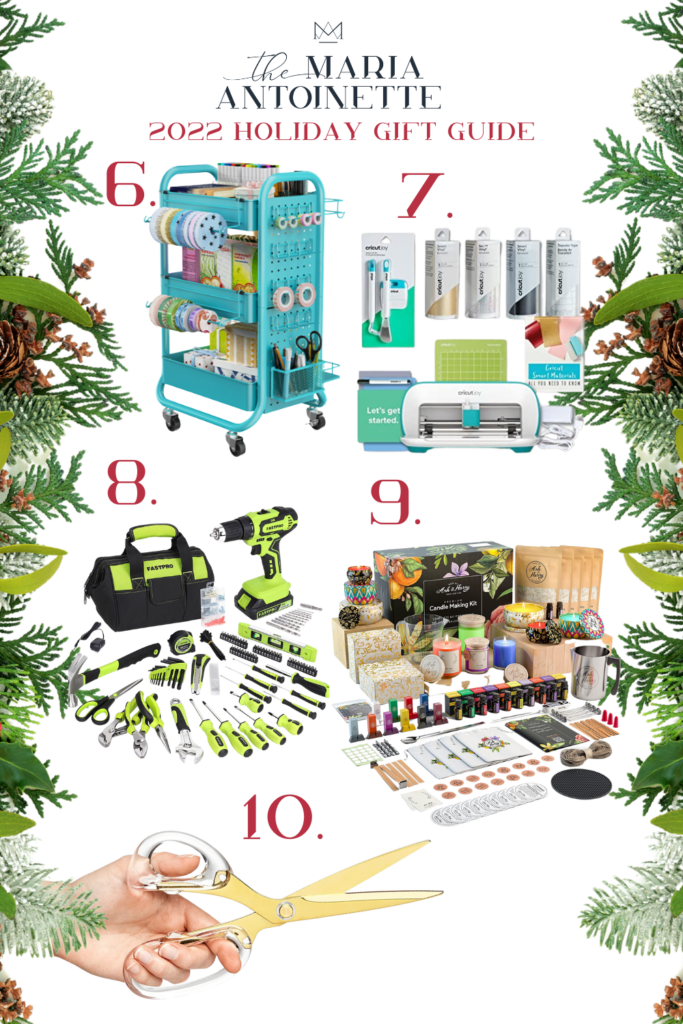 DESIGNA 3-Tier Utility Storage Rolling Cart with Removable Pegboard ($105.99) – Three huge baskets give you more storage space while maximizing the use of the available area. 9 more storage components aid with object organization. The maximum weight that can be loaded onto each tier of the storage cart is over 20 pounds. (16x 11-15/16 x 3 3/8 inches)
Cricut Joy Smart Machine and DIY Vinyl Decal Starter Bundle ($209.99) – This Bluetooth-capable, intelligent writing and cutting device simplifies do-it-yourself projects. Because the Cricut Joy Smart Machine is so stupidly simple to set up and operate, you'll always have reasons to organize, customize, and personalize things.
FASTPRO 232-Piece 20V Cordless Lithium-ion Drill Driver and Home Tool Set ($129.99) – Almost all of the fundamental hand tools you'll need for work and do-it-yourself tasks around the house are included in the drill kit.
Ash & Harry Premium Candle Making Kit ($65.97) – Everything you need is included in the complete kit to make your own candles. Countless options are offered by the various smells and color dyes. 10 of the finest premium essential oils, suitable for all moods and emotions.
OfficeGoods Acrylic & Stainless Steel 9″ Scissors ($19.95) – Utilize OfficeGoods Acrylic Scissors to cut and trim with flair. These chic scissors are sturdy and extremely sharp. They work well for many kinds of crafts and art projects. They are ideal for collage and scrapbooking projects since they can cut a variety of papers, including art paper, cardboard, and construction paper. They work well for cutting non-paper materials as well, such as cloth, ribbon, twine, and string. Available in 4 colors.
Wellness
Apple Watch Series 7 Smart Watch ($309.00) – Powerful health advancements like sensors and applications to assess your blood oxygen and perform an ECG are included in the most advanced and resilient Apple Watch. It is simpler to operate and read thanks to the bigger, Always-On Retina display. Also, charges quickly so you can get moving faster. Available in various colors.
Jaybird Vista 2 True Wireless Sport Bluetooth Waterproof Headphones ($144.99) – Eliminates background noise to help you stay focused and perform at your best. Waterproof, sweatproof, and dustproof. Available in black or white.
Astralux 52 Self-Care Affirmation Cards ($14.95) – A female American psychologist with a master's degree in psychology health & wellness created these cards. These 52 incredibly powerful exercise cards support the development of optimism, mindfulness, meditation, stress reduction, anxiety alleviation, self-care, relaxation, mental health, motivation, and more.
Hatch Restore Sound Machine ($129.99) – With a library of calming sounds, white noise, and lighting at your disposal, you may set the mood whenever you choose. Without the straining blue tones, unwind at the end of the day with a gentle reading light.
Nike Mastery Yoga Mat ($120.00) – Use the Nike Mastery 5mm Yoga Mat (Long) for complex poses, long stretches, and floor exercises. Its expanded length, 5mm thickness, longer and wider design, gripping surface texture, and anti-odor technology work together to keep you comfortable and in control as you focus on the task at hand. Available in black and grey.
GARDENING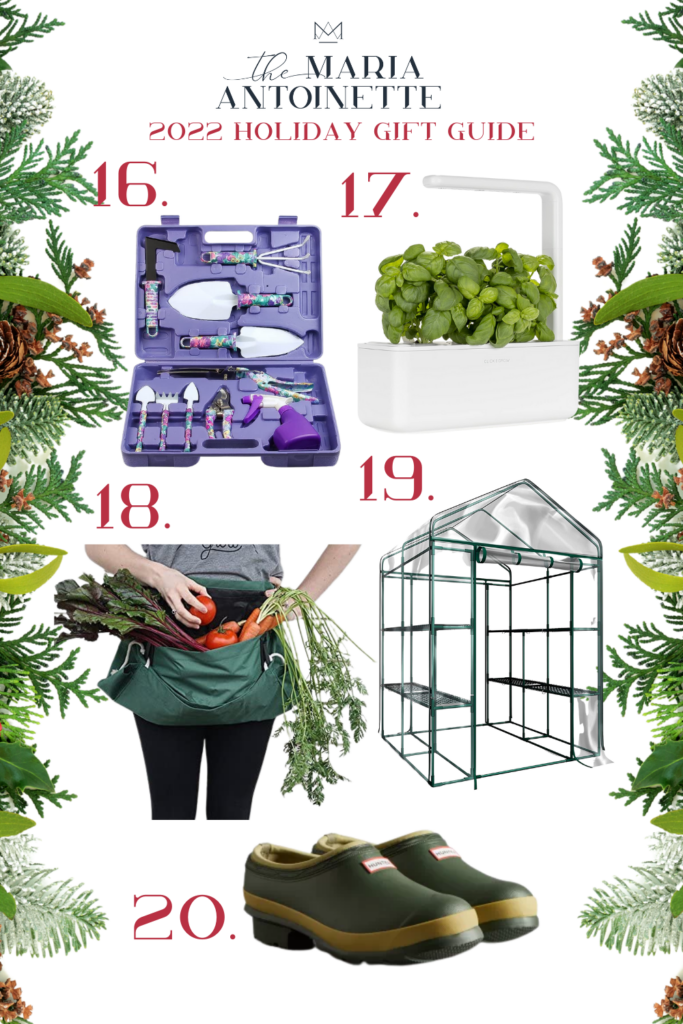 JUMPHIGH 10 Pieces Gardening Tools ($36.99) – The ideal tool for a wide range of chores, including digging, weeding, raking, loosening soil, aerating, transplanting, pruning, and watering to fulfill all of your needs for both indoor and outdoor gardening. With the help of these ten items of gardening equipment, you may start growing whatever you wish, including herbs, flowers, plants, and veggies.
Click & Grow Indoor Herb Garden Kit with Grow Light ($79.95) – Grow fresh vegetables and herbs indoors with this energy-efficient LED grow lights ensure that your plants flourish in any climate. Available in 3 colors.
Roo Garden Apron "The Joey" ($35.95) – The Joey Apron still has the advantage of our emptying pouch, but it also gives you the choice of simplicity by allowing you to fasten it around your waist. Ideal for gardeners who live in warm climates, have smaller gardening/harvesting demands, or garden in urban areas.
Home-Complete HC-4202 Walk-In Greenhouse ($87.67) – Keep this adaptable greenhouse on your backyard patio, deck, cellar, or garage for both indoor and outdoor use! In order to create the best growth environment possible, the clear PVC cover helps shield seedlings from frost or pests. There is plenty of area for trays, pots, or planters of anything you wish to grow on the 8 solid shelves. It is a practical choice for any gardener!
Hunter Women's Gardener Clogs ($95.00) – A pair of green slip-on boots made by hand from vegan rubber that is waterproof. The clog, which has been updated with the distinctive red box emblem, has a flexible natural rubber form with Hunter's recognizable tread for traction. Neoprene lining provides comfort and breathability while also shielding the foot from the elements. Available in four colors.
KITCHEN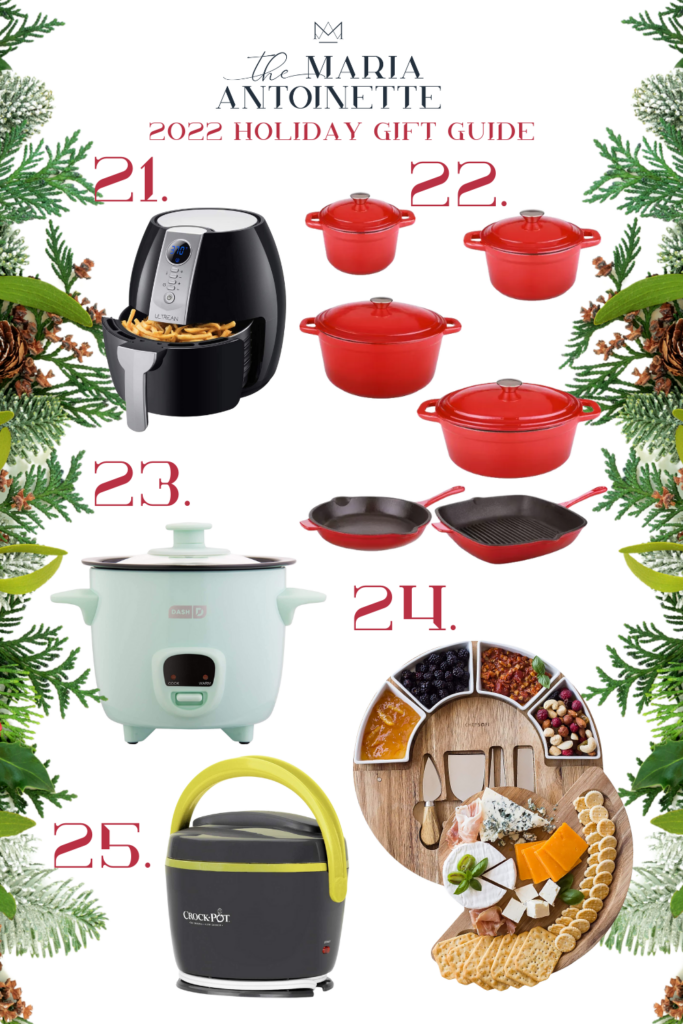 Ultrean 4-Liter Air Fryer ($69.98) – With its cutting-edge heating method—rapid air technology—you can do more than just air fry—you can also grill, roast, and bake your favorite foods. This system is made to cook food properly without the difficulties of using hot oil or a thermometer. Available in five colors.
BergHOFF Neo high-quality Cast Iron Cookware Set ($799.00) – The greatest material for heat retention, constant, even heat, roasting, searing, stir-frying, and baking is cast iron. Enamel's smooth interior avoids adhering and stains for simple food release. Package includes: Cast iron Fry pan 10 inches, Grill pan 11 inches, Dutch Oven 3 Qt., Oval Stockpot 5 Qt., Round Stockpot 7 Qt., Oval Stockpot 8 Qt., 4x Cast Iron Lids.
DASH Mini Rice Cooker ($24.99) – Just forget about it. Simply add water and your uncooked rice, pasta, or vegetables, then click the cook button to complete the preparation in minutes. Less cleanup is required and your entrée (or side) is done in under 20 minutes with steaming. Available in various colors.
Charcuterie Board Set ($61.19) – Meticulously made for posh gatherings and opulent meals. Let your guests ogle the delectable cuisine you prepared and your lovely table setting. This set includes 4 bowls and 4 knives are included in the set to keep and slice various kinds of cheese and charcuterie. Without it, your lavish gatherings won't be the same.
Crockpot Electric Lunch Box ($29.99) – This 20-ounce traveling crockpot is ideal for dips or small lunch portions. Available in various colors.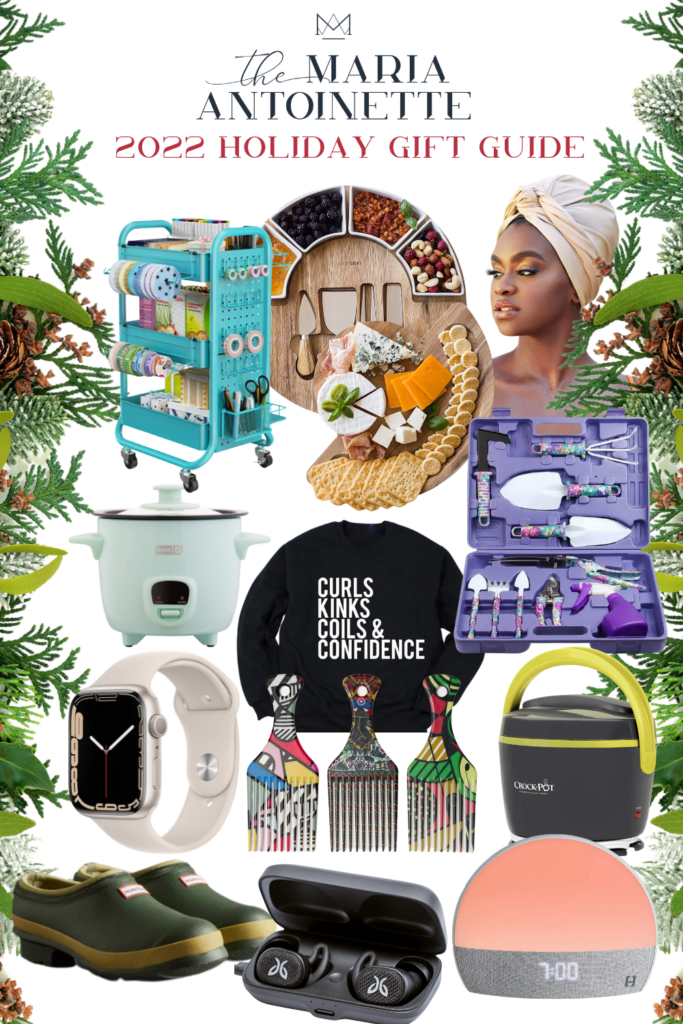 Looking for even more holiday gift guide inspiration? Check out my gift guides from the previous holiday seasons:
50 Lifestyle Gifts For The Whole Family
Gifts For Him
Gifts For Children of All Ages
Gifts For Her
Affordable Gift Ideas For The Whole Family
Black-Owned Shops To Support
The following two tabs change content below.
Maria Antionette is a professional hairstylist, DIY creator and fashion lover with a belief that beauty can be fun, easy and simple.
Latest posts by Maria Antoinette (see all)