When you're thinking about a room transformation, most people would do a lot of advanced planning – I'm not most people. In three days, I transformed Garrison's from toddler room to big kid room. And if I'm being honest, it's the best bedroom in our house.
Before I get into how his room became the best in the house, take a quick walk with me on what lead up to me flipping his room. For the last few weeks, Garrison has been sleeping in the guest room. Why? Because it was an easy remedy for him outgrowing his room. Now the crazy thing is when we purchased his nursery furniture we also bought the queen-size conversion kit. We also had his new queen-size mattress for months. Yet, here I was three days before we were having house guests saying there was no way I was going to make my 7-year-old sleep in his toddler bed anymore.
This is what G's room looked like before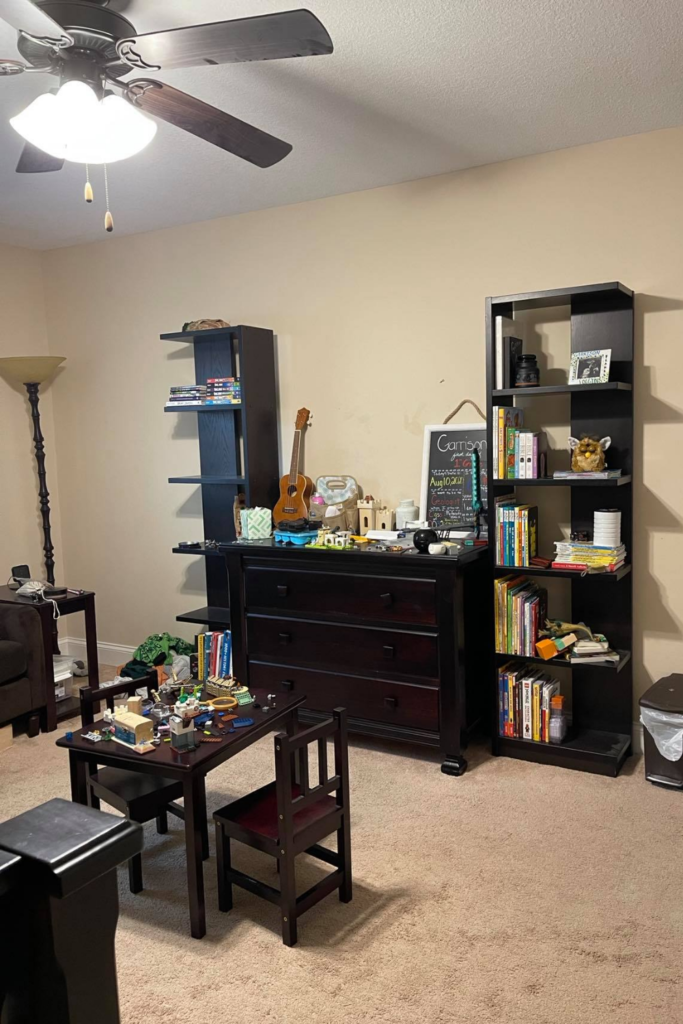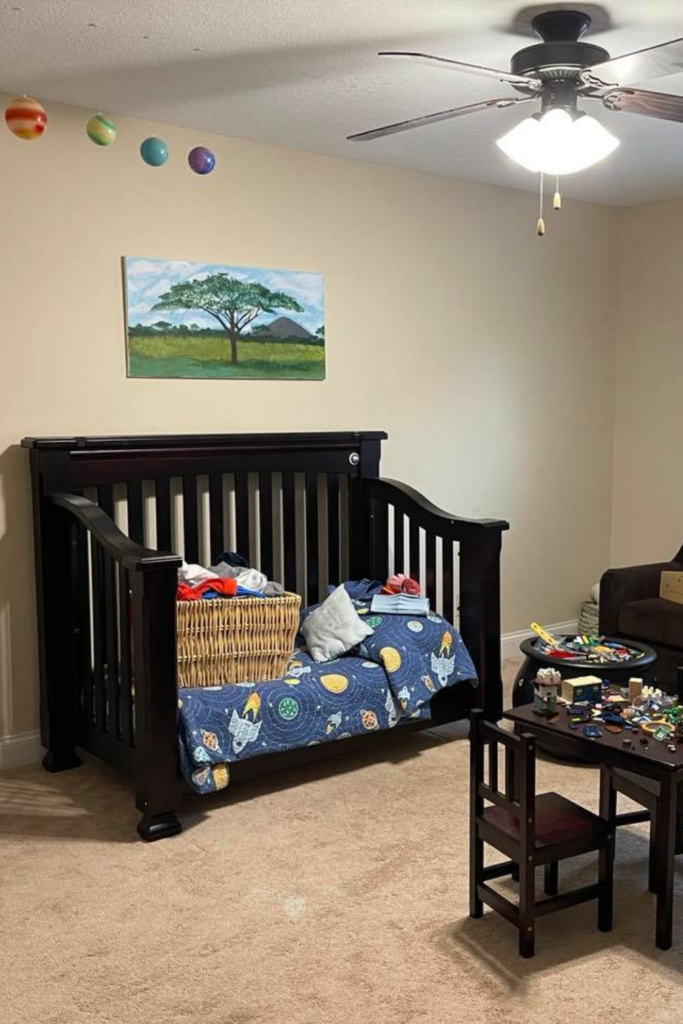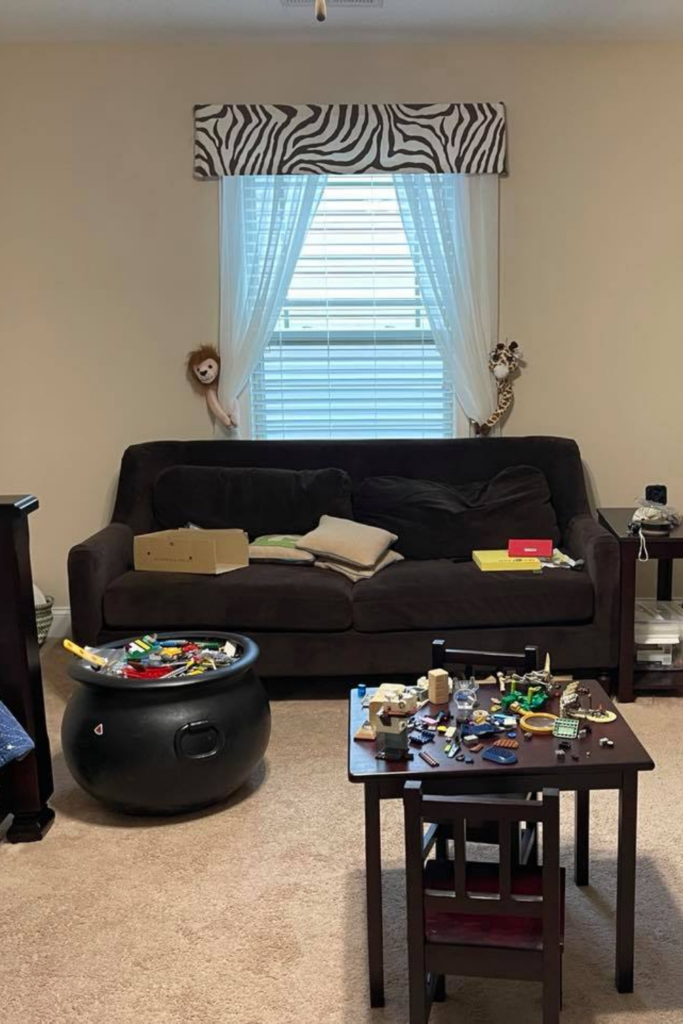 Transforming A Toddler Room To A Big Kid Room
On a Wednesday, in the middle of Garrison's spring break, I decided to not just put up G's big boy bed but to completely change his whole room, and I had three days to do it. Now, I could have made this process super easy by decorating Garrison's room on my own, but I am not that type of parent. I picked G up from half-day camp and excitedly explained he was getting the room of his dreams starting today.
I braced myself to hear of all the wild and crazy things he wanted. First, he wanted a red room that was a Minecraft theme. Minecraft yes, red no way. Next, he said yellow. I did a quick Pinterest search and all nurseries popped up, he wasn't having it. Then he picked his next color choice, orange. We looked at Pinterest again and he wasn't impressed with orange bedrooms. I suggested maybe something in the blue family he countered with green.
I quickly picked 5 shades of green and he picked Benjamin Moore's Cushing Green. 10 minutes later we were at PPG getting his paint mixed.
Tip: if you find paint colors you like but don't have access to the paint stores most paint stores have a color directory that they use to make the exact color.
After we left PPG we headed over to At Home, this is a super mega home decor store, if we are going to do Minecraft I knew they would have us covered. As soon as I hit the wall decor section, I start grabbing everything related to what he wanted. G was excited but not by what I was grabbing but by these animals wearing glasses decor.
He was laughing so hard and just started throwing them into the cart. I asked him about his original idea and he turned to me and said, "No mom, I don't want Minecraft theme anymore." I was puzzled but I'm also leaning into him having a say over his space. So I took out everything I initially put in the cart and helped him find every animal in glasses they had. We gathered other decorative knick-knacks and headed to Target.
Moving up to a queen-size bed from a toddler bed is a big deal. We grabbed a great comfort set from bedding as well as night tables, and a new desk. The last store we got items from was Hobby Lobby. We picked up a few more wall decor items like this cool world map and these galvanized metal letters.
Let's Get This Transformation Started
On Thursday, I cleared the room and I started painting the accent wall with the Cushing green and a fresh coat of sourdough paint over the other three walls. While that dried I built the cornice board and made my stencil for the faux wallpaper design. On Friday, I was able to paint another coat of Cushing green and start the faux wallpaper. By Saturday, I was able to get all shelves hung, pictures hung, bed together, and all decor items on the shelves. Saturday evening Garrison was introduced to his new improved bedroom. He was in love at first sight.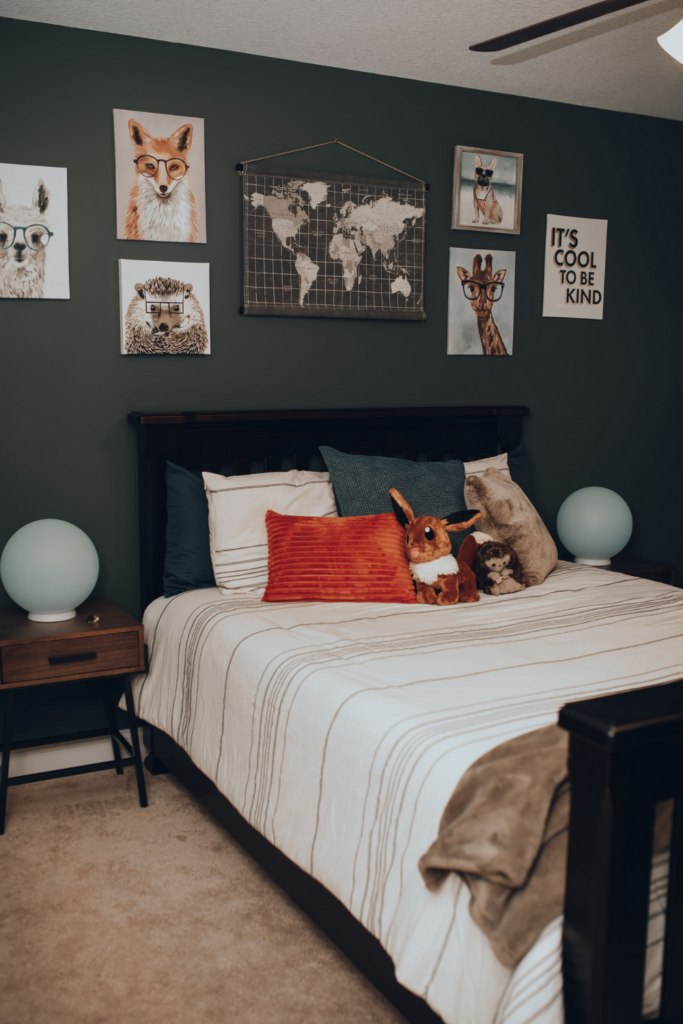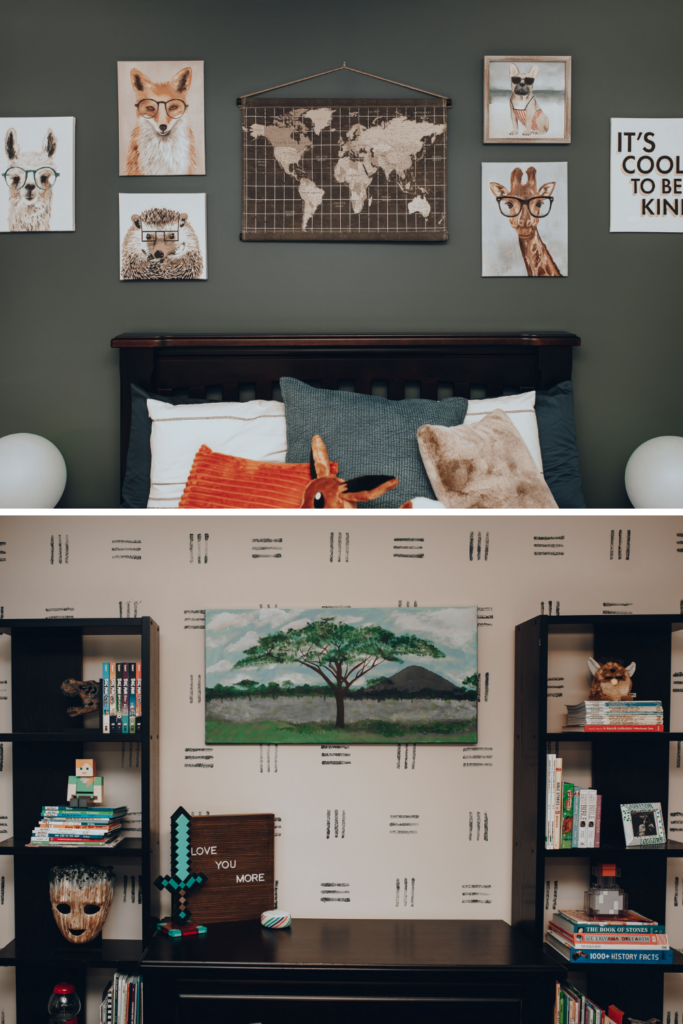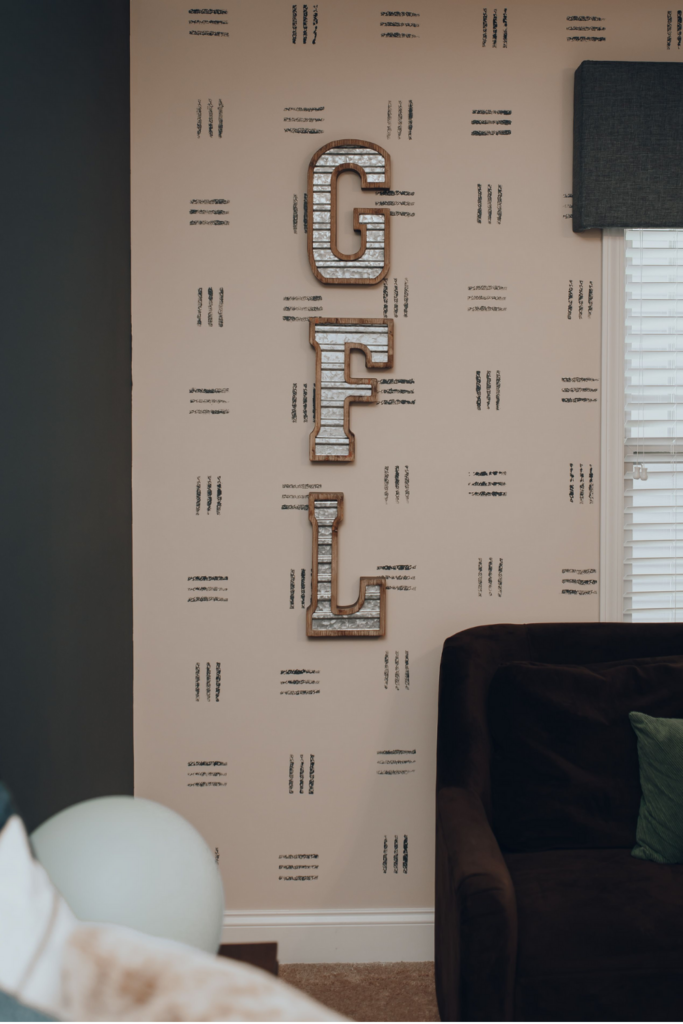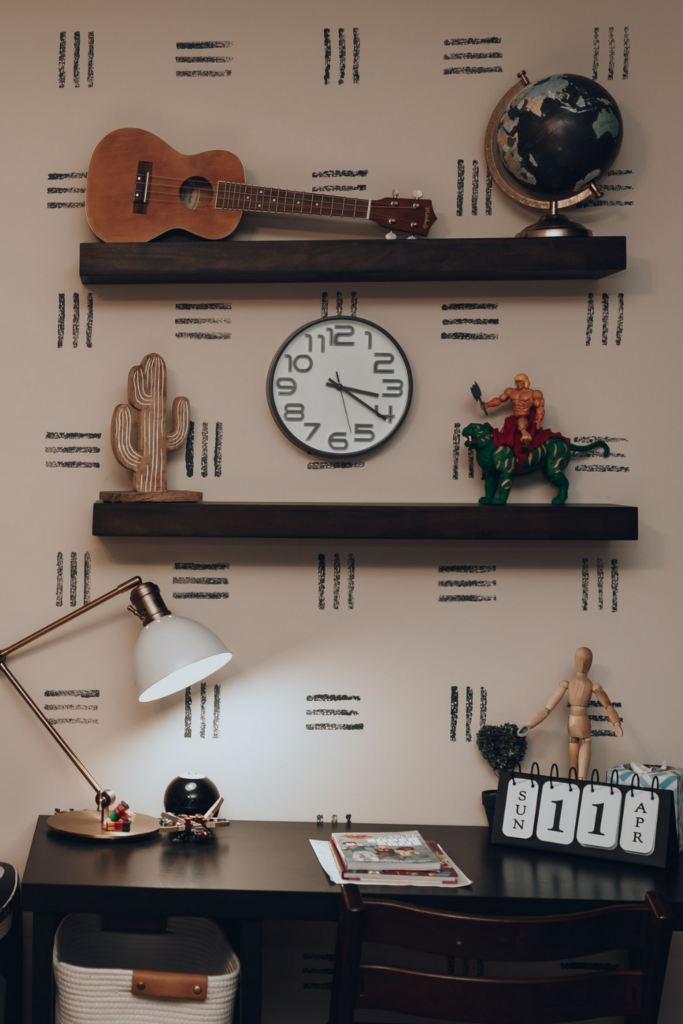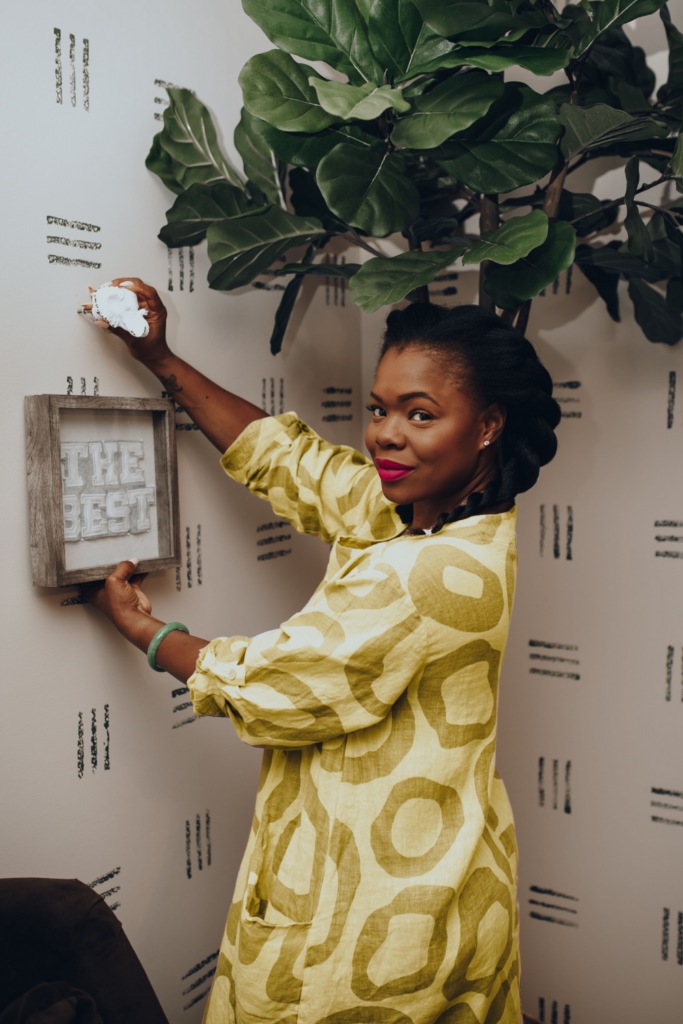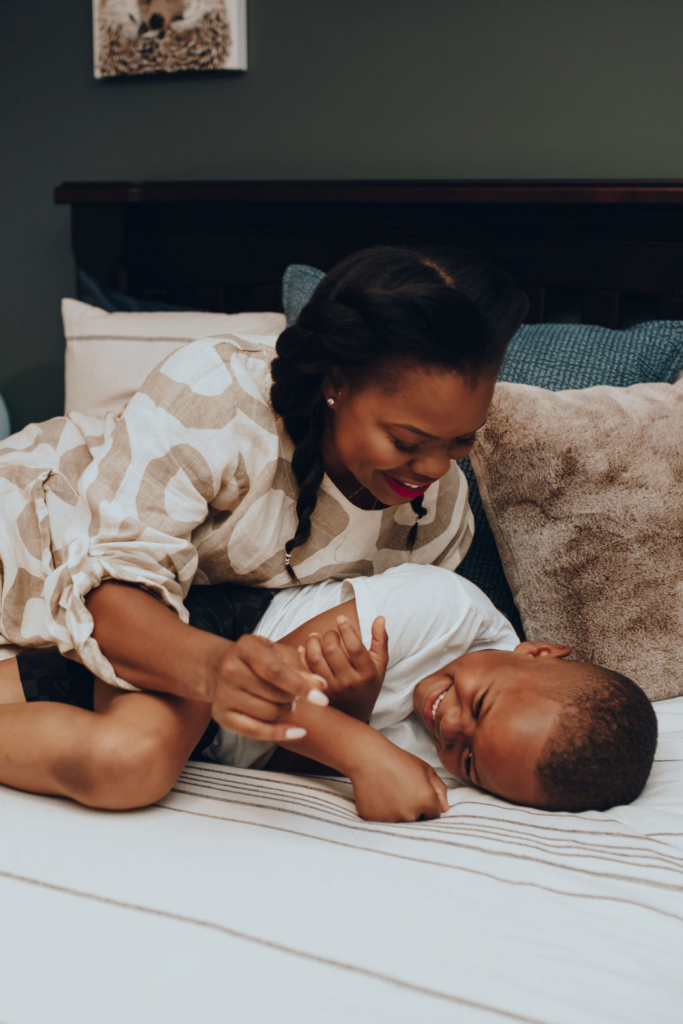 Shop His Big Boy Room

My biggest tip on a project like this is to let your child dream but be guardrails for them. Every picture of animals with glasses didn't work but I was able to start seeing the color scheme and how it can all work so I was able to softly guide his choices. The biggest hurdle for us was picking the wall color. Once that was picked the rest moved like butter. While I turned this project around in 3 days it didn't feel rushed. So what upgrades are you thinking when taking a toddler room to a big kid room?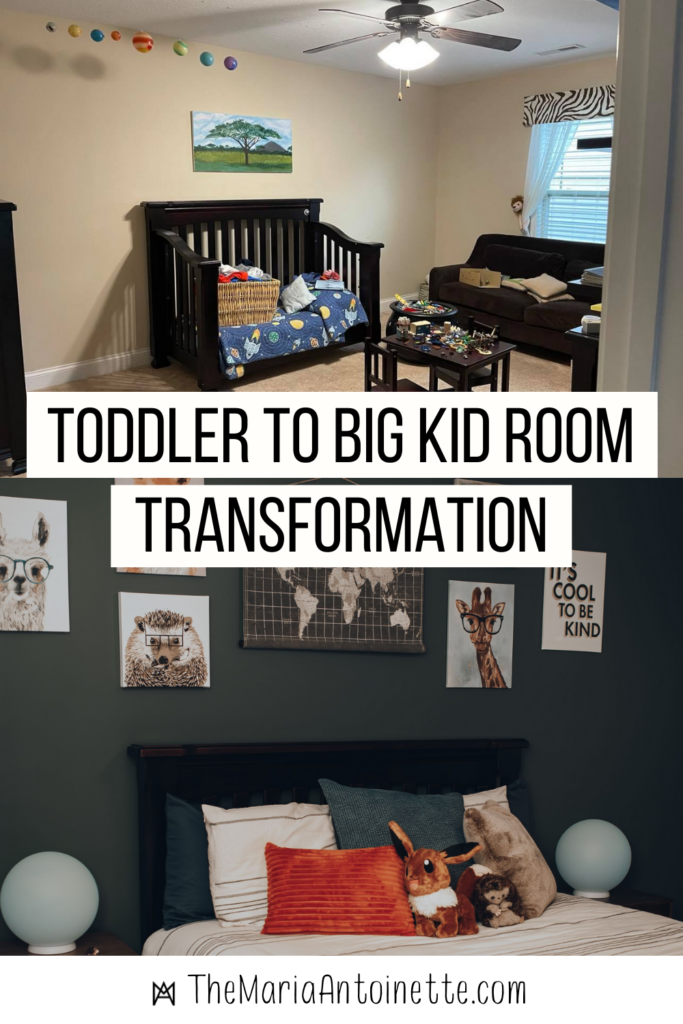 The following two tabs change content below.
Maria Antionette is a professional hairstylist, DIY creator and fashion lover with a belief that beauty can be fun, easy and simple.
Latest posts by Maria Antoinette (see all)