This post is sponsored by Sperry. All thoughts and opinions are my own.
It is officially back-to-school prep time! I have my list of all the things Garrison will need for this school year. From pencils and backpacks to finding the perfect stationery for those personal lunch notes to keep him focused midday, and new books to read at bedtime. I like to pride myself on being the mom that has it all together – uh, actually, I'm totally joking! This is all in my head because I am typically the mother that is dragging her son through the store at the last minute for back to school shopping. But this back-to-school season, I did things differently. I actually used my calendar and made categories to not only assure I get everything but that I can also do it ahead of time.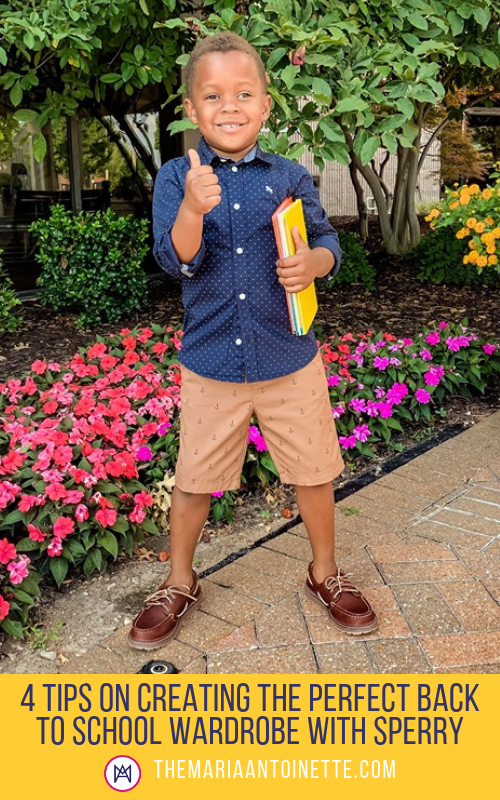 What I'm shopping for this back-to-school season?
This year for back-to-school shopping I added a new category. It's the "we have somewhere nice to go category". You know, the events where your child can't just wear jeans. Yeah, those events. And because Garrison is in a lot more activities this year from piano to local fundraising events (he is often my plus one), school recitals, and church I had to make sure to add the category of great dress clothes that even an active 5, ahem…almost 6 year old would want to wear. Oh, and they still had to look—as G would say—"fly". How many of you have bought clothes for your kids only for them to make that "ugh mom" face? I feel you sis.
But out of everything I get for him the one thing I can never get wrong are the shoes. Garrison loves shoes, like for real. He LOVES shoes so much that it can be a bit nerve-racking because he's so picky. Well, for this season I've only heard excitement and glee from my son and that's all thanks to Sperry. They set me up for success by sending Garrison their Big Kid's Authentic Original Twisted Lug Boat Shoe.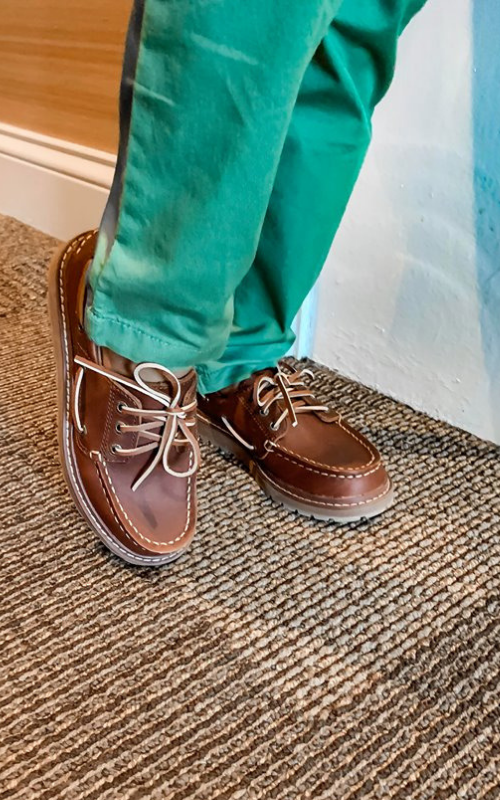 Let me just say, these shoes are beautifully crafted. The cushy memory foam footbed which is ideal for active kids as it offers support and feels like they are walking on clouds. They also use a fully functioning 360 lacing system that adds comfort and support by keeping the shoe on your child's foot. Oh, and y'all these shoes look amazing too—per Garrison, my picky shoe guy. Although I can't blame him for being this way, he gets this from his mama!
Tips to creating a back-to-school Wardrobe with Sperry
These tips are going to be your lifesaver. They're not only going to have your kids excited to mix-and-match all their clothes creating endless new looks, but it's also going to save you time and money in the store, which is always a good thing.
Tip #1: Start with your shoes first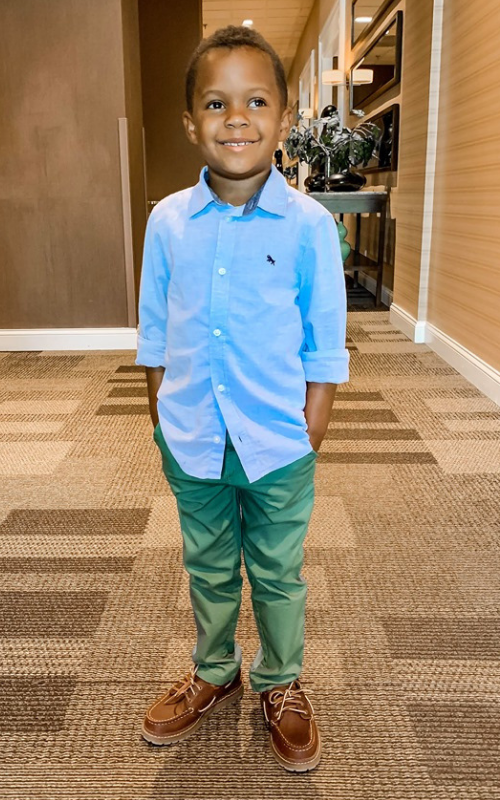 In the famous words of Drake, "we started from the bottom now we're here", I know you totally rapped that. The amazing genuine brown leather Sperry's they sent us made it really easy to build Garrison wardrobe. He's an active kid and loves to, even at an early age, wear preppy/classy clothes. This boat shoe made sure he could still be all boy active and still stylish. So remember, by starting at your child's feet it will make creating looks for them that much easier.
Tip #2: Buy clothing in various colors and palettes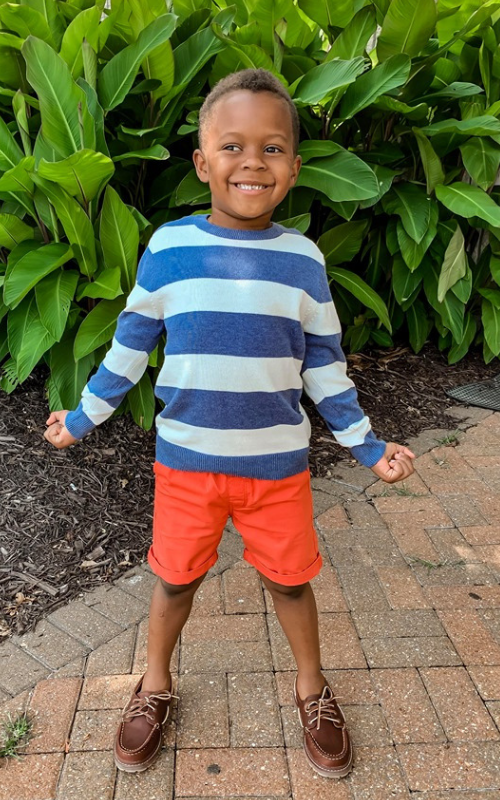 By purchasing clothing in coordinating color blocks and patterns you allow for more outfit options. Mixing and matching just doubled your outfit options. An array of both complementary and contrasting colors is a great way to create outfit versatility that doesn't break the bank.
Tip #3: Layer up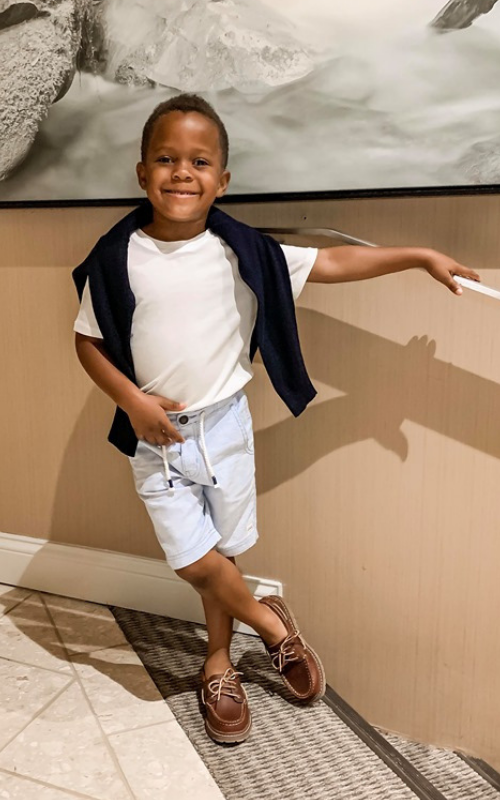 Leverage layers and lengths to stretch from summer into fall. There's nothing worse than buying clothes and shoes only to have your child wear them once or twice because they grew out of them so fast. I love to put Garrison in rolled-up long sleeve shirts. They allow him to get use during warm then I simply unroll the sleeves for cooler months. Layers allow for versatility, especially when you consider the power of a simple white T undershirt that can be worn solo or under a great cardigan. Oh, and how cute is a nice pair of shorts matched to a long sleeve shirt, or a simple t-shirt matched with a sleek pair of khakis?
Tip #4: Keep it simple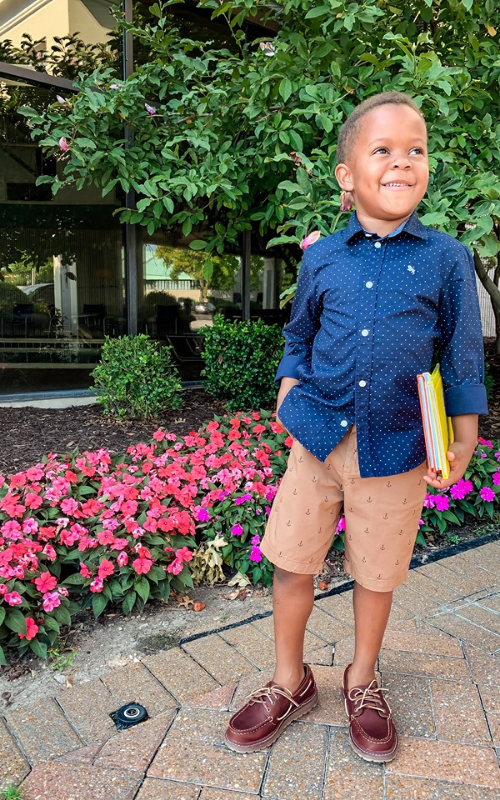 This is a total bonus tip but it's worth saying. Don't over-shop! As simple as that sounds you may find yourself in kiddie cuteness overload making it easy to buy more than your child can wear. There were times my imagination would just run wild with looks for certain occasions. But, I stuck to my son's needs and really all he needed were a couple of pairs of shorts, 2-3 pair of pants, a few long and short sleeve shirts, and a couple of knitted options. With the length, colors, and texture variables we had enough outfits for late summer/fall seasons.
What do you think of Garrison's outfits? Don't you just love how everything complements the Sperry Twisted Lug Boat Shoe? I hope my back-to-school wardrobe with Sperry tips helps you this season. One thing to keep in mind as you shop is, a good shoe is truly worth it and in my case, those Original Twisted Lug Boat Shoes it didn't just make one great outfit, it made a bunch of them that son is excited to wear.
Have you started back-to-school shopping? Would a back-to-school wardrobe with Sperry be something your child would be excited about? Share with me in the comments below and don't forget to tag me in your back-to-school posts on social at #TMABlog.
The following two tabs change content below.
Maria Antionette is a professional hairstylist, DIY creator and fashion lover with a belief that beauty can be fun, easy and simple.
Latest posts by Maria Antoinette (see all)