A little while back I did a post featuring 70 books by Black women authors that you guys really loved. That list featured a lot of adult reads and a small section for children and young adult books. So this time around I've created a list of books for black children and young adults.
*This list is clickable making it easier for you to learn more about the title.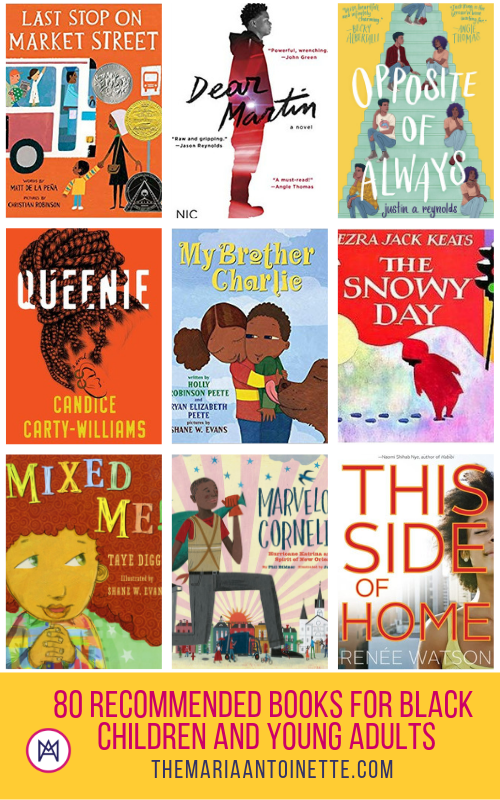 Children Reads
1. Ezra Jack Keats – The Snowy Day
2. Derrick Barnes – Crown: An Ode to the Fresh Cut
3. Rita Williams-Garcia – One Crazy Summer
4. Susan Verde – My Kicks: A Sneaker Story
5. Angela Johnson – Daddy Calls Me Man
6. Whoopi Goldberg – Sugar Plum Ballerinas
8. Phil Bildner – Marvelous Cornelius
10. Karen P. Williams – A Beach Tail
11. Irene Smalls – Kevin and His Dad
12. Renee Watson – Harlem's Little Blackbird
13. Julie Gassman – Do Not Bring Your Dragon To The Library
14. Marti Dumas – Jaden Toussaint, The Greatest (Episode 1: The Quest For Screen Time)
15. Katheryn Russell-Brown – Little Melba and Her Big Trombone
16. Jacqueline Woodson – Pecan Pie Baby
17. Floyd Cooper – Max and the Tag-Along Moon
18. Crystal Swain-Bates – Big Hair, Don't Care
19. Katura J. Hudson – I'm A Big Brother Now
20. Katura J. Hudson – I'm A Big Sister Now
22. Karen Beaumont – I Like Myself
23. Debbie Allen – Dancing in the Wings
24. Matthew Paul Turner – When God Made You
25. Barack Obama – Of Thee, I Sing: A Letter to My Daughters
26. Rose Blue – Ron's Big Mission
27. Jessica McDougle – Nadia Knox and the Eye of Zinnia
28. Josh Funk – Dear Dragon: A Pen Pal Tale
29. Tammi Sauer – Mary Had a Little Glam
30. Alika R Turner – June Peters Will Change The World One Day
31. Rachel Isadora – The Princess and the Pea
32. Davina Hamilton – Riley Can Be Anything
33. Sherri Winston – President of the Whole Fifth Grade
34. Dr. Thomishia Booker – Brown Boy Joy
35. Gaia Cornwall – Jabari Jumps
36. Natasha Anastasia Tarpley – I Love My Hair
37. Jane Smiley – Twenty Yawns
38. Anna McQuinn – Leo Can Swim
39. Trish Cooke – Full, Full, Full of Love
40. Laban Carrick Hill – When The Beat Was Born
41. Natasha Anastasia Tarpley – I love My Haircut
42. Matt de la Peña – Last Stop on Market Street
43. Tia Mowry & Tamara Mowry – Twintuition Double Vision
45. Betty K. Bynum – I'm A Pretty Little Black Girl
46. Catherine Stier – If I Ran For President
47. Holly Robinson Peete & Ryan Elizabeth Peete – My Brother Charlie
48. Alonda Williams – Penny and the Magic Puffballs: Volume 1
49. Mary Hoffman – Amazing Grace
Young Adult Reads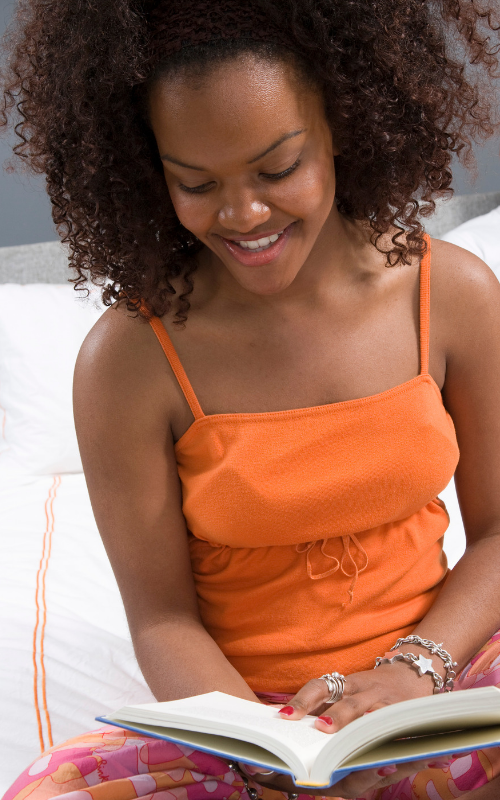 50. Angie Thomas – The Hate You Give
51. Nicola Yoon – The Sun Is Also A Star
52. Tiffany D Jackson – Allegedly
53. Renée Watson – Piecing Me Together
54. Brian F. Walker – Black Boy White School
55. Sharon Flake – The Skin I'm In
57. Walter Dean Myers – Monster
59. Nnedi Okorafor – Akata Witch
60. L.L. McKinney – A Blade So Black
61. Liara Tamani – Calling My Name
62. Justina Ireland – Dread Nation
64. Ibi Zoboi – Black Enough: Stories of Being Young & Black in America
65. Dana L. Davis – Tiffany Sly Lives Here Now
66. Sharon M. Draper – Copper Sun
67. Terry Farish – The Good Braider
68. Marlon James – Black Leopard Red Wolf
69. Renée Watson & Ellen Hagan – Watch Us Rise
70. Justin A. Reynolds – The Opposite of Always
71. Renée Watson – This Side of Home
BONUS: 8 YA Titles To Be Released Later This Year
73. Candice Carty-Williams – Queenie (March)
74. Kosoko Jackson – A Place For Wolves (April)
75. Elizabeth Acevedo – With The Fire On High (May)
76. Tiffany D Jackson – Let Me Hear A Rhyme (May)
77. Claire Kann – If It Makes You Happy (June)
78. Maika Moulite & Maritza Moulite – Dear Haiti, Love Alaine (September)
79. India Hill Brown – The Forgotten Girl (November)
80. Tomi Adeyemi – Children of Virtue and Vengeance (December)
What are some of your favorite books for Black children and young adults? Let's keep the list going in the comments below. Share your favorite book(s) with me on social at #TMABlog.
The following two tabs change content below.
Maria Antionette is a professional hairstylist, DIY creator and fashion lover with a belief that beauty can be fun, easy and simple.
Latest posts by Maria Antoinette (see all)