Autumn is here and my HGTV Handmade friends and I are here to help you celebrate with these quick and easy fall and winter DIY decor ideas.
Let's get started!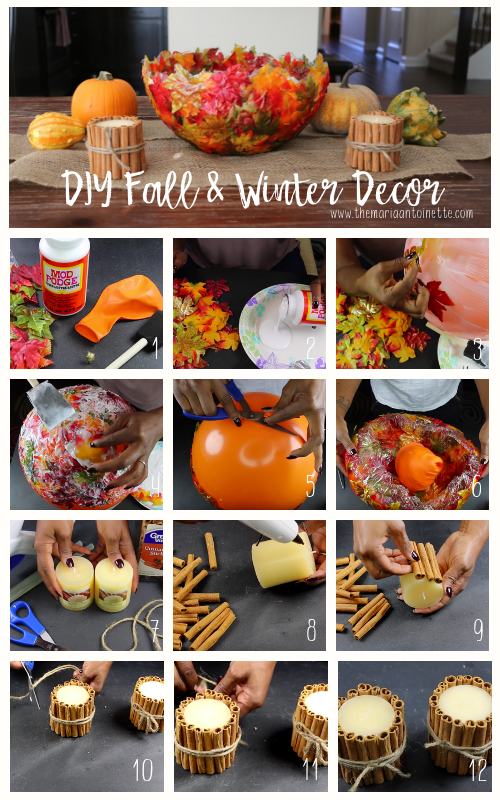 Autumn Leaf Bowl & Cinnamon Candles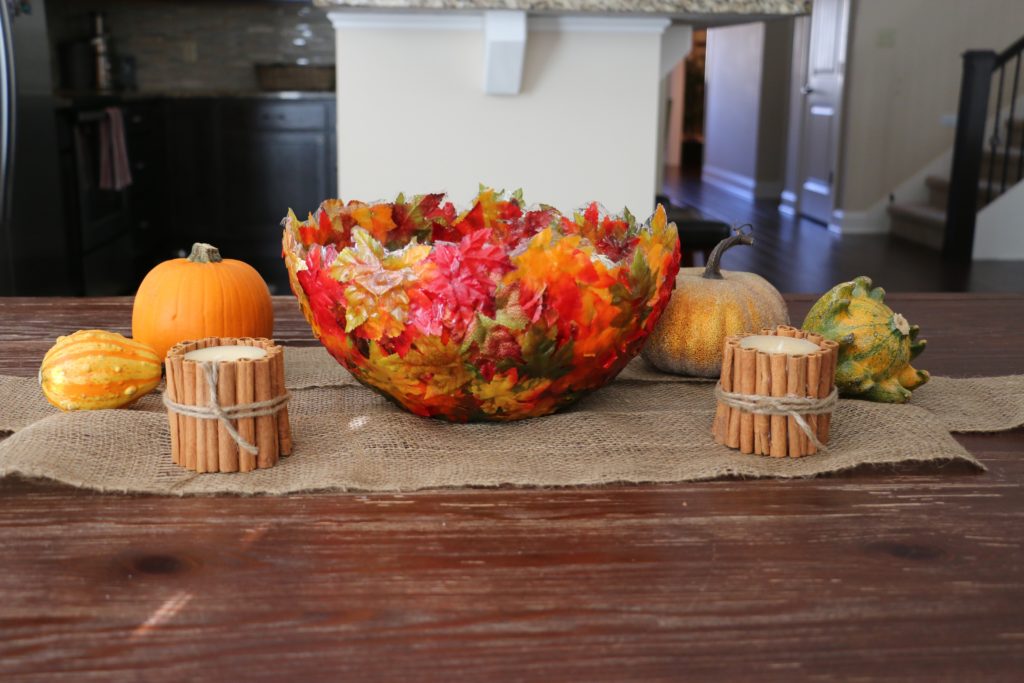 Craft Credit: MariaAntoinetteTV
Autumn Leaf Bowl Instructions: 
Blow up a jumbo balloon.
Pour modge podge in a paper plate for easy disposal later on.
Using a sponge brush and paint a thin layer of modge podge on the bottom half of the balloon. (Tip: Don't paint the top of the balloon otherwise you won't be able to grip it.)
Now take your fake leaves and paste them onto the balloon. (Tip: I used about four packs of leaves for this project.)
Repeat step until the entire base of the balloon is covered in leaves and let it dry overnight.
24 hours later: Add your second layer of leaves. It's ok if it's not fully dry.
After the second layer, I would recommend letting everything set for about two to three days.
Once it's completely dry and hard as a rock you're going to pop the balloon to reveal your new bowl. Don't forget to remove the excess glue from the edges.
Cinnamon Vanilla Candle Instructions: 
Using your hot glue gun apply cinnamon sticks in strips all the way around the vanilla candle.
Wrap twine around the completed candle about three times, add a double knot and tie in a bow.
Mug Sleeve
Instructions:
Get an old lonely sock (or a new pair from the dollar store).
Cut off the ankle of one of the socks.
Turn the sock inside out.
Fold the cut end over and glue it with a hot glue gun.
Flip right side out and pull it tight around the mug.
Don't have an old sock? Use a ripped shirt instead.
Instructions:
Get a small rubber band and loop one end into the buttonhole.
Wrap cuff around the mug and secure by looping the other rubber band end around the button.
DIY Tassel Blanket
Instructions:
Cut out a cardboard square.
Wrap yarn around the cardboard square 50x then cut.
Take a piece of yarn, measure 2x the length of the square and cut.
Tie the newly cut string around the bundle. Tie it TIGHT.
Cut the bundle across the bottom.
Take a piece of yarn and measure it the length of the pom pom and tie that slightly lower than your first knot. Repeat this step one more time.
Make as many pom poms as you wish.
Grab your sweater blanket, thread the pom poms through the small holes and secure tightly with a knot.
Pine Cone Potpourri
Instructions:
Gather pine cones from outside.
Bake at 200 degrees for an hour.
Coat with spray adhesive.
Sprinkle on cinnamon and shake off the excess.
Place in decorative bowl.
Watch these videos to see all these fall and winter DIYs in action, as well as even more DIYs that weren't included in this post.
Which one of these projects do you like? Share your fall and winter DIYs with me and HGTV Handmade on social at #TMABlog and #HGTVHandmade.
Photo Credit: HGTV (Youtube screenshots)
The following two tabs change content below.
Maria Antionette is a professional hairstylist, DIY creator and fashion lover with a belief that beauty can be fun, easy and simple.
Latest posts by Maria Antoinette (see all)