Today I'm going to show you how you can make your very own DIY ottoman. This is going to take a little bit of work and elbow grease but I promise you the end result will be better than any ottoman you could purchase. Trust me.
Let's get started: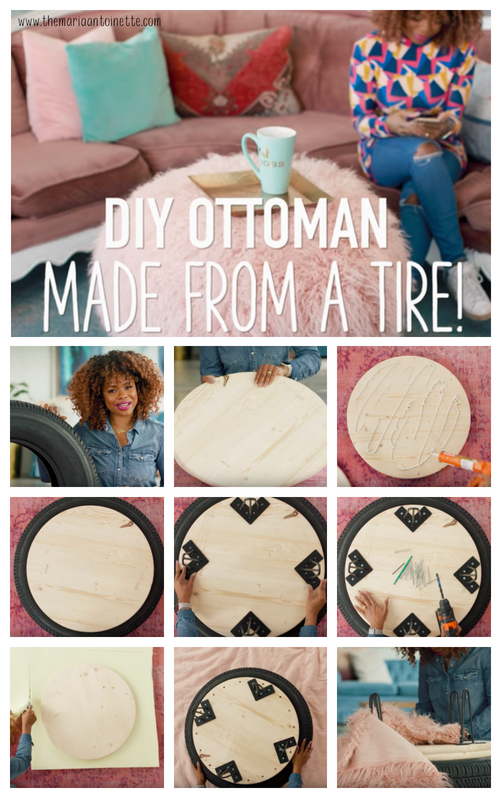 You'll need three 17 3/4 wood rounds.
Glue two of the wood rounds together.
Then add your metal ottoman legs. For this project, I used black hairpin legs.
Place the legs so that they're equally spread out and screwed into place so your ottoman will be level.
Screw the metal legs in with a basic 10 x 3/4 wood screws. You'll need 16 of these.
Make sure the edge of the leg base lines up with the edge of the wood round.
Attach the wood to the tire. We'll start with 16 pilot holes followed by 16 12 x 3 wood screws.
With the third wood round, you will upholster it using egg crate foam. Cut three foam circles the size of the round and a large square big enough to wrap over the edge of the wood round.
Get a large piece of old material or a bedsheet and lay it out like a picnic blanket (pattern upwards) and place in the center stacking the three foam rounds, the square foam, and the wood round.
Using the staple gun you're going to fold the edges of the square foam over the wood round and staple all the way around.
Gather the cloth material around the foam upholstered round and staple. Be sure to pull the material tight as you staple. If you have excess material, it's okay no one is going to see it. Cut it and continue to staple until secure.
Place newly upholstered foam round on top of the tire and cover with your desired material. Repeat the previous step of pulling material tight, stapling and cutting excess.
All done! Flip your new ottoman over, place in your desired space and marvel at how great it came out. Need additional home decor? Here's a quick DIY photo holder. Design it to compliment your new ottoman.
I want to see your DIY ottoman so be sure to share them with me on social using #TMABlog.
Photo Credit: HGTV Handmade (YouTube)
The following two tabs change content below.
Maria Antionette is a professional hairstylist, DIY creator and fashion lover with a belief that beauty can be fun, easy and simple.
Latest posts by Maria Antoinette (see all)