Hey guys! I am providing details on what seems to be the "fav" look from my Festival LookBook. This look got the highest amount of inquiries and votes from the #MAsquad and I can definitely understand why. From the bag to the detailed distressed shorts, there is so much to love about this style inspiration! More importantly, this particular look can be customized to fit everyone individually. Kimonos come in lots of beautiful prints you can choose from. You can switch the shoes, the colors, accessories, etc. That's what makes it fun! Showing off your personality and style preference.
Visual Details: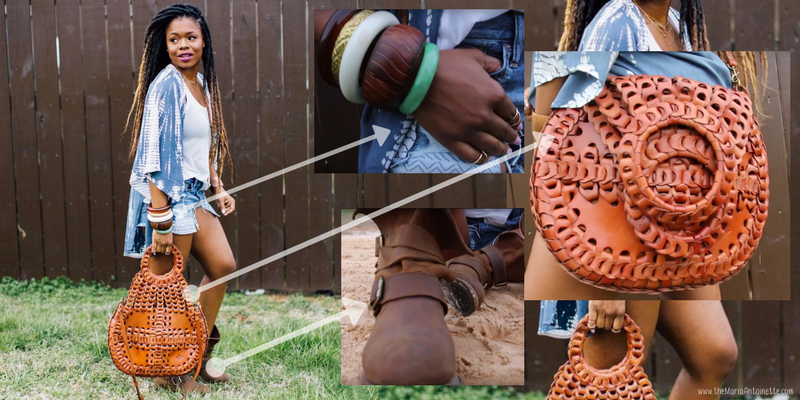 Purchase Details:
Here are a couple things I love about this look:
Detailed design on the distressed denim shorts pocket
Oversized shoulder bag with handles and removable strap
Tie dyed wide sleeve kimono
When I'm piecing my looks together, looking good AND feeling comfortable is my goal. In my opinion, feeling great will always play a part in feeling confident! Always alter style inspiration to fit your comfort level. Keep this in mind as your tackle this year's spring and summer trends.
Full Look Book:
Could you see yourself rocking this look or one of the others from my look book? If you found some style inspiration here and decide to go for it, I would love for you to share with me! Post in the comments below if you need some input on how you plan to style your shorts and kimono. I look forward to hearing from you! I would also like to invite you to sign up for my newsletter, this way you will always be in the know with all things MA. If newsletters aren't your thing simply download my App!
– MA
The following two tabs change content below.
Maria Antionette is a professional hairstylist, DIY creator and fashion lover with a belief that beauty can be fun, easy and simple.
Latest posts by Maria Antoinette (see all)