Fall can mean something different for everyone. For some it's the season with the best holidays. Then there are people like me who are super excited about the fall fashion options! From layering pieces to attention grabbing boots, there is just so much to love about fall fashion. This time around I have picked up some amazing, emphasis on amazing, pieces! I want to be sure everyone is in on the action so I am sharing my one of a kind finds, as well as some closet must haves. Let's get to it!
Where I shopped:
Favs & Reviews:
Looks: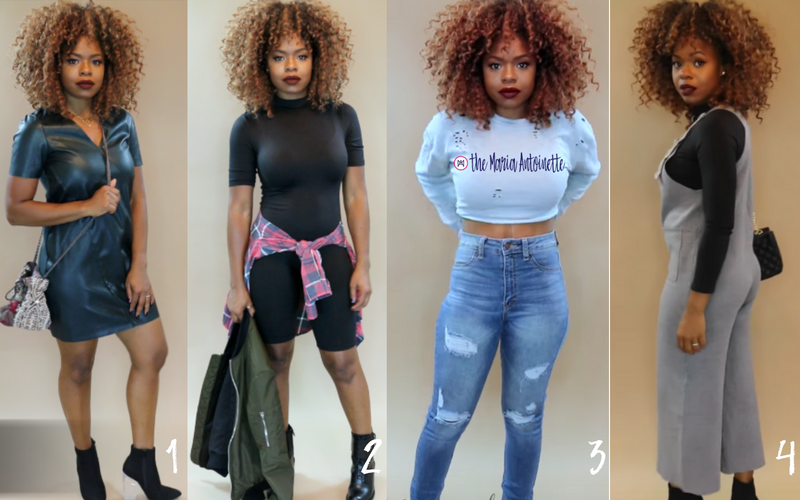 FAUX LEATHER DRESS from Zara –  Had to have it when I saw it! Stretch on the back, beautiful color, and fits amazing! Paired with accessories from Zara and Fashion Nova
WAYLAY JUMPSUIT from Fashion Nova- I would never wear this without something tied around the waist. (That's just me) Great fit. Paired with a flannel from Wet Seal and a bomber jacket I already owned.
RIPPED DOWN JEANS from Fashion Nova – Love their jeans! They fit amazing and are very complimenting to my figure. Also, very comfortable all around. Can't go wrong with Fashion Nova jeans. I bought four more pair!
CROPPED DUNGAREES from Zara – So nice! They are knit with a really comfortable weight to them. They can be styled so many different ways! Paired with cropped top from Fashion Nova.
ACCESSORIES: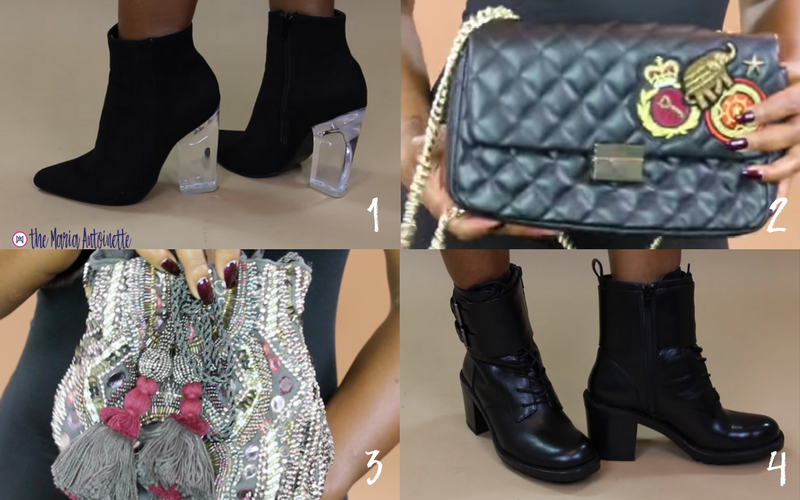 CELESTIAL BOOTS from Fashion Nova – Right on trend and super comfortable. I've gotten lots of compliments on these.
FAUX LEATHER QUILTED BAG W/APPLIQUE from Zara – HAD TO HAVE IT!! Super stylish. (Unfortunately, sold out.)
BEADED BUCKET BAG from Zara – Perfect size with beautiful detail. Super trendy. I will be wearing it out on the regular.
LEATHER HEEL BIKER BOOTS from Zara – My go to boots for the winter. Most definitely replacing my combat boots. They do need to be broken in and I don't mind doing so because they are dope!
I have so much more to show you guys!
I wanted to keep this post short and sweet; however, feel free to check out the full video which includes more items I'm excited about:

So if you noticed the trend here, Zara and Fashion Nova seem to be where I got most of my favorites. Zara definitely gets the bulk of my coins but I cannot pass up the unique pieces they offer. Fashion Nova does not break the bank, so I usually pick up more items from there. Basically, there are options here and in the full video for everyone! Wet Seal has more trendy options since they have a new buyer and of course, Forever 21 always has the cutest and latest fashion. Did you see something you have to have? Chime in below! I would love to hear from you. You are also invited to sign up for my newsletter so you will always be in the know with all things MA. If newsletters aren't your thing simply download my App!
~MA
The following two tabs change content below.
Maria Antionette is a professional hairstylist, DIY creator and fashion lover with a belief that beauty can be fun, easy and simple.
Latest posts by Maria Antoinette (see all)