If you are anything like me you are always thinking of ways to save a buck! I have been researching dress forms for a while now and I found dress form that varied from 80 dollars on sale to 400 plus dollars.  I was really saving my pennies to be able to buy one for 300-400 dollars that would be closest to my figure, but time was not my friend because my patience wasn't kicking in on this idea.  Then I came upon a ton of sites, blogs and articles on DIY Dress Forms but this site was the one I gained inspiration from Prudent Baby.  After reading and accessing if this was the right move for me I figured what do I have to loose??? So I wrote down what was needed, asked the Hubster for his helping hand and headed to the store for a one night project that I am SOOOOOO happy we did!
List of what you'll need:
5 rolls of Duck Tape we bought 4 20yd rolls (cookie dough)  and 1 10yd roll (snake skin)
2 32oz bags of batting (you can also use newspaper or foam whichever you like)
4′ or 5′ X 3/4″ thick of PVC, you can go thicker but think of what your base is going to be (can be found at any hardware store in the pluming department)
Spray adhesive
Expanding Foam
Disposable gloves
Tee-shirt
Scissors
Cardboard (I used an old shipping box)
A base either an outdoor umbrella holder or a Christmas tree holder.
A extra pair of hands…I used the Hubs and I am so grateful he said yes!!!
What we bought, I picked a neutral Duck Tape, let me tell ya' sky's the limit on the options for Duck Tape all kinds of colors and patterns to choose from!  I am short so I had the helpful man at the hardware store cut my PVC to 4′ because they only sold 5′ and that came to my noise which would be way to tall for my dress form.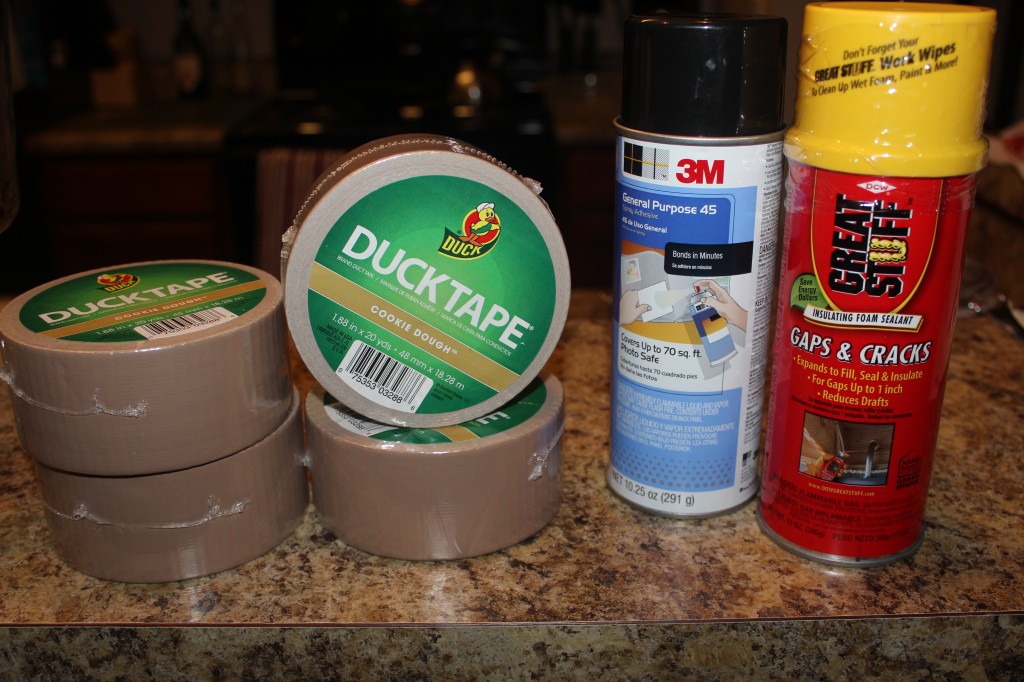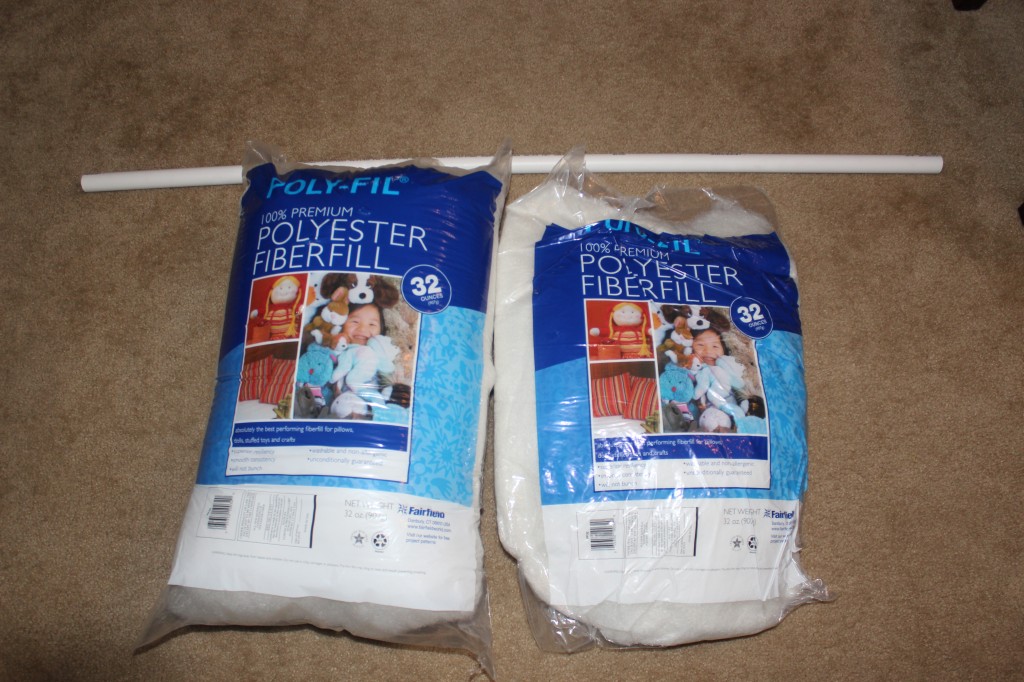 You're going to want to find a tee-shirt you don't mind cutting! I picked a fitted tee I figured it would help the Hubs as far as a good foundation and pattern to follow. It's important to wear a bra so the form can have the right fit.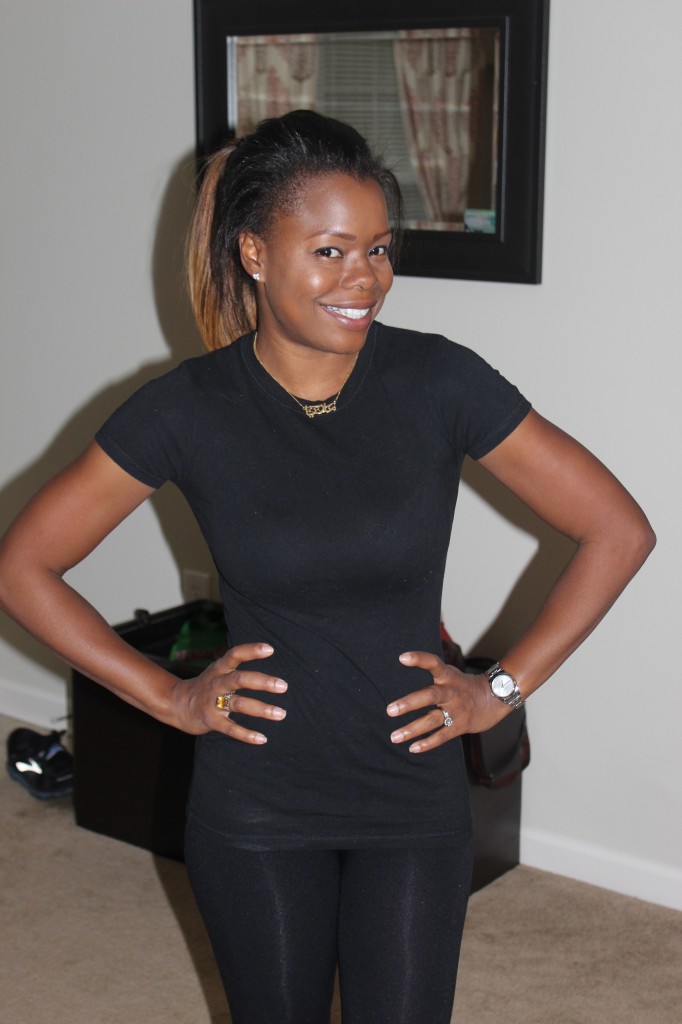 We started with the waist…My note to you is to hold your mid-section as true to form as possible, do not suck your tummy in! Then for the breast area we used an X pattern to assure the right support and curves for the form. You're going to want to take the tape to the widest part of your hips to assure the best measurements, which is about shirt length.  Also you want to make a defined arm area so your garments won't slip off your new dress form. Using smaller pieces of Duck tape made it a lot easier to keep everything as smooth as possible, this really helped us.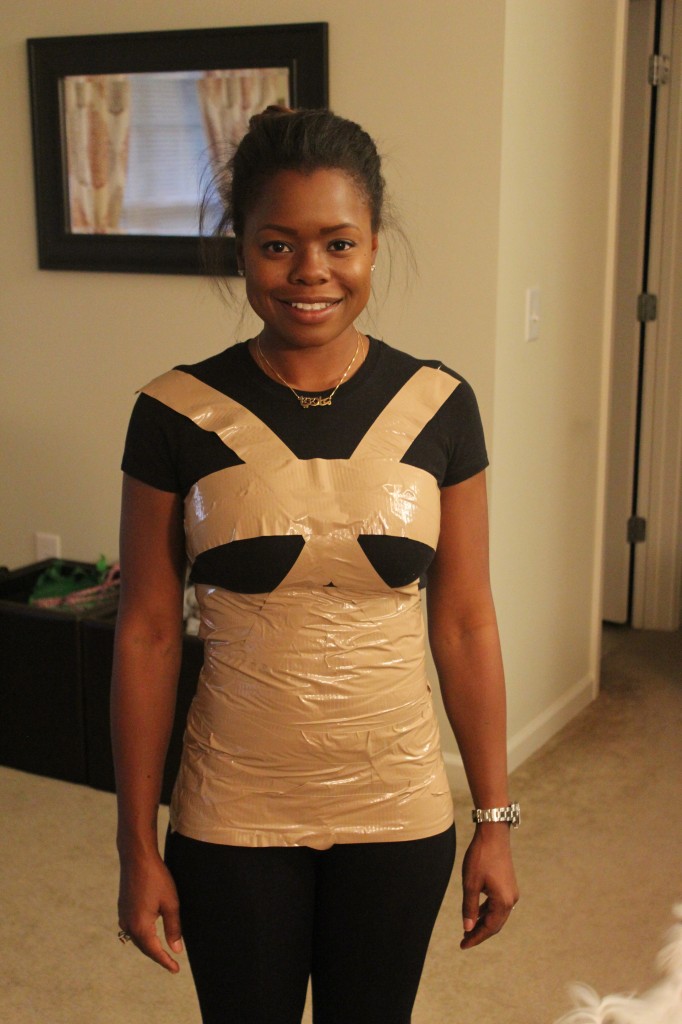 After 3 layers of Duck tape we are finished!!! The Hubs did a GREAT job didn't he?!?!?  I felt like I was in a body cast. S/N this is kinda cute…hummmm (that's my mind buzzing).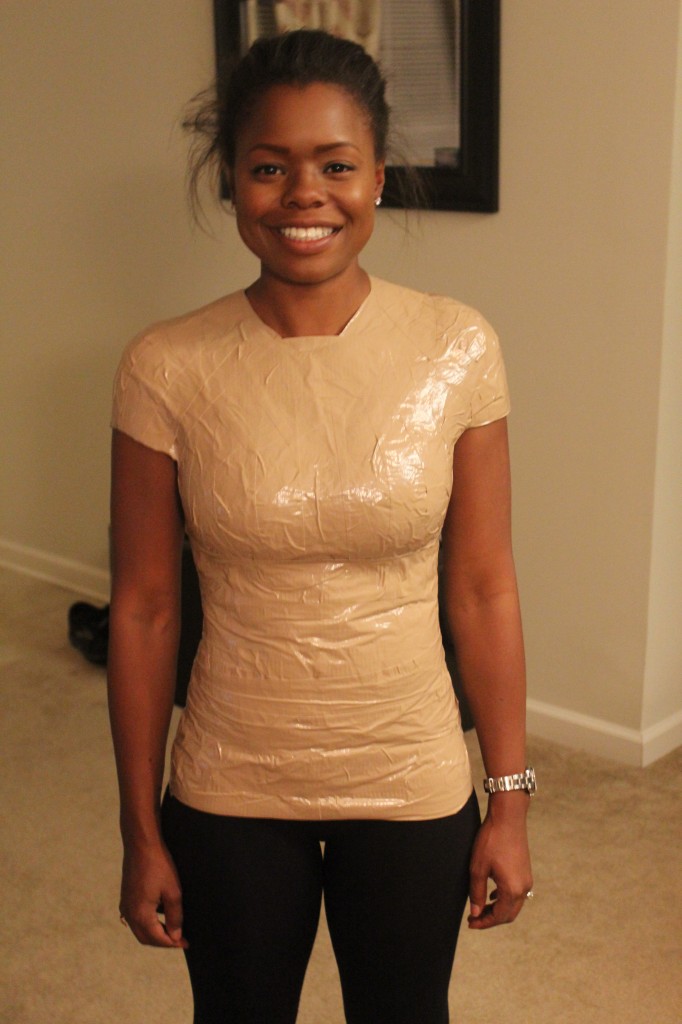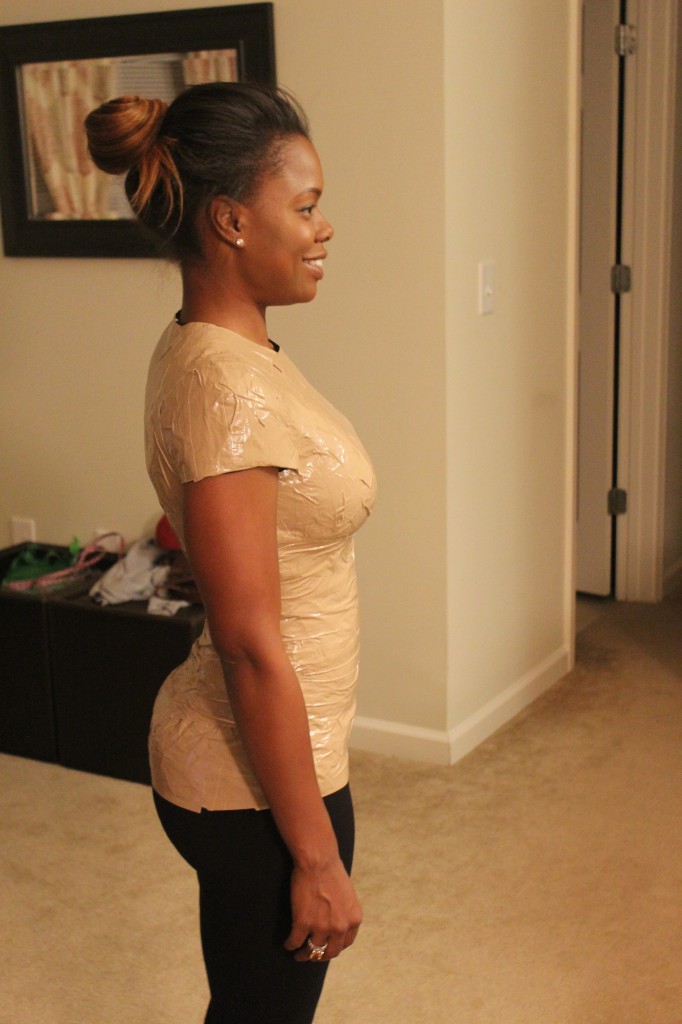 Time to cut this contraption off!!! Be very careful not to cut your bra!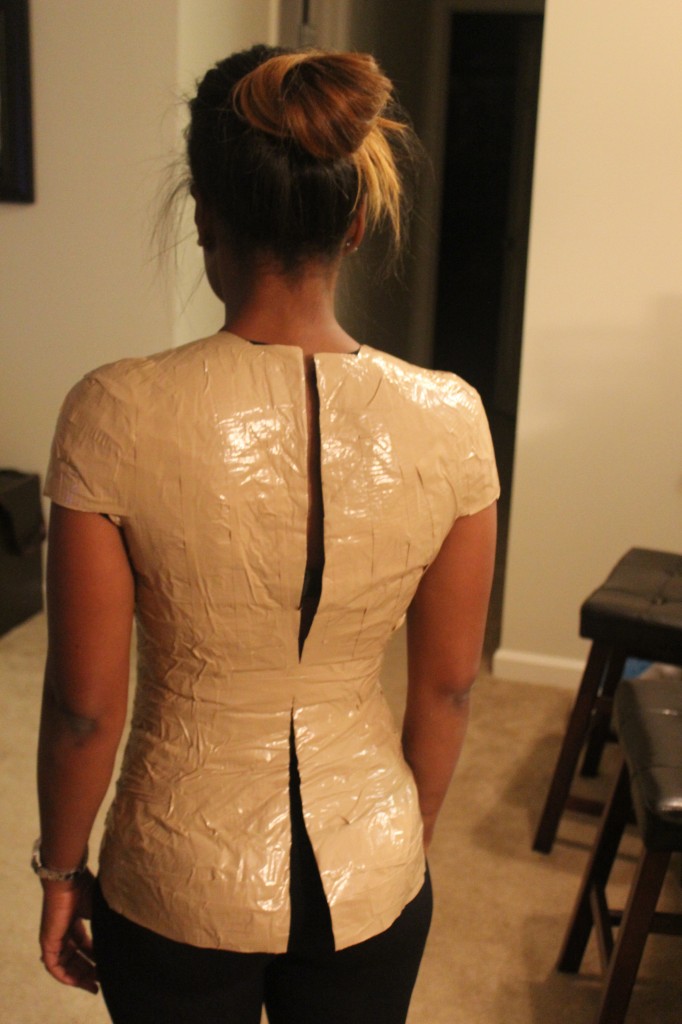 Using a good work space is very helpful. We used the dinning room table…lol! I lined the wood with cut trash bags to prevent any damage to the table.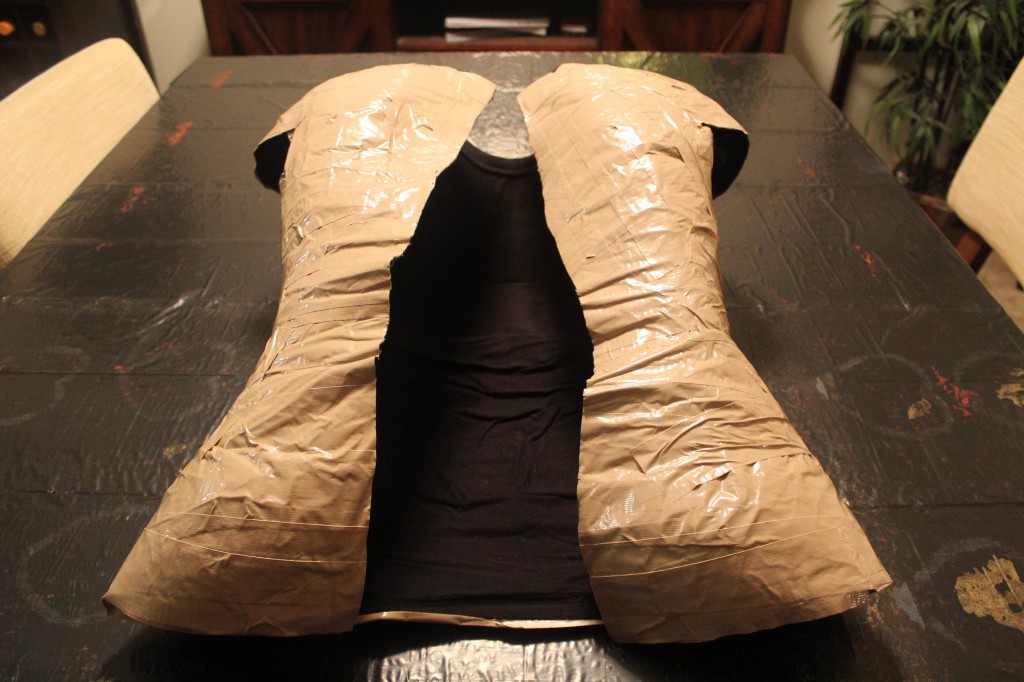 Spray the adhesive on the breast area and place the batting directly into the breast dents…this will help for extra support so the breast won't cave in later.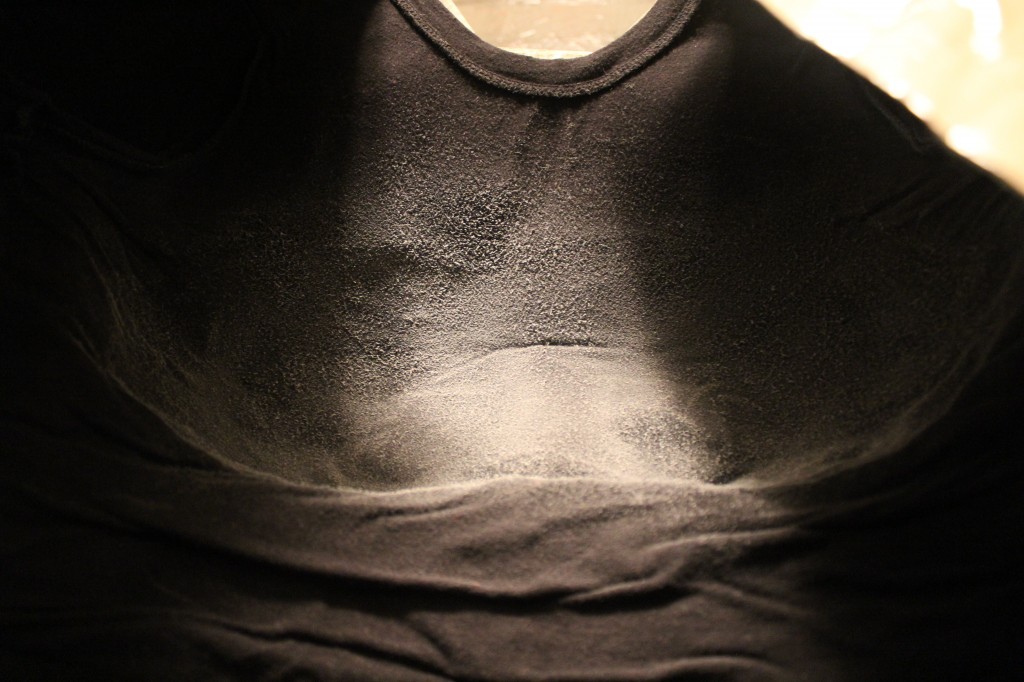 Spray the entire inside of the form and place the batting. Place a piece of cardboard in the neck area for added support and a clean finish after that tap the back of the form up, and tape over cardboard in the neck area.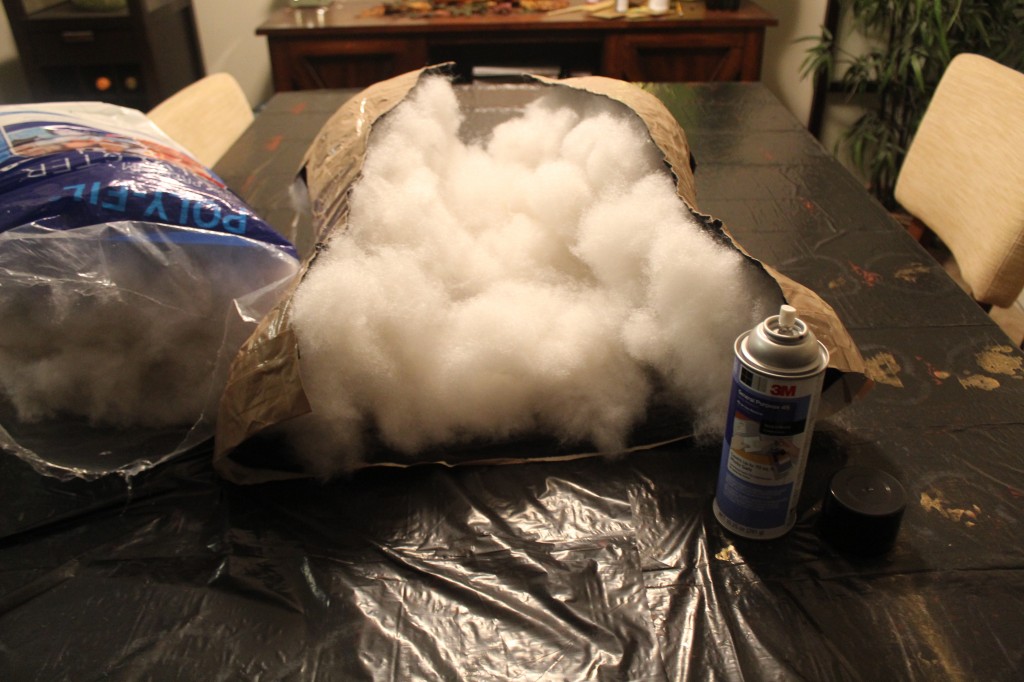 Turn the now taped closed form upside down and stuff the batting into all crevices, make sure to not over stuff so you can put the PVC/pole into the form.  Insert the PVC/pole, check to make sure it is  centered and continue stuffing the form. Place your disposable gloves on and add the wand to your spray foam and stick the wand as far down the PVC/pole as possible and spray all around the pole in the batting. Spray random spots in the batting for added support. Spray the foam all the way up the PVC. It's okay if it is visible you can always cut the access away once it's completely dry. Let the form set for at least 4 hours, I let mine cure over night.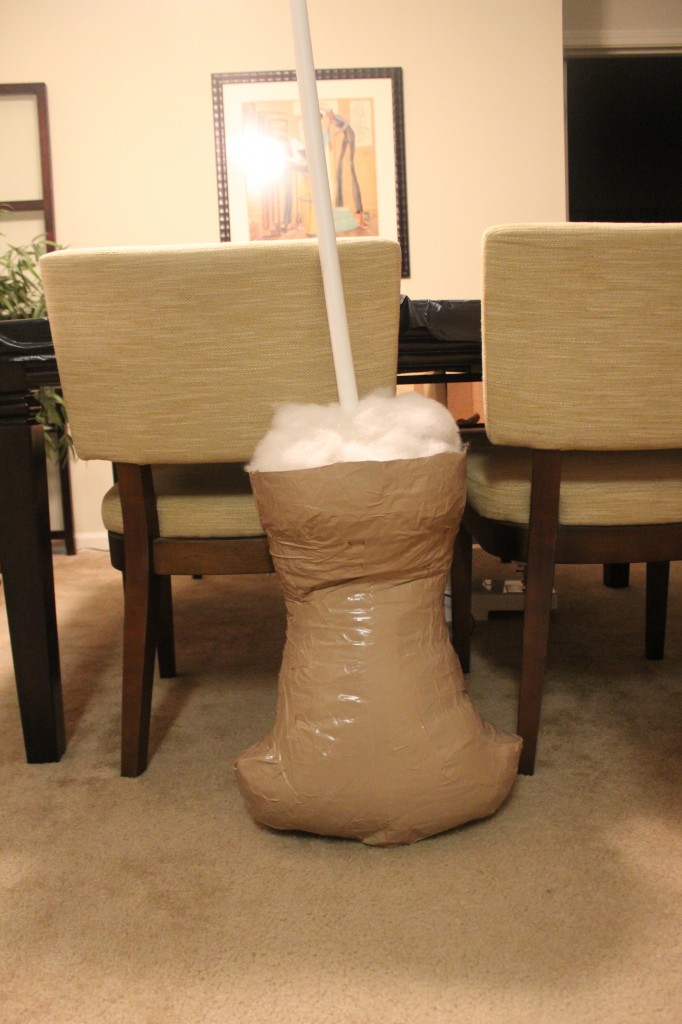 The next day I closed the bottom up with small pieces of cardboard and my designer snake skin Duck Tape. I also taped the PVC a little added touch!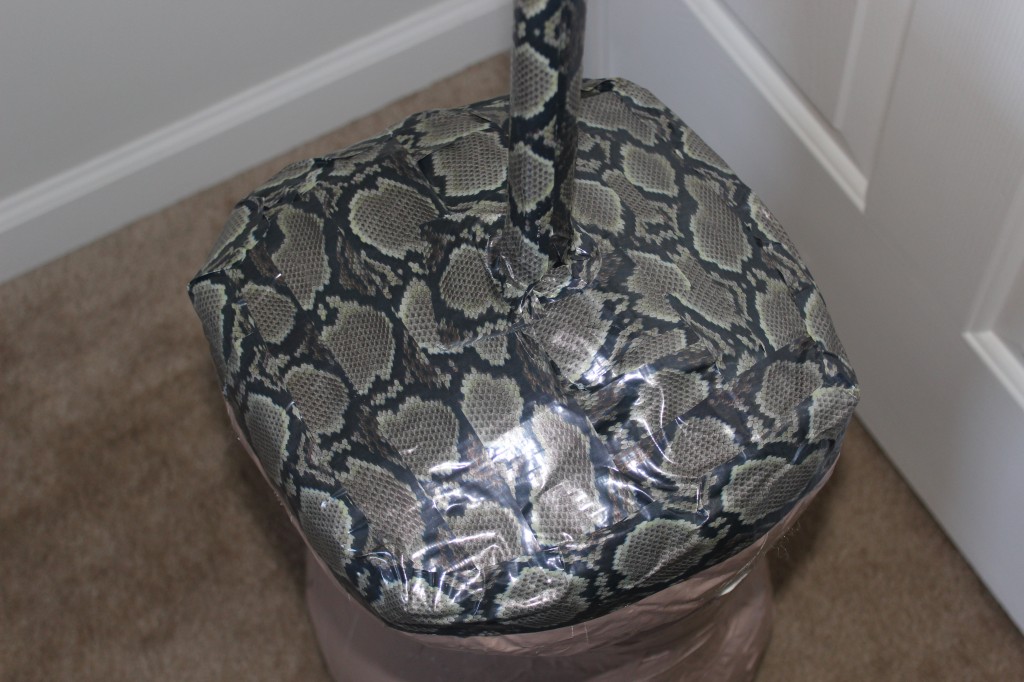 This is the Christmas tree stand I found at Hobby Lobby on sale for 40% off!!! Can we say winning!! lol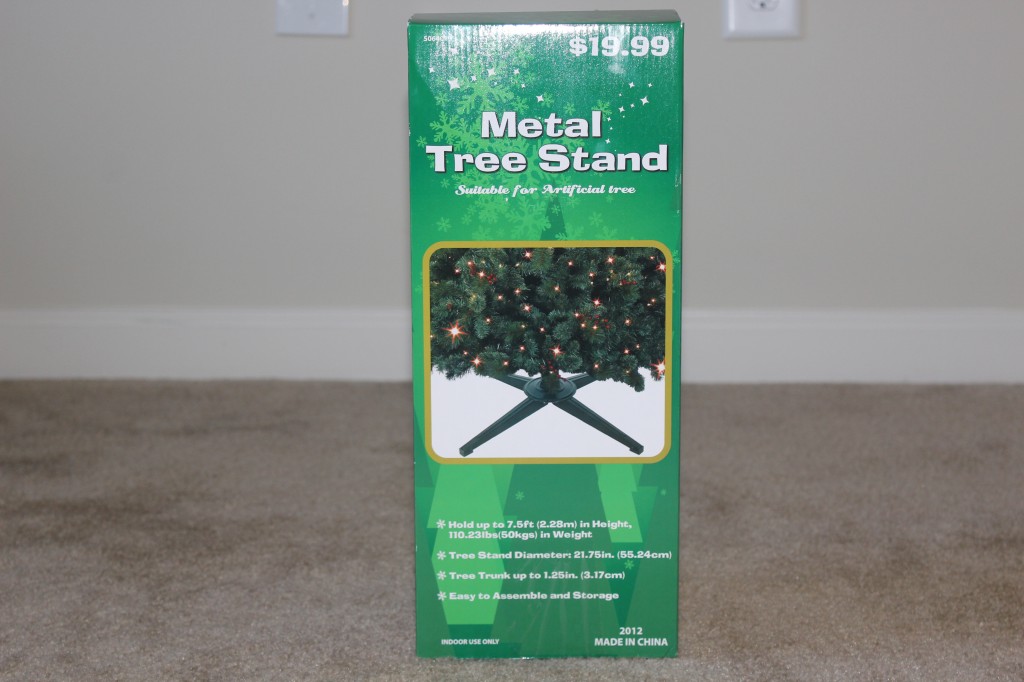 Isn't she lovely..lol!!!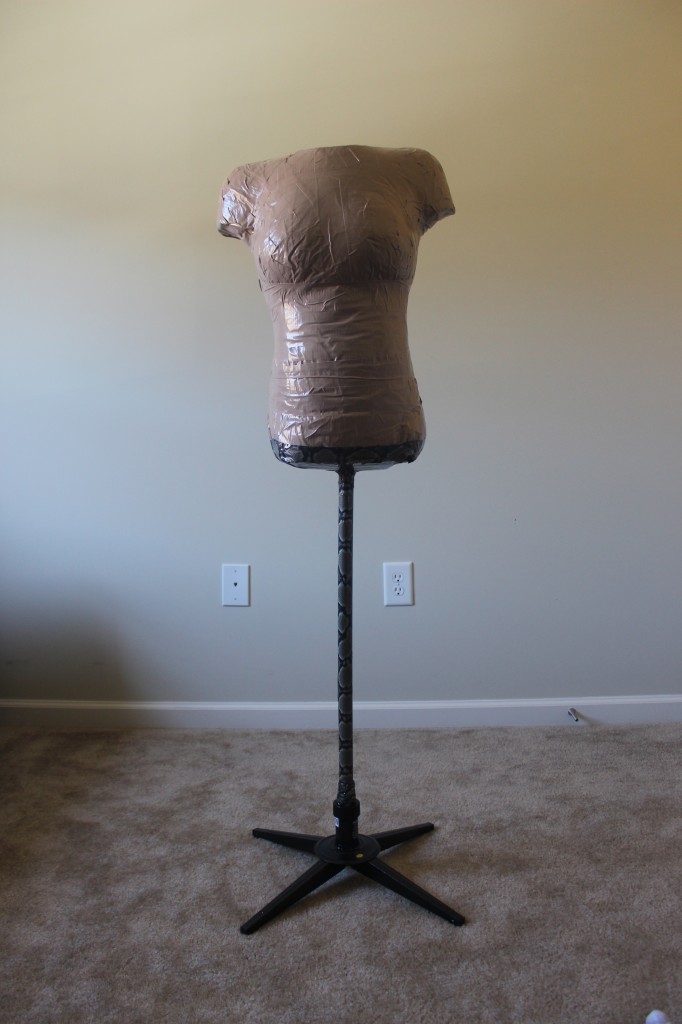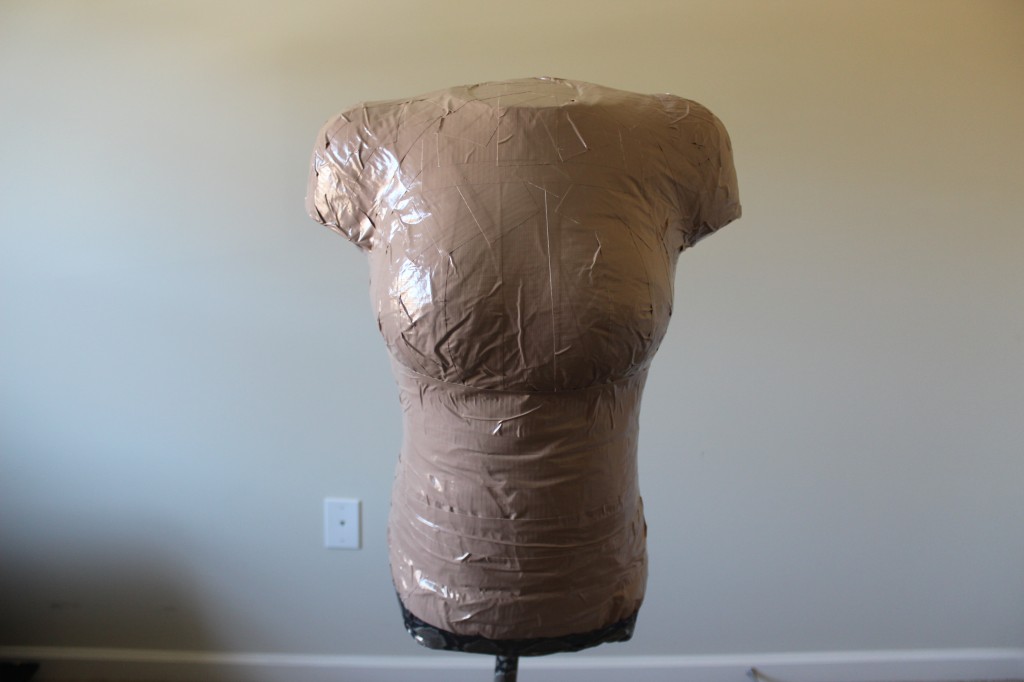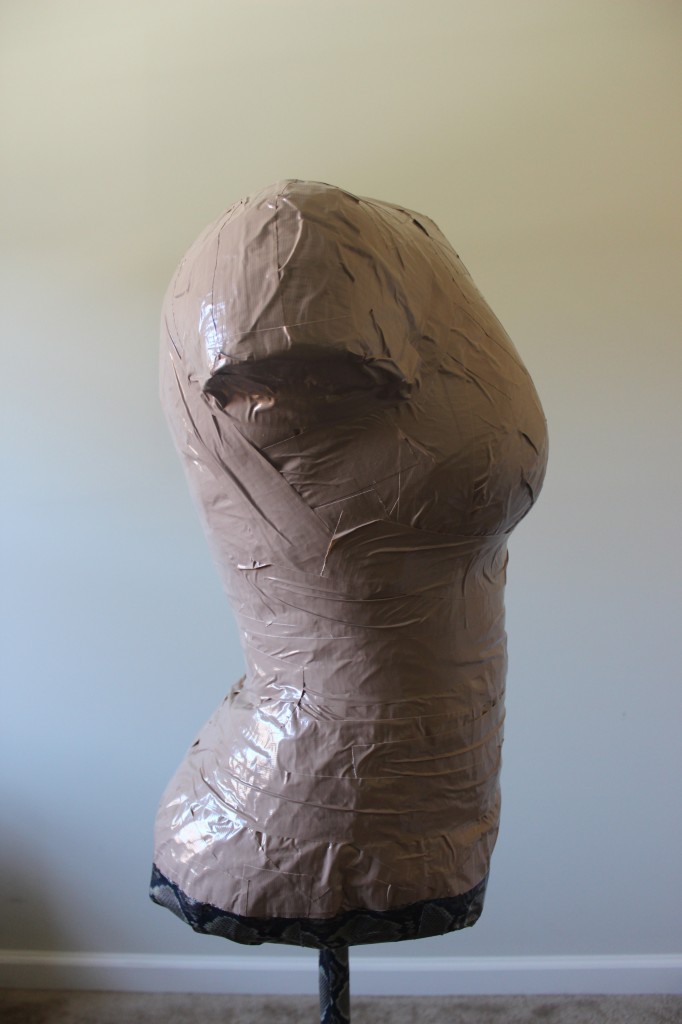 I threw a dress on her so you can see how accurate these DIY Dress Forms can be!!! My dress form is an exact replica of my figure I couldn't be more satisfied with the outcome! *I did not make this dress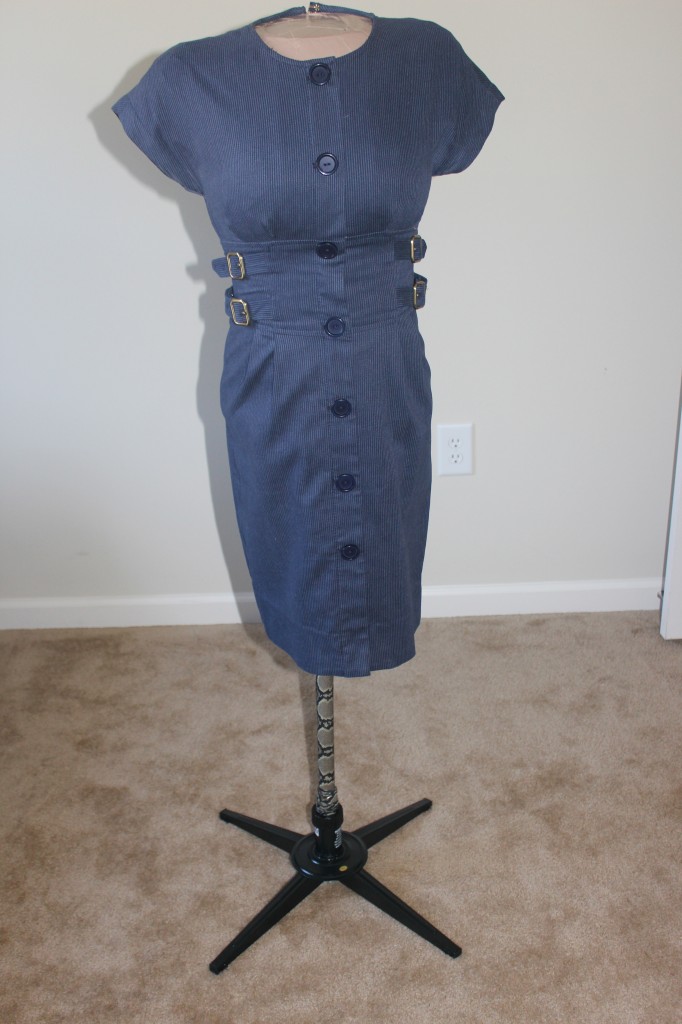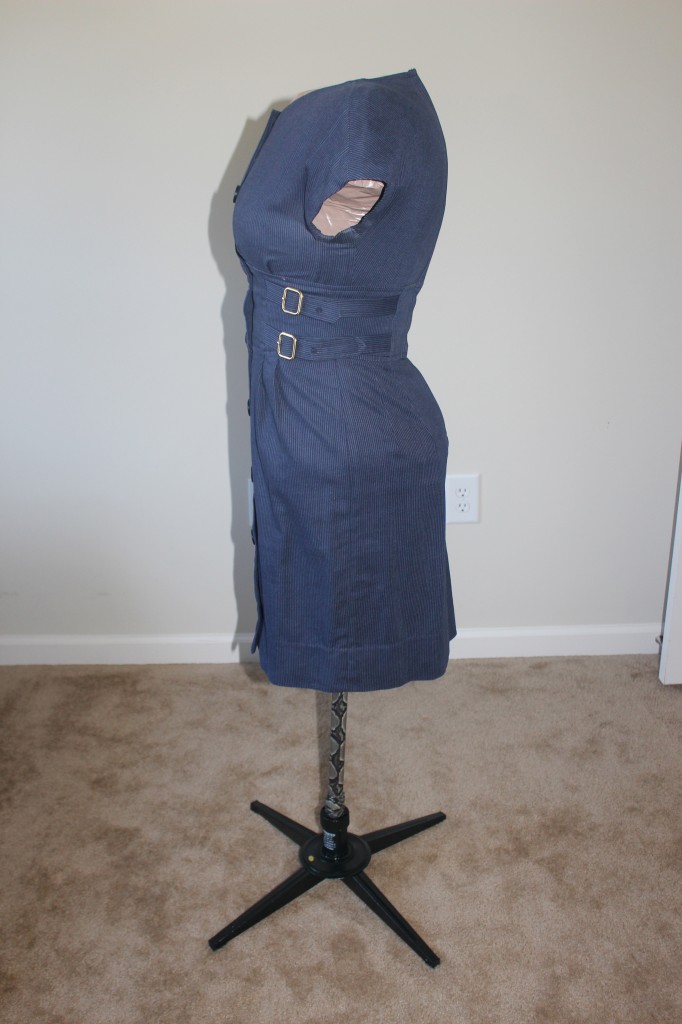 We did this DIY Dress Form for 50.17 and there is no way in the world I could of gotten a custom made dress form near this cost! With coupons, a little time and a great help from my Hubs I can now cross this off my wish list!!! Priceless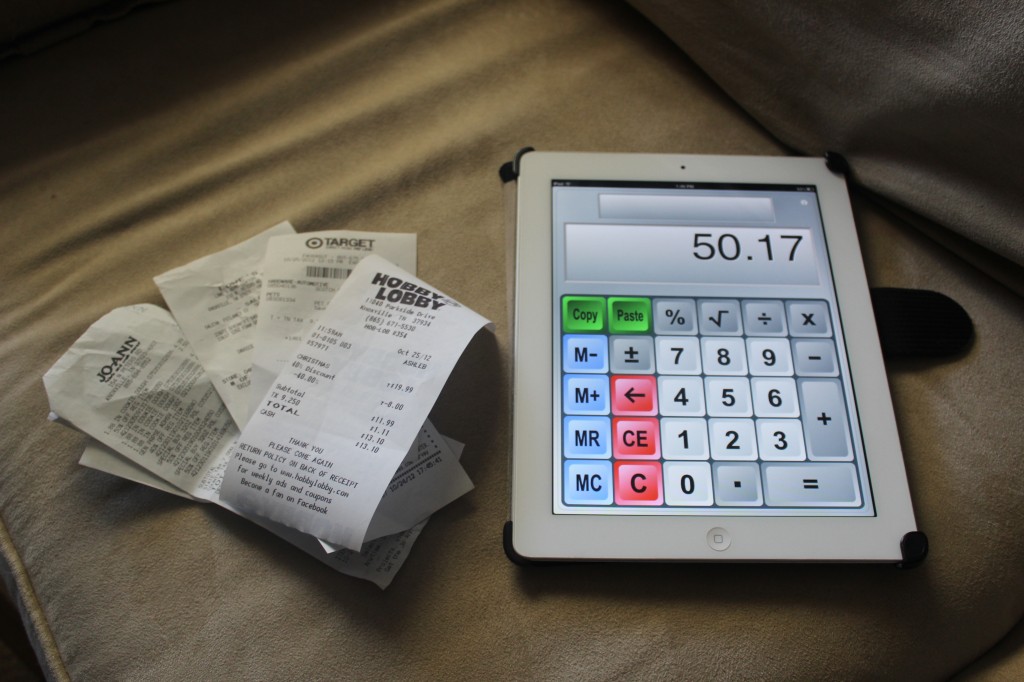 "When there is a want there is a way"
 ~ Maria Antoinette ~
The following two tabs change content below.
Maria Antionette is a professional hairstylist, DIY creator and fashion lover with a belief that beauty can be fun, easy and simple.
Latest posts by Maria Antoinette (see all)