Headwraps are essential hair must-haves in every naturalista's life. There is never a wrong time to wear a headwrap as they are perfect for every occasion from casual date nights to formal events, and of course, they can be your protective go-to before and during your wash day. But what if you don't really know how to tie a headwrap? Have no fear because, in this post, I'm going to share with you a number of amazing step-by-step tutorials on how to tie a headwrap.
You're going to leave here knowing how to tie your headwrap in more than 75 different styles! That's one new wrap style a week for a whole year, plus extra. I'm giving you options. I promise you the majority of these styles are easier than you think to achieve and once you get the hang of these styles you'll be able to add your own personal touches to them truly making the style all yours.
Now the best thing about these tutorials is that there are styles for every natural hair length. So it doesn't matter if you're rocking a fresh big chop or your hair is down your back there is a style for everyone to wear and enjoy. Here are some of my favorite styles:
View this post on Instagram
View this post on Instagram
View this post on Instagram
*This last headwrap is a band by Cantu. You literally just slap it on and go! You can wear it in a number of ways like over hair band (as shown), or an under hair headband, or in a pineapple. If you want this band you can get it in a number of different styles from your local Target.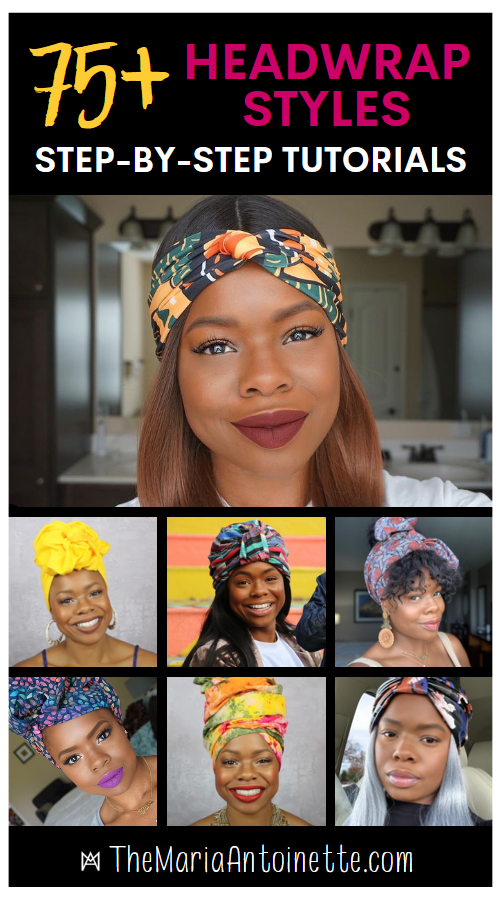 Happy wrapping!
The following two tabs change content below.
Maria Antionette is a professional hairstylist, DIY creator and fashion lover with a belief that beauty can be fun, easy and simple.
Latest posts by Maria Antoinette (see all)