If you're reading this post it's because you've decided to plan your first international trip. But the thing is, you have limited funds and you don't know what to do next. No worries. I got you. I recently took an international trip and let me tell you, it didn't cost as much as you think it did. Here are some tips I used that I know you'll find useful.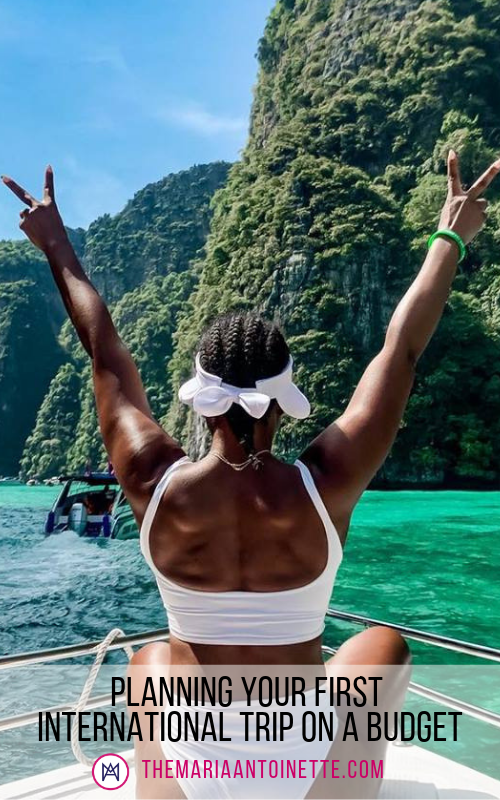 Plan in advance
Like with most things the earlier you plan it the better. Talk to the person or group of people you'll be traveling with and get your location and dates locked as soon as possible. This is helpful for those who have to put in vacation time well in advance and for those who need schedule childcare for children who may not be traveling on this vacation.
Make a budget & save your coins
It's all about knowing how much you wanna spend and saving up for it. Even if you don't plan on taking a vacation I highly recommend you put a little travel money to the side. Don't be afraid to set a budget. It's important to travel within your means so that you can have a pleasurable experience. You can do this by seeking out affordable accommodations, traveling during the offseason, and/or stay a shorter time period.
Check for flights
Most airlines let you check flights between eight to ten months in advance. The earlier you start searching the better your chances are for finding flights that are affordable and leaving from airports at times that are convenient for you. Also, don't just look in one place for cheap flights. Price compare and purchase when you know you've gotten the best deal available.
Extra flight tips:
Sign up for discount flight websites, apps, and text alerts. This will keep you up to date with the latest deals. Also, keep your ear open for those flight glitches. Remember that Etihad Airways Abu Dhabi glitch a few years back with fares starting at $185 roundtrip? Yeah, it's possible to travel the world on a dime if you and your travel crew are paying attention and act immediately.
If you're already a frequent flyer use your flyer miles. Check with your airlines to see if you have enough that will give you some if not all credit towards your next vacation. If you have a friend or a family member who is just collecting their miles ask them to for a few. There are airlines out there who will let you share miles.
Lay out your itinerary
Now that you know where you wanna go and how much it's gonna cost to get you there it's time to look at things to do. I recommend mapping out your itinerary before you depart. This will give you the opportunity to know in advance exactly what you're going to be doing and when. I'm not saying you have to plan everything out by the minute but I do think you need to have an idea on what days you'll be taking what tour and what days you'll roam around on your own. This will also give you a better understanding of how much your excursions will cost. There's nothing worse than being blindsided with prices while you're there and coming up short. Before you leave you should also know how much the local transportation, tours, and any extras your hotel may offer cost.
Get a passport
As you already know you cannot travel outside of the United States without a passport. If you have one check the expiration date. You don't wanna be a couple of weeks out only to discover that your passport is expired or will expire while you're away. If you need to get one you will need to fill out the necessary paperwork and get an official photo taken. Passports also take upwards of 12 weeks to arrive so submit your paperwork ASAP. Now you can get one expedited sooner but it will cost you. Get more information about obtaining a passport here.
Learn the customs
When traveling to a country where the language is not your own it's good to learn or brush up on local languages and customs. You can look into taking language classes. I took up Mandarin for several weeks before we left for our trip. These things aren't expensive. Check your local community center or Groupon, even YouTube. If you're traveling with a friend or relative you can ask them for some help.
Change your currency before you leave
Leaving your country means there is a chance you'll need to exchange currency. Most banks and credit unions offer money exchanges at no fee for their customers. Please make sure you've exchanged your currency before you depart to avoid hefty fees abroad.
Traveling internationally isn't as expensive as you may think it is. There are plenty of affordable ways to see the world if you know where to look and how to plan. If you need some destination ideas for group or solo travels check Travel Noire for location suggestions by people who have been there. Speaking of solo travel, if you're thinking about traveling alone but aren't sure if it's for you I've got a few reasons why you should absolutely travel solo.
Are you thinking about planning your first international trip? Do you have any destinations in mind? Are you already booked? Share with me in the comments below.
The following two tabs change content below.
Maria Antionette is a professional hairstylist, DIY creator and fashion lover with a belief that beauty can be fun, easy and simple.
Latest posts by Maria Antoinette (see all)