There are some of us that just have "it" when it comes to make-up application. Others of us, need a little guidance. Regardless of what category you fall into, applying full coverage foundation is the most important part of achieving a flawless face. You don't want it applied unevenly or blotchy and you most certainly don't want "flash face".  When it comes to dark skin, women may have trouble finding the right color foundation. There is also the concern that full coverage ends up being too "cakey". Fortunately, there are ways to warm up and lighten your face without tons of makeup. This is where highlight and contour come into play. While these two steps may be a little more intimidating; they can be mastered with practice. So, let's learn how to apply flawless full coverage foundation, highlight, and contour.
What I used:
Smashbox Photo Finish Foundation Primer – Hydrating http://tinyurl.com/gnte8zv
MAC Pro Longwear Concealer -NW50 – http://tinyurl.com/hyzdtvu
Make up Forever Ultra HD – R520 –
Bobbi Brown Foundation Stick – Espresso 6 (Contouring)-http://tinyurl.com/hr6jdru
NARS Radiant Creamy Concealer – Biscuit (Highlighter)- http://tinyurl.com/ze66b3h
Ben Nye Banana and Topaz Powder (Mixed)
Kat Von D Lock – It – Tattoo – Deep 71(used to set contour)
NARS Blush – Taj Mahal – http://tinyurl.com/gs4lo95
MAC Extra Dimension – Magnetic Appeal (High Point on Cheeks)http://tinyurl.com/gl4xyq7
Urban Decay Chill Makeup Setting Spray – http://tinyurl.com/gwfxduy
Tools:
Beauty Blender
MAC – 168 (contouring)
MAC – 129SH (blush)
it Cosmetics Heavenly Luxe Dual EyeShadow No 5
it Cosmetics Heavenly Luxe No 8 (Face powder)
Morphe – M439 (foundation)
Sephora – PRO Small Brush 74 (conturing)
bH Fluffy Brush (nose conturing)
Large Fan Brush – might be a crown brush???
Advertisement
Visual Guide: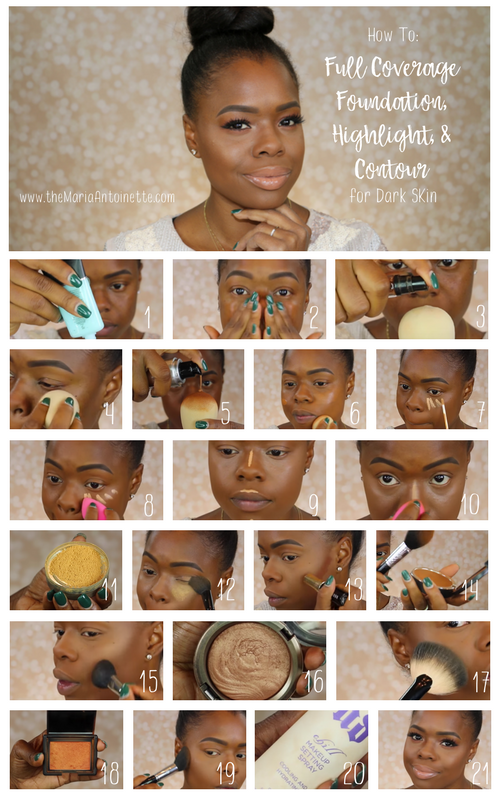 Directions:
Start with clean and dry face
Squeeze a pea size of primer onto index and middle finger
Spread primer all over face and allow to dry before applying makeup
Pump twice adding liquid concealer (MAC Pro Longwear) onto a damp beauty blender
Blotch onto cheeks and spread over face using a patting motion
Add one pump liquid foundation (Make Up Forever cool tone) to damp beauty blender
Layer the liquid foundation over the concealer base using the same patting motion
Using highlighting concealer (two shades lighter than complexion) add a few streaks under the eyes
Pat to blend in the concealer using the narrow end of the beauty blender
Press concealer to the sides of nose, outer corners of eyes and top of cheekbones
Highlight bridge of nose, cupids bow, and chin
Blend areas out using the same patting motion and wide end of beauty blender
Set the highlighted areas using powder (Ben Nye Banana and Topaz Powder) with brush
Place the powder and pat directly onto areas with concealer
Softly brush away excess powder (unless baking for oily skin) after sitting briefly
Begin contouring with foundation stick (Bobbi Brown foundation stick, one shade darker)
Apply creme foundation stick starting at temple of face to the outer corner of the eye
Blend excess foundation around hairline and jawline
Using pressed foundation powder, apply and set the contoured area
Set foundation (entire face) with loose foundation powder (same color as skin tone)
Highlight cheekbones with preferred (MAC Extra Dimension) in between concealer highlight and contour
Use blush (NARS Tahj Mahal) to blend out the highlight and warm up cheeks
Apply a light amount of blush to nose, forehead, chin to warm up face
Mist makeup setting spray all over face to set the powder and complete the application
TIPS:
Primer extends the wear of your foundation and helps prep your skin by filling in lines and wrinkles
Using a liquid concealer as your base will even out discoloration before foundation application
Layering is the best way to get flawless full coverage
The foundation color (one shade lighter) will balance the red tone concealer for a perfect match to skin
Highlighting brings light to places that seem dark or sunken (nose, chin, under eyes)
When picking highlight color, choose a color two shades lighter than your skin tone
You don't have to apply concealer directly to all areas
You can use excess product picked up from larger areas to highlight smaller areas
Using warmer colors for contouring gives you a suntanned look and more depth
If you layer using more than one foundation, you don't have to work as hard to blend
Looking for more visuals and tips on how to achieve flawless full coverage? Check out the full video tutorial here:

So did I provide you with all the tips and tools you need to slay!? I hope so. Sharing is caring, which is why I wanted to share all my preferred products and tools for achieving the most flawless full coverage possible. Could you see yourself switching up your makeup routine and trying my routine? Chime in below! I would love to hear from you. I would also like to invite you to sign up for my newsletter, this way you will always be in the know with all things MA.
The following two tabs change content below.
Maria Antionette is a professional hairstylist, DIY creator and fashion lover with a belief that beauty can be fun, easy and simple.
Latest posts by Maria Antoinette (see all)