Today I am so excited to be talking to you about clip-in hair extensions. Now, I know you're like, "Maria you've got a full head of hair you don't need extensions." But the gag is, yes I do and you do too! Cause girl, hair extensions are for everybody and all hair types. They're something I recommend you try at least once, just to see how you like it. But I guarantee you the first time you wear them you'll look back and wonder why they weren't in your life sooner.
Now there are a number of reasons why you might not want to try clip-in extensions, and that's fine but allow me to give you 12 reasons why you SHOULD try them.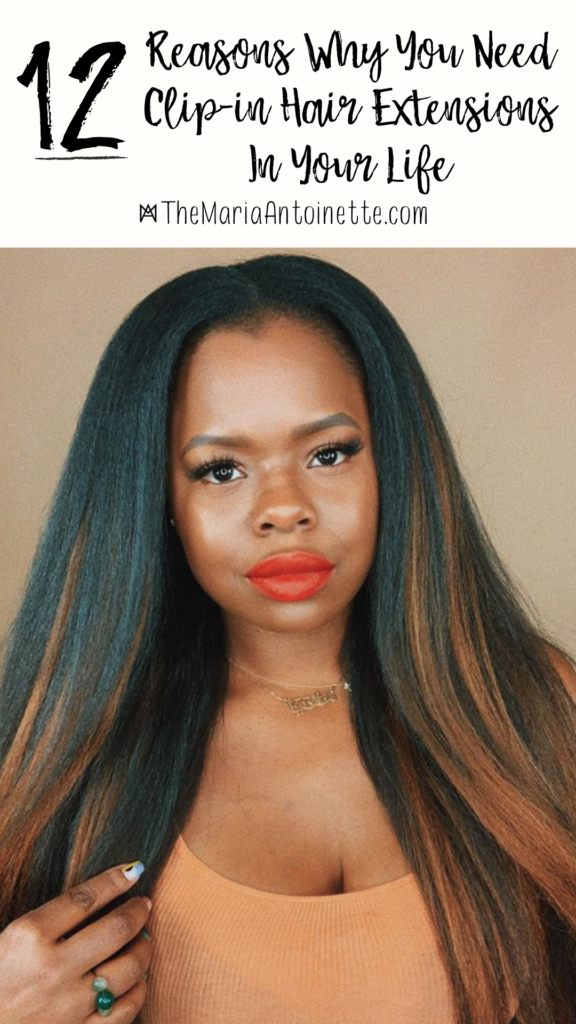 They're Easy To Install & Remove
When I tell you clip-in hair extensions are easy to take in and out, I am not lying. To put them in, simply make a part starting across the back of your head, insert the comb, snap-down, and continue towards the front of your head. Just make sure you don't put the extension too close to the part or your hairline because you'll be able to see it, and the last thing you want is for folks to see your extension. To remove simply unsnap and remove. It doesn't get any easier than that.
They're Not Messy
Being easy to install isn't all that comes with clip-ins, they also aren't messy. When you glue in your tracks you run the risk of dripping glue all over the place. I remember having to wear an old tee shirt or drape a towel over my shoulders because sometimes the glue would drip off the track. I promise you won't ruin another shirt with clip-ins because they simply snap right into place. No muss, no fuss. And if you're worried about your clip-ins not being secure, don't. Trust me when I say, once they're snapped into place they aren't going anywhere.
Volume
When your hair lacks volume that means you most likely have to do things like tease the root or wear your hair in certain styles, like loose curls to give the appearance of having a fuller head of hair. But with the help of clip-ins, those extra added rows of hair will allow you to wear bone straight styles taking your hair from flat to full and fabulous.
Length
Why wait for your short or medium length hair to grow out. Girl, get you some clip-ins so you can enjoy longer styles until your own hair grows out. Or for those who just aren't into having long hair all the time clip-ins are your way of being able to rock a longer hairstyle whenever you want.
Versatility
Clip-ins give you infinite styling possibilities. You'll finally be able to wear all of those styles you've been saving on Pinterest. Because clip-in extensions are so easy to install you'll have no problems sporting several different styles all in one week. Wear a chic bob to work and by simply swapping out the shorter bottom layers for longer ones you'll now have sexy whip action when you meet up with the girls after work. There is no style that you won't be able to rock.
No Hair Damage
I know that extensions, in general, give some people bad vibes because they immediately think of hair damage. But I promise you with clip-ins you have nothing to worry about. Why? Because as I mentioned previously clip-ins are clipped on not glued or sewen so they're not damaging or pulling at the root which is what you'll want to avoid if you're trying to grow long healthy hair.
No Color Damage
Versatility doesn't just stop at styling options. This also goes for color too. I bet you didn't think of that one, did ya? When using clip-ins you'll be able to further transform yourself with highlights or those fuchsia ends that you've always wanted. Why spend all the money to get a color that may not look as great as you thought it would or get a color that has to be temporary due to certain circumstances. Clip-ins are a perfect way to play with color and protect your hair from color damage.
Texture Control
Using clip-ins allow you to style your hair in the AM and return home with the same style. Adding extensions help keep our hair in place by preventing our natural hair from responding to the natural environment. How many time have you curled you hair and walk out the door to have all the curls drop?!
Covers Up Bad Haircuts
Raise your hand if you've ever had a bad haircut. *raises hand* Well, while we may be upset that we didn't get the cut that we asked for we can most certainly cover it up until our hair grows out. I mean why walk around with a bad cut or one we don't like if we don't have to.
They Look Natural
Let's face it not everyone can put on a wig and make it look natural. Sometimes it sits too high, too far forward or back and it can look like a helmet. As a result, they can be a turn off for someone who is seeking to try new styles. But with clip-ins, you're simply adding a row here and there and mixing it with your own. No one will be able to figure out if it's yours or not.
They're Low Maintenance
Because clip-ins are installed and removed by you it makes taking care of them that much easier. You don't have to worry about making salon appointments to maintain them thus saving you a ton of money. Simply take them out and wash them, then wash your own hair, blow out and flat iron your hair and the clip-ins, and reinstall. Done!
Affordability & Durability
Speaking of saving you money, if you thought clip-in hair extensions would be expensive you'd be wrong. Now while some can be pricey there are brands that sell bundles in all price points. The Royal Prerogative clip-ins I'm using in this video are $55. So, it's all about your budget and what you're able to spend. In addition, with the proper TLC your clip-ins can last up to a year in comparison to one-time use extensions. Hey, listen, anything that's of quality, will have you looking your best, and can save you money is ALWAYS a great investment.
Watch the video below to see how clip-ins will change your life!
Want to recreate the look in this video? Then you'll need to cop yourself a bundle or two from Royal Prerogative. The best thing about the RP Blown Away Clips are they're made with their signature SynLUXE® fibers. Which means they're soft, lightweight, versatile, and works with all hair textures similar to a fresh blow out. Another great thing is these clip-ins can be styled with heat tools of temperatures up to 400 degrees! You're going to have so much fun with these clip-ins you're going to wish you would have gotten some sooner.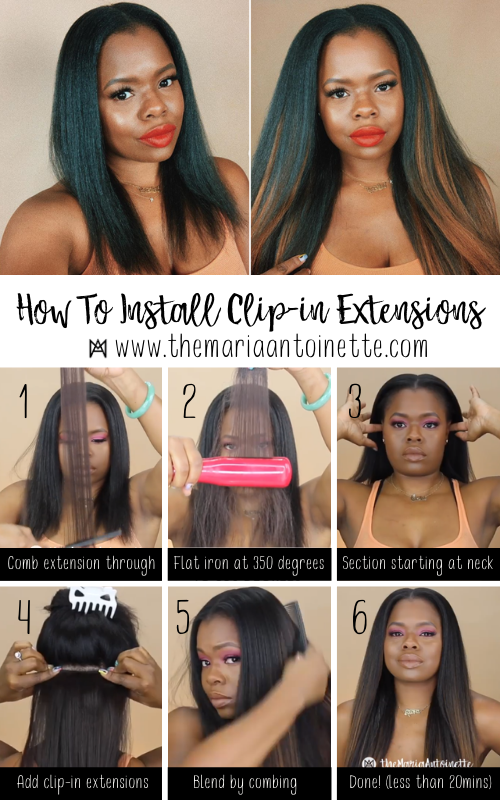 What are your thoughts on clip-in hair extensions? Have you worn them before? Would you wear them in the future? Share with me in the comments below and make sure to tag me in your clip-in pics on social at #TMABlog.
The following two tabs change content below.
Maria Antionette is a professional hairstylist, DIY creator and fashion lover with a belief that beauty can be fun, easy and simple.
Latest posts by Maria Antoinette (see all)