Hats are a woman's saving grace from a bad hair day and from bad weather. But some women just love to wear chic hats to spice up their outfits. Sometimes you just want to wear a cocktail hat just for the heck of it! And so the classic tales of paper boy caps to trapper hats begins. Let's go on the fashion journey of women's hats!
This Pom Pom beanie is the ultimate go to hat for women this season and is made even cuter by the fur Pom Pom on top.  I would wear this with classic Pumas by Solange's new shoe line, army pants, and a vintage tee.  This hat comes in multiple colors and is the perfect winter accessory.  One size should fit all!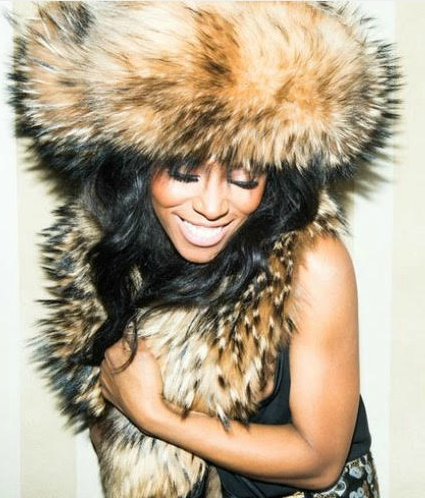 Worn ever so gracefully, June Ambrose manages to slay the trapper hat every time she wears it.  She has killed the scene Marching it with spring colored peacoats, and she's even dressed it down with sweat pants and wedge sneakers!  This trapper hat is classic, and if worn properly, can be worn with almost anything!  A similar version can be found at www.macys.com
This crochet beanie is wonderful for any chilly weather.  The intricate detail and threading adds more to this beanie as it is thoughtfully crafted and hand made.  This hat will compliment an over-sized sweater, leggings and combat boots.
This trendy slouchy beanie is such the comfy statement piece that women world wide are wearing it during various seasons.  You can catch women rocking a beanie with overalls, a tank and a pair of Chuck Taylor's.  This can be worn cuffed or slouchy for a different look everyday.  A similar version can be found at revolveclothing.com
What's your favorite type of hat to wear during the colder months?  I also like to line my wool hats with satin to make sure that my hair stays protected underneath.  When you wear hats during the year what are some of your tips to ensure your hair stays healthy?
The following two tabs change content below.
Kristen Robinson was introduced to fashion at an early age by her mother who was employed in the fashion industry in the NY/NJ tri-state area. She began modeling at the tender age of 13 years old, and realized fashion was her calling. As time progressed she became a graduate of Virginia State Univerity and Virginia Polytechnic and State Institute and decided to feed her yearning for helping children where she became a teacher. As a tenured instructor, she still had a yearning for styling, thrifting, and personally shopping for friends. She finally decided to follow her spirit and pursue the fashion industry where she became a fashion blogger for themariaantoinette.com and also while privately styling people. She has incorporated a form of blogging by posting ''Saturday morning fashion Inspiration'' weekly post for intrigued followers on Instagram where she is affectionately known as ''Krob1913''. Kristen offers services where she personally thrifts for you!!