We all know the saying It's a Man's World…but is it really?!?!  As women we have progressed in career, home and every other aspect of life. We have also managed to slay menswear artistically by mastering men's fashion. We have grown to love men slacks, button up blouses, ties, and even men's hats. There is a strategic art to men's fashion.  Today I am sharing 4 ways to make men inspired trousers work for you and your wardrobe!
"This is a man's world, But it wouldn't be nothing, nothing without a woman or a girl" – James Brown
It's cool to wear fitted dresses, but it's even cooler to rock men's crossover slacks with a pump. These De'tatcher high waist slacks make a statement in itself but add on a crisp blouse buttoned to the neck and a statement piece necklace and it will be sure to grab the attention of Wall Street.
High waist pants are the in thing for the Winter. Not only are the fashionable but they are extremely comfortable and a tummy concealer. High waist slacks can be paired with a fitted turtle neck and sweater vest a beanie and oversized glasses!! Similar slacks can be found
here
.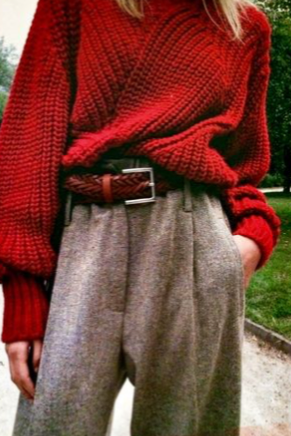 These menswear trousers serve fierceness and comfortability as it is worn with a chunky cable knit tucked sweater and braided belt. Add a maryjane pump and a men's hat and you'll be sure to stop every man in his tracks!! These pants can be easily thrifted in the men's section of the store for maybe 4-8$.
You will be the center of attention in these high-waisted tapered suit trousers. This can easily be paired with a fitted blazer, blouse and pearl tie. It can later be turned into an after work outfit by swapping the blouse for a bustier, high waist tapered slacks and pumps. Add a bright color lip like candy yum yum or ruby woo by Mac and you'll be ready for a night on the town.
Similar slacks can be found
here
.
The following two tabs change content below.
Kristen Robinson was introduced to fashion at an early age by her mother who was employed in the fashion industry in the NY/NJ tri-state area. She began modeling at the tender age of 13 years old, and realized fashion was her calling. As time progressed she became a graduate of Virginia State Univerity and Virginia Polytechnic and State Institute and decided to feed her yearning for helping children where she became a teacher. As a tenured instructor, she still had a yearning for styling, thrifting, and personally shopping for friends. She finally decided to follow her spirit and pursue the fashion industry where she became a fashion blogger for themariaantoinette.com and also while privately styling people. She has incorporated a form of blogging by posting ''Saturday morning fashion Inspiration'' weekly post for intrigued followers on Instagram where she is affectionately known as ''Krob1913''. Kristen offers services where she personally thrifts for you!!