Jump to Recipe
First, let me address the elephant in the room… Peach Piiiieeee (in my Soulja Boy voice) yes pie. I know we grew up calling it a cobbler and believe me this has all the flavors of a cobbler but in pie format. So here is the break down of a pie. It is round and has a top and bottom crust. So, my friends, that means we making a pie today.
Baking is intimidating to many especially when you think of mastering a pie crust. So I am removing that stress and saying girl, go to the store and buy the pre-made pie crust. Ain't no shame in our game. I love the Pillsbury Pie Crust it comes with two rolls in a pack bakes beautifully and has the perfect amount of butter flavor. With this one simple stepped by passed by simply buying your crust pre-made, this special dessert can be made more frequently and quickly. We literally just cut a hour off our prep time.
My Secret Ingredient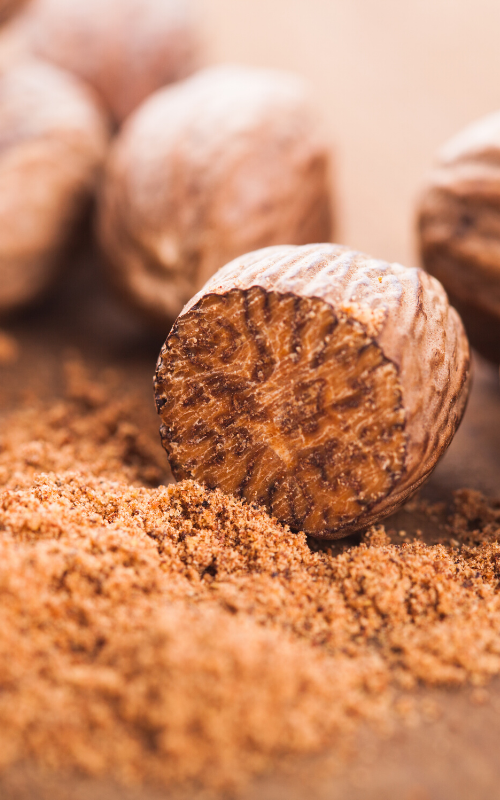 Now let's talk about what makes my pie so special. The ingredients are similar to many recipes you will find or have heard but I added a few extras that take this pie to a whole new level. One being fresh nutmeg. Y'all, I'm telling you it's nothing like it! If this will be your first time experimenting with fresh nutmeg you are in for a treat. Freshly grated nutmeg will have you looking at yourself sideways on why you didn't try it sooner.
Super simple to do: take a fine grater, take the nut, and grate it. It's that simple. Then I want you to compare what you grated to what's in the ground nutmeg jar. It doesn't compare. So if you can get the fresh you will thank yourself later. You can taste the difference. The other secret, well not a secret any longer, I added an ounce of bourbon or whiskey. This gives the most amazing flavor and doesn't fret the alcohol is cooked out leaving you a very well rounded flavor that's appreciated by adults and kids.
Let's bake some peach pie!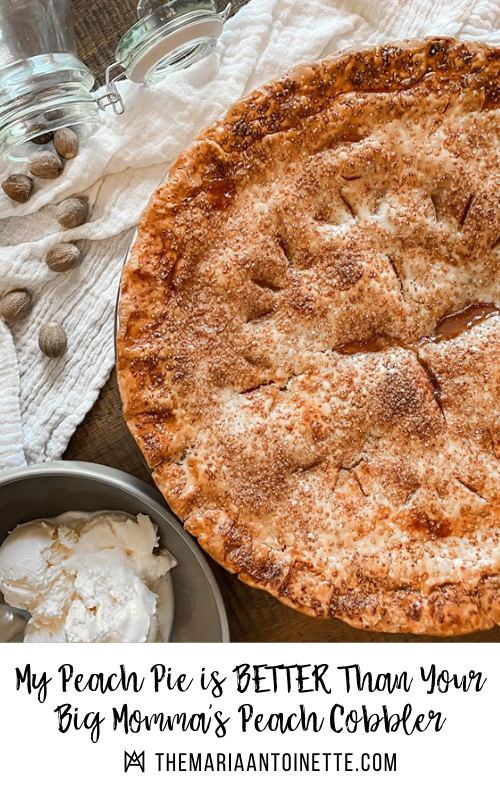 Southern Style Peach Pie
If you like peach cobbler then you're going to love peach pie. This southern dish is a staple and I'm sharing my favorite and most simple way to prepare it.
Ingredients
2

29 oz Canned peaches, drained

1

cup

of sugar

1/4

cup

all-purpose flour

1

oz

of Bourbon

whiskey will work too

1

tablespoon

ground cinnamon

1/4

cup

all-purpose flour

1

teaspoon

vanilla

1

teaspoon

lemon juice

1/2

teaspoon

freshly grated nutmeg

Fine sea salt
Instructions
Assembly
Pillsbury Pie Crust Chilled

In a large bowl combine the drained peaches, sugar, flour, bourbon, ground cinnamon, vanilla, lemon juice, nutmeg, and salt. Fold all ingredients together. Set aside.

Remove pre-made crust from the refrigerator. Open the first pack of pre-made crust unroll it and line your 9.5 round pie dish with the crust. Make sure to press any access dough to the side of the dish. Spoon in the peach filling using some but not all of the liquid. Place the second pre-made pie crust on top of the peach. You can tuck the excess dough or make a design.

Brush the top of the dough with the beaten egg, dust with the cinnamon and sugar. Take a knife and pierce the top in several places to create a vent for steam. If you do not tuck your excess dough wrap the edges of your dish to prevent the dough from burning. Bake until the crust is golden brown, about 1 hour.

Remove from the oven and let the pie cool before serving. Serve with ice cream.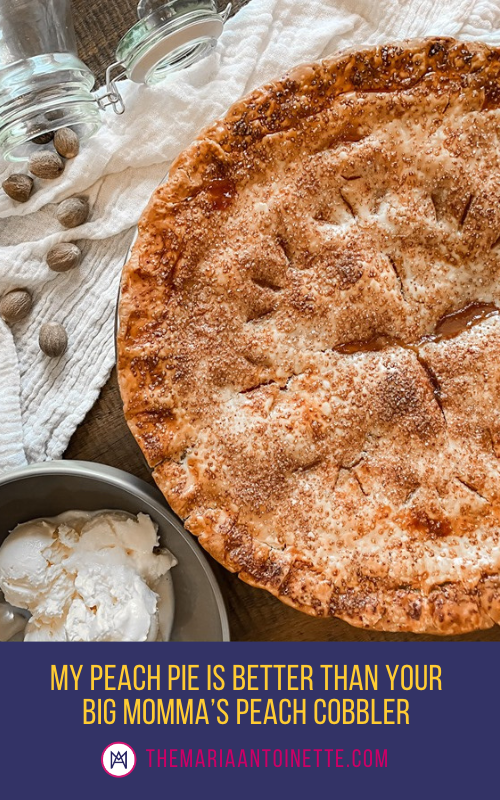 So, how did you like it? Was this peach pie everything you dreamed of? Share with me in the comments below and tag me in your pie pics on social using #TMABlog.
The following two tabs change content below.
Maria Antionette is a professional hairstylist, DIY creator and fashion lover with a belief that beauty can be fun, easy and simple.
Latest posts by Maria Antoinette (see all)