It's the start of a new year and that means brand new books to check out for the year. This list is a rundown of releases by Black female authors that will be coming out this year. Please keep in mind this is just be beginning of the year, so there will be many more titles released and as they are this post will be updated. I want this list to serve as a bookmark for all the releases we need to have on our radar for 2020.
HAPPY READING!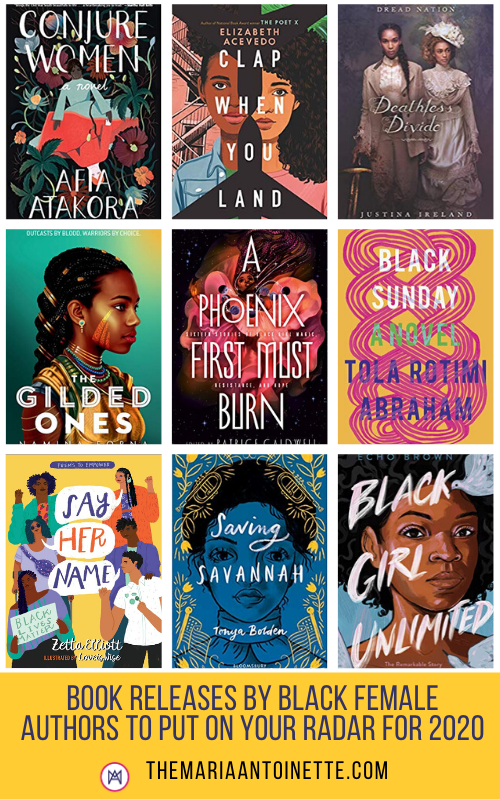 Jacqueline Woodson – Red At The Bone (available now)
Tonya Bolden – Saving Savannah (1/14)
Zetta Elliott – Say Her Name: Poems To Empower (1/14)
Lesa Cline-Ransome – The Power of Her Pen: The Story of Groundbreaking Journalist Ethel L. Payne – (01/14)
Echo Brown – Black Girl Unlimited: The Remarkable Story of a Teenage Wizard (1/14)
Rita Woods – Remembrance (1/21)
Tola Rotimi Abraham – Black Sunday (2/4)
Justina Ireland – Deathless Divide (2/4)
Megan Frazer Blakemore – Frankie Sparks and the Lucky Charm (2/18)
Synithia Williams – Forbidden Promises (02/25)
Jessica Care Moore – We Want Our Bodies Back (2/25)
Maisy Card – These Ghosts Are Family (3/3)
Patrice Caldwell – A Phoenix First Must Burn: Sixteen Stories of Black Girl Magic, Resistance, and Hope (3/10)
Leesa Cross-Smith – So We Can Glow: Stories (3/10)
Megan Giddings – Lakewood (3/24)
N. K. Jemisin – The City We Became (3/24)
Terry McMillan – It's Not All Downhill From Here (3/31)
Mary Monroe – Across the Way: The Neighbors Series Book 3 (3/31)
Alicia Keys – More Myself: A Journey (3/31)
Kelly Starling Lyons – Tiara's Hat Parade (4/1)
Afia Atakora – Conjure Women (4/7)
Elizabeth Acevedo – Write Yourself a Lantern: A Journal Inspired by the Poet X (4/7)
Yomi Adegoke & Elizabeth Uviebinené – Slay in Your Lane Anthology (5/14)
Elizabeth Acevedo – Clap When You Land (5/5)
Namina Forna – The Gilded Ones (5/26)
Wayétu Moore – The Dragons, the Giant, the Women: A Memoir (6/2)
Shelia Williams – The Secret Women (6/9)
Ilhan Omar – This Is What America Looks Like: My Journey from Refugee to Congresswoman (6/16)
Tiffany Cross – Black Voters, Black Voices: The Shaping of the American Democracy (6/16)
Donna Murch – Revolution in Our Lifetime: A Short History of the Black Panther Party (9/1)
Nicole Glover – The Conductors (11/3)
Malaika Adero – True Names: Four Generations of My Afro Appalachian Family (12/1)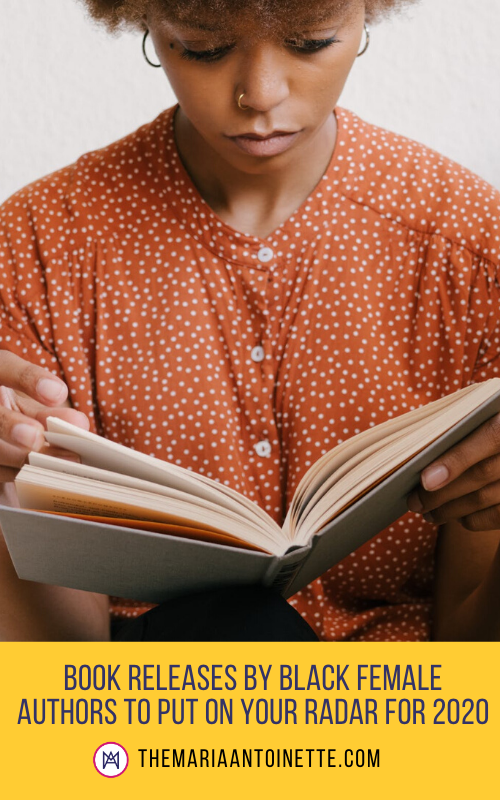 Looking for even MORE books by Black women? Check out my list of 70 books by Black women you need on your shelf.

What book releases by Black female authors are you looking forward to this year? Share the title below so we can keep this list growing.
The following two tabs change content below.
Maria Antionette is a professional hairstylist, DIY creator and fashion lover with a belief that beauty can be fun, easy and simple.
Latest posts by Maria Antoinette (see all)