When it comes to cultural appropriation no one does it better than the Kardashians. These culture vultures are known to pick and choose from the black culture without giving credit where credit is due. The latest one to do it is none other than Kim Kardashian West. She was on Snapchat saying how excited she was to get Bo Derek braids, then captioned the photo below Bo West on her Instagram account.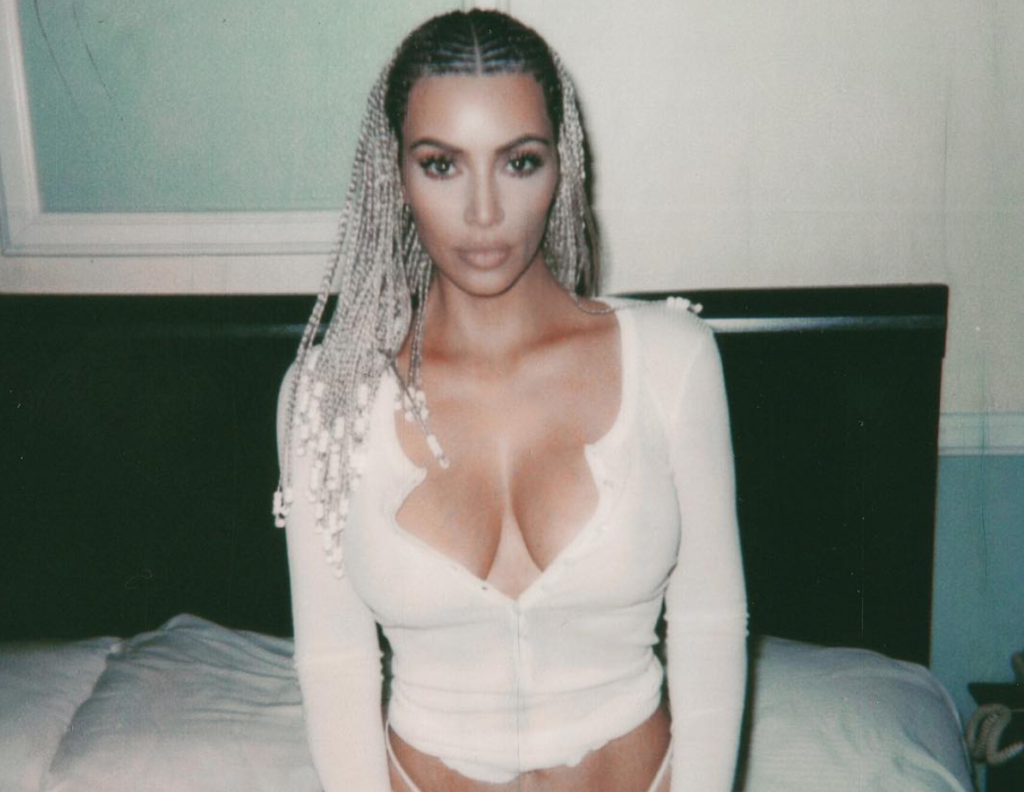 Photo via Kim Kardashian West IG
Before we continue, I'll allow Amandla Stenberg to define cultural appropriation for those who may not know.
Advertisement
Let's continue – Black women have been wearing braided styles for centuries, it's a way for us to protect our hair. Yet, when we wear them its called ghetto, urban etc. They're not looked at as something that is professional, trendy or edgy. However, when worn by melanin-deficient folks, it is seen as the latest and greatest. In an LA Times article hairstylist, Jon Reyman stated, "Cornrows are moving away from urban, hip-hop to more chic and edgy,".
Why is protecting the history of black hair so important?
To a black woman, getting her hair done is a right of passage. That is the time you spend learning about your culture, friendships, love, life. As a little girl, I remember my grandmother braiding my hair and hearing stories of when her mother would braid her hair. It's a trade that is passed down from generation to generation. We are more than our hair but in truth, our hair holds so many stories of our people.
At the Black Panther premiere, Lupita Nyong'o wore her hair in a style that was inspired by the Fulani people. She looked absolutely STUNNING. She is using her platform to educate people and telling us WHERE her inspiration comes from. Giving credit where credit is due.
Look at the Kardashian empire, they've made MILLIONS off of styles that were started in the black community. When they are called out on cultural appropriation they're silent. All too often when people are called out they say it's appreciation, NOT appropriation. But something we have to remember is, just because someone can love a PIECE of someone else's culture that doesn't automatically equate to loving the entire culture. For example, a white person who rocks cornrows on the runway of a major fashion designer, but a black person wearing the same hairstyle worries they'll be racially profiled by the police.
How do we stop cultural appropriation?
Although Bo Derek wore braids in the movie 10 which came out in 1979, she is a white woman and should not be getting credit for a hairdo that black women have been wearing for a lot longer than the 70's. The problem with cultural appropriation is that it erases the people who originally created what you're wearing, a hairstyle or language you speak. It's 2018 and we need to do better. We need to educate ourselves about the true source of things before we give credit to something, whether that be an outfit, hairstyle or speech.
Interested in learning more about cultural appropriation? I would highly suggest watching Amandla Stenberg: Don't Cash Crop On My Cornrows or Francesca Ramsey's web show Decoded. Start with this video '7 Myths About Cultural Appropriation Debunked'.
Share your thoughts on cultural appropriation in the comments below. Thanks for reading! 
The following two tabs change content below.
Amber strives to be an open book and share her love of family, fashion and beauty.She loves to share her experiences as a mother, wife and plus size woman in her lifestyle blog and YouTube channel. No topic is off limits. Fashion and being plus sized,Surviving PPD, being married for over a decade, dealing with infertility and PCOS and using humor and love as a means to encourage those who are going through the same thing. You can catch her on YouTube (FloridaNatural83) and Instagram @floridanatural83.
Latest posts by Amber Razmus (see all)