Striking the balance between creative expression and effortless style takes a certain level of sophistication and self-assurance. Especially, in the face of public opinion. Celebrities have been known to hit a home run with a perfectly curated ensemble one minute. Or fall from grace the next, after making a poor style choice. Sadly, those decisions end up haunting them for weeks. Fortunately, more and more celebrities have been on our radar. Celebrities who consistently combine their intrinsic love for style and confidently wear statement pieces that cleverly embrace fashion trends. Fashion inspiration can be found in magazines, street-style looks, and our Pinterest boards.
Here are four fabulous celebrities that are always stunning, always classic:
Yara Shahidi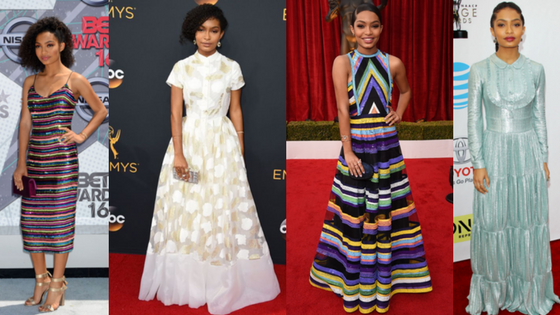 Teen superstar and social activist Yara Shahidi continues to slay every time in #BlackGirlMagic fashion. The 16-year-old "Black-ish" actress has an impeccable taste for style and is not afraid to be seen as a risk-taker whether she's gracing the cover of TeenVogue or posing on the red carpet.
Her megawatt smile and an impeccable ability to effortlessly float between a multi-colored Naeem Khan gown at the SAG awards to a paired down look in her TedTalk is sure to solidify her status as a fashion pioneer for years to come.
Janelle Monae
Janelle Monae is an innovator and triple threat in music, fashion and acting world. Not only is she our fashion inspiration but she is redefining what it means to be young, black, wild, and free in America.
Her work as a spokesperson for CoverGirl provided her the opportunity to represent the beauty and strength of women of color in mainstream media. Known for her tailored black and white uniforms and out of this world costumes, the Electric lady herself has displayed her versatility by rocking her signature pompadour at a concert to donning a floor length gown at an award ceremony for her role in Hidden Figures. The Moonlight actor has yet to slow down and we can't wait to see her upcoming style creations.
Advertisement
Solange Knowles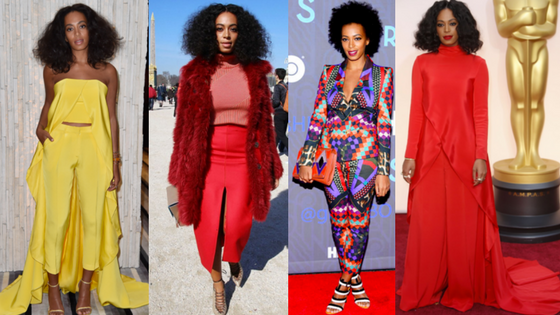 As the lyrical genius for the Black Girl's anthem, Don't Touch My Hair, Solange continues to defy current fashion norms and adopts retro silhouettes for a modern take.
Drawing inspiration from fashion icons before her such as Diana Ross. Solange has proven herself to be a style risk-taker who marches to the beat of her own drum even under public scrutiny. Her style frequently reflects contrasting fabrics while simultaneously mastering the art of color-blocking and head to toe monochromatic looks. The talented artist never misses an opportunity to reveal her unconventional style choices. Take for example, the release of visually captivating music videos including Cranes in the Sky. Her videos and live performances give us all the feel goods. Her ethereal costumes keeps us at the edge of our seats.
Kerry Washington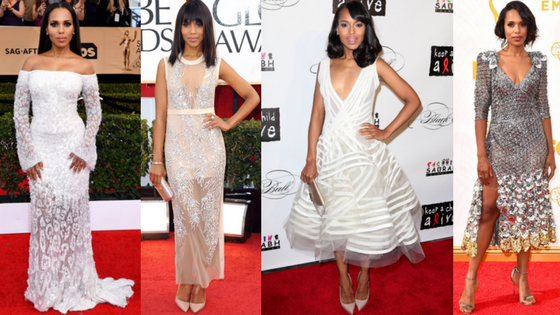 Cool, calm and confident, Kerry Washington's traits are reflected her personal style.
Widely known for her fictional character, Olivia Pope. She has inspired all of us to step our suit game up as the power uniform in all of our business affairs.
She has captivated audiences both on and off-screen. Most known through her choice of bold and ladylike looks from graphic prints, avant-garde silhouettes and showstopper red-carpet looks.
Who would you add to the list of fabulous fashion celebrities?
If you enjoyed this post, do me a solid and share the love with a friend or two (hundred) on Facebook, Twitter and Instagram! Don't miss my fashion, travel and hair wins (and woes) on 

PhysicalCanvas.com
as I trek around the world and be sure to tag along @PhysicalCanvas on Instagram, Twitter and Facebook. Check back soon for new content on

TheMariaAntoinette.com

!
The following two tabs change content below.
Forever a thrill seeker for aspirational looks and global experiences, Lisa Barber is the creator of physicalcanvas.com which explores her love for fashion, travel and wellness across the globe while championing a minimal lifestyle abroad. She believes that the body offers the greatest artistic medium as the ideal canvas for beauty and style. The Fashion Institute of Technology alum has leveraged physical canvas since 2010 as a creative platform to discover new designers and attend Fashion Week in New York, Singapore and New Zealand. Given her love for culture, she embarked on a lifestyle change to pursue full-time travel by selling her home and resigning from her career to see the world. As a woman with a wanderlust for travel, she hopes to inspire others to pursue their dreams. Follow her journey as she navigates her way from Rochester, New York to unique destinations around the world (@PhysicalCanvas).
Latest posts by Lisa Barber (see all)