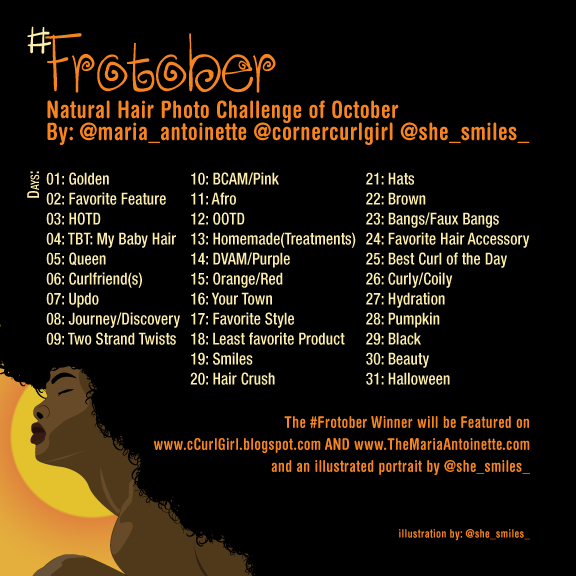 Frotober Instagram Photo Challenge: Photo Challenge for the month of October
By popular demand we are at it again!!! For the month of October we are doing another "Natural Hair" inspired instagram photo challenge #frotober!!! @she_smiles_ /Jonelle, @cornercurlgirl/LaQuisha and myself conjured up another 31 days of fun ways to express yourself and your hair!!! This month is very similar to #naptember our September Instagram photo challenge but we also wanted to pay homage to Breast Cancer Awareness and Domestic Violence Awareness which are both in October.
We had so much fun and learn about so many beautiful people in #naptember that we JUST HAD to do it again!!! This is not just a challenge but also a contest…we are on the search for the person that participates everyday and how creative they are in their photo taking. This person will not only be crowned winner of the #naptember photo challenge but they will also get featured on CornerCurlGirl blog as well as on my blog!!! So get your iPhones', Androids', point and shots' and DSLRs' ready because its October 1st!!!!  We are beyond excited about this challenge because it's so personal to all of the woman who help bring it to fruition…NATURAL HAIR!!! I really hope you all partake and spread the word..the more the merrier and remember tag all photos with #frotober!!!!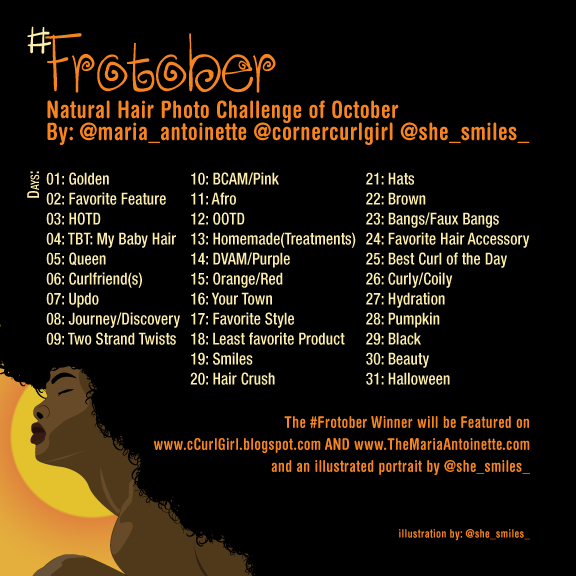 Recommended
5 Comments